May 21, 2009
 It's Week #2 in the Bread Bakers Apprentice Challenge.  This week's bread  is Artos, the Greek Celebration Bread.  I was curious to learn a little more about this bread and so I did some research.  Artos is Greek for leavened bread but in Modern Greek, it has come to mean the bread used in church.  On Easter Sunday the priest blesses the bread and sprinkles it with holy water.  It is placed on a table where it sits for a week.  This week is known as Bright Week, often referred to as Easter Week.   Finally 6 days later, on Bright Saturday, the bread is blessed again and only then is the Artos broken and distributed among the whole congregation for eating.
If you were in my house the day I baked my Artos, there is no way you would have been able to wait a week to eat that bread.  The smell is intoxicating.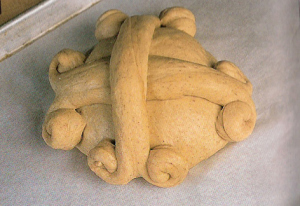 Peter Reinhart offers three variations on the Artos bread.  The master formula is an enriched bread with spices (cinnamon, nutmeg, allspice and cloves), eggs, honey and olive oil which can be made as is.  He suggests you shape this one in a boule (French for ball). That seemed too plain for me.  The second is Christopsomos (click here to listen to my Greek friend Peter pronounce this bread's name authentically!) and includes the addition of dried fruit and nuts.  Christopsomos is also boule shaped but it gets the addition of a cross on top, which to me looked a little like an octopus and kind of creeped me out.   The third is Lambropsomo, a braided version which, in addition to the dried fruits and nuts, includes three hard boiled eggs, dyed red. I could only imagine my children's horror at slicing into the bread and finding red eggs.
I decided on the second variation, Christopsomos.  I could not bring myself to make the little octopus on top, so I formed my bread with the same method I use at Rosh Hashanah (Jewish New Year) when I make a round challah.  You can see the method and results in the pictures below.  The recipe suggests glazing the bread with a water, sugar and honey mixture but I thought that would be way too sticky.  I made a cinnamon bun type of glaze instead.  It looked like a giant cinnamon bun but had a totally different flavour.
The bread begins with making a "pre-ferment", which is basically a mixture of flour, water and yeast.  The purpose of a pre-ferment is to improve the flavour and structure of the dough.  It is basically a starter.  I chose to make a "poolish" starter which needs to sit on the counter for 3-4 hours until it comes alive and is all bubbly.  Then it can be used right away or refrigerated for up to 4 days.  I made mine, let is sit on the counter for 4 hours, put it in the basement fridge and promptly forgot all about it until 4 days later when I went down to the basement fridge to get some milk and saw that thing growing.  I realized I had better get my Artos in gear!
One of my only complaints about the book is that he uses all imperial measurements instead of metric .  It is especially difficult when he asks you to weigh out .o55 ounces of yeast.  Most scales will weigh in quarter or half increments but this is even less than that.  Most scales allow you to switch to grams, so  here is a tip for those who are not educated in the ways of metric.  Multiply the ounce number by 28.  In this example it would be .055 ounces x 28, which equals 1.5 grams.  A calculator comes in handy with your scale!  I just bought a new Salter scale and I love it.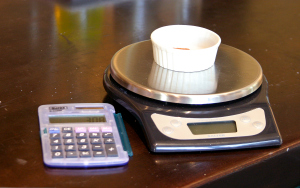 Here is my mise en place all ready to go.  I guess I learned something in Culinary school after all.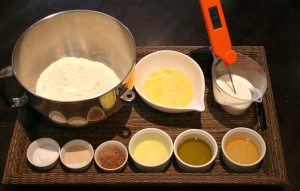 I decided to use raisins, toasted pecans and dried sour cherries.  They looked so good, my daughter got into them before I got them into the dough.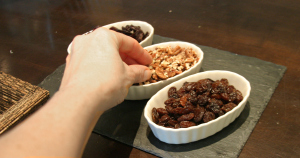 Oops, just realized that I forgot to take the Poolish (starter) out of the fridge an hour before making the dough.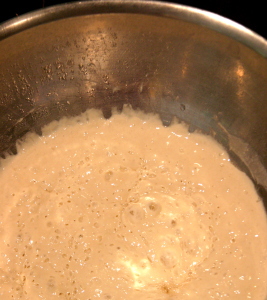 Have to wait an hour before making dough so I decided to kill the time by cleaning out my kitchen drawers.  Long overdue.  It's amazing the junk that collects.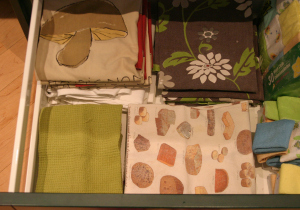 Finally time to add the poolish.   It's very sticky.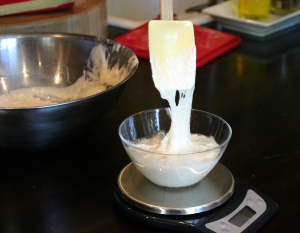 I mixed the dough in the kitchenaid on # 2 speed for about 6 minutes.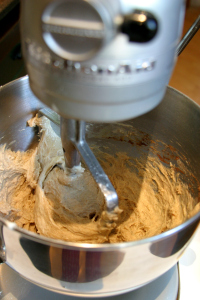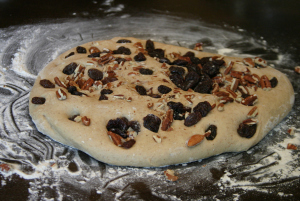 Then I decided to hand knead in the fruit and nut ingredients. Here is my method which works really well for getting an even distribution of ingredients.   Gently flatten dough out and add about 1/3 of the ingredients, and press them into the dough.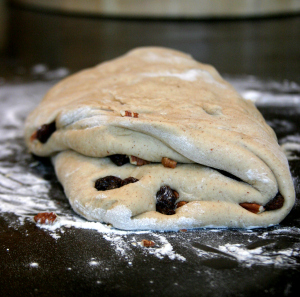 Fold the dough over, covering your additions and add another third of the ingredients on top.  Press them in, fold again and repeat with last amount of fruit and nuts.  Then give the whole thing a minute of kneading, before setting aside to ferment.
Dough goes into a  greased container for the ferment (first rise).  Thanks to  a tip from fellow BBA Challenger, Paul, I now use disposable shower caps to cover the dough instead of plastic wrap.  I can wash and reuse them many times.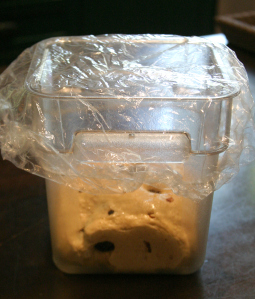 The dough doubled in about 90 minutes.  I gently punched down, weighed the dough and divided it into 9 equal pieces.  I formed 7 smaller boules and combined the last 2 pieces to form one medium sized boule, for a total of 8 boules.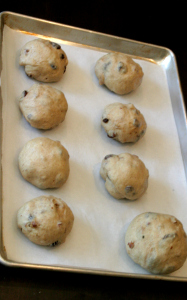 I lined the bottom and sides of a 9 inch cake pan with parchment and arranged the 7 smaller boules around the edge and the larger one in the center.  Another 90 minutes for proofing and this baby was ready for the oven.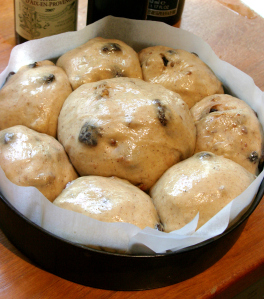 After 20 minutes I couldn't resist a peek.  Great oven spring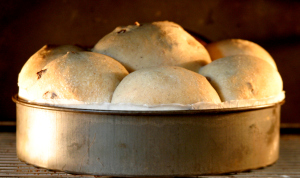 Bread just out of the oven.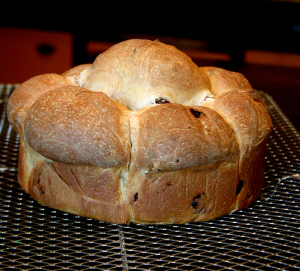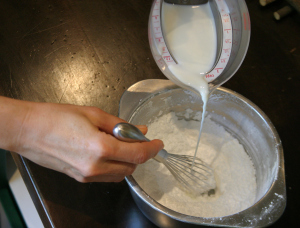 I decided to mix up a glaze:
2 cups icing sugar
1/4 cup warm milk
1/2 teaspoon vanilla extract
1/2 teaspoon lemon huice
pinch of salt
Poured glaze all over bread.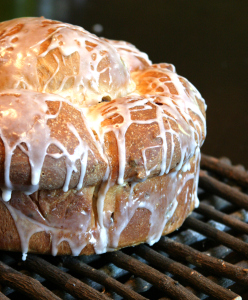 Let cool and sliced into it.  The verdict:  my daughter loved it, my son hated it and my husband and I would have liked it better without the cloves and allspice.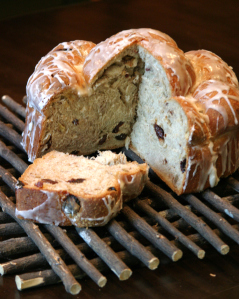 For dinner that night we had a tomato, chick pea, buffalo mozzarella, cucumber, and basil salad with olive oil and balsamic vinegar.  I usually add olive bread croutons to this but not tonight.  We've eaten enough bread for one day.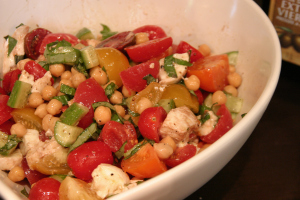 Next week:  Bagels!
Thanks for visiting my site.  I'd love to hear from you.