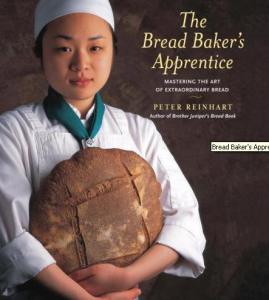 May 19, 2009
Several weeks ago, I accidentally stumbled across a wonderful food blog called Pinch My Salt , by Nicole Hamaker.  Nicole was about to embark on an exciting journey, baking her way through Peter Reinhart's book, "The Bread Baker's Apprentice", one recipe at a time.  She was looking for company.  I have to admit, I'm not really a goal oriented person, but I felt compelled to join up.  I was # 109.  Now we are 200 strong baking our way from "Anadama Bread" all the way through to "Whole Wheat Bread".  Yes we are going alphabetically.  We'll tackle one bread a week and communicate through e-mail, blogging,  Twitter, a Facebook group, Flickr and  a Google group. 
Two weeks ago, I didn't' even know what blogging or Twitter was, and now I have set up my own food blog and joined Twitter. I still have not yet figured out how to actually Twitter (or is it Tweet?), and I am now very nervous as I already have 9 followers and have not led them anywhere yet.  When I told my 3 teenage children (19, 17 and 16) what I was doing, they mocked me and told me I really need to get a life.  I told them, if they continue to mock me, no bread for them.  They quickly stopped.  So if you're interested in my journey, join me each week as I chronicle my bread baking adventure.  By the way, if you haven't figured it out yet, the white powder on my camera was flour.  Food blogging is messy.
Bread Baker's Apprentice Challenge # 1 Anadama Bread
The first bread I made originated in New England. There's an old legend that tells of how the bread got it's name.  A Massachusetts man was left by his wife.  Not only did she leave him, but she also took all their belongings and left him with only a pot of cornmeal mush and some molasses.  The husband  was so mad he mixed the  mush and molasses together with some yeast and flour and muttered, "Anna, damn' er!"   Highly unlikely.  If I did that, my husband would call for take-out, but it makes a good story.  Making this bread is not that complicated but it does take 2 days.  Day 1 begins with mixing cornmeal and water together in a bowl and leaving it overnight on the counter to soak. I managed that without too much drama but there was quite a discussion on our Google site about what kind of cornmeal to use -coarse, medium or fine grain. I used coarse.  On to day 2.
 The recipe calls for molasses which I find kind of cloying.  So I made an executive decision to substitute honey for some of the molasses. Instructions are given for kneading by hand or in a stand mixer.  I love my Kitchen Aid so I kneaded by machine.  It was a beautiful elastic dough.  I let it rise in a big bowl for an hour, then formed my loaves and let it rise a second time in the pan.  Here are the loaves ready to go into the oven.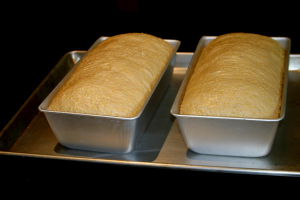 After 40 minutes my bread was done.  I love this book because the instructions are so detailed.  Most bread recipes tell you to bake until the bread is golden brown and makes a hollow sound when thumped on the bottom.  I have never understood what I am supposed to be hearing.  What exactly does hollow bread sound like?  Peter Reinhart tells us to bake it until an instant read thermometer, inserted into the center of the bread, registers 185 to 190 degrees F .  Mine registered 189.  Here is is right out of the oven.  For some reason, the bread on the left had a bit of a valley down the middle, while the one on the right rose perfectly.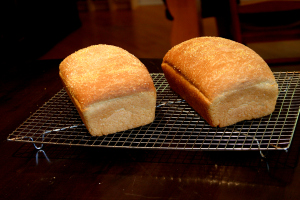 Now the hard part.  Waiting one hour before slicing into the loaves.  It was worth the wait.   It's a soft bread but a bit crunchy because of the cornmeal.  For dinner that night I fed my family bread and butter.  No complaints.  We all liked it even better toasted the next day for breakfast, with salted butter and American Spoon sour cherry preserves.  Here is the bread sliced before the hordes got home and attacked it.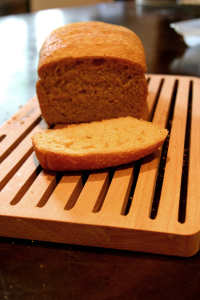 Stay tuned for my next post, "Artos", a Greek celebration bread.  Feel free to leave a comment in the space below.  I'd love to hear from you.