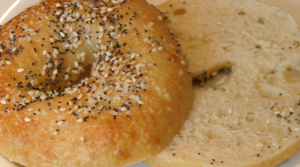 In 1986 there was a popular Madonna song called "La Isla Bonita".  I loved to turn the volume way up on my car radio when it came on and sing along at the top of my lungs.  The first line went, "Last night I dreamed of some bagels…"    It was only several years later that someone heard me singing along and corrected me.  The real lyrics are, "Last night I dreamed of San Pedro…"  Funnily enough it never seemed odd to me that Madonna was singing about bagels. Which brings me to this week's challenge – bagels!  Click here to listen to the song and tell me what you hear!07 La Isla Bonita (Be patient – it takes a minute to load)
I have to admit I was very excited for this one.  At last, something I had a frame of reference for.  The breads in the first two challenges, Anadama and Christopsomos, I had never eaten before.  But bagels I know.  I grew up in Toronto.  In my opinion the ultimate bagels in Toronto come from Bagel World.  Their twister bagel is unbelievable.  It has a hard crust on the outside with a chewy, dense but moist interior.  I haven't quite figured out how they twist the dough but this could be my next baking project. 
My joy in eating a Bagel World twister was only slightly dampened several years ago when I learned that one twister bagel is the equivalent of 12 points at Weight Watchers.  For those not in the know, that is about 60% of your daily recommended calories!  But trust me, it is worth every calorie.
The bagel recipe from the Bread Baker's Apprentice comes very close to  Bagel World's regular bagel (not their twister).  I was blown away with the taste and texture of the bagels I made.  They were pretty incredible.  I took 12 of them out of the oven at 5:30 last night and by 7:30 there were only two left.  My family devoured them.  It takes two days to make these bagels but trust me, you will not regret a minute of the time you spent making them.  They are that fantastic.  The recipe can be found in Peter Reinhart's wonderful book, "The Bread Baker's Apprentice"
The process begins with making a sponge.  This is a mixture of high gluten flour, instant yeast and water.  A little primer on flour here:  All wheat flour contains gluten.  Gluten is the protein found in flour.  The higher the level of gluten, the tougher or more elastic the dough will be.  At the bottom of the scale there is Cake and Pastry Flour with a protein content of 9%.  This is good for tender baked goods like sponge cakes and pie dough.  Next is All-purpose Flour with a protein content of 11%.  Most cakes and cookies use this flour.  Next is Bread Flour with a 12 % protein content.  Finally there is high gluten flour, with a protein content of 14%.  This is what you want for bagels to make them chewy. 
I could not find any high gluten flour here in Ottawa so I ordered some from King Arthur Flour.  This is a great on-line source for bread bakers.  They are located in Vermont.  If anyone out there knows where I can get high gluten flour in Canada, let me know.  It could save me a bit of money in exchange rate, shipping and taxes.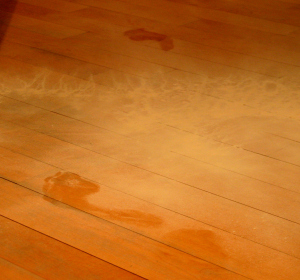 The sponge sits on the counter for 2 hours.  Then more flour, yeast, salt and malt are added.  It is the malt that gives the bagels their "bagel shop " flavour.  Malt comes in two forms,  a powder and a syrup.  I bought both.
Of course when I got home I thought, "I'll never use all this up.  Why did I get both?"  But, lucky for me, when I opened the powder, I accidentally spilled about half the bag on the floor.  So no worries about using it all up!
The book warns you that this is a stiff dough.  I tried mixing in my Kitchen Aid, but within about 2 minutes the bowl started popping off  and the machine rattled horrible.  Okay then, time for hand kneading. Before kneading the dough is a shaggy ball.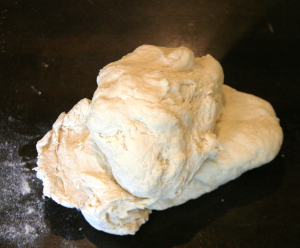 Peter says it will take about 10 minutes of hand kneading to get the dough to an internal temperature of 77 degrees F.  It took me about  about 15 minutes and it's a great workout!  After kneading, the dough is smooth and satiny.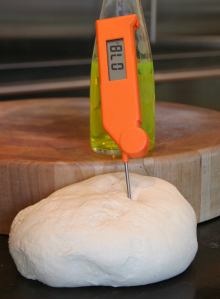 Now the fun part, forming the bagels.  The dough is divided into 12 equal pieces.  Use a scale!  Each piece is rounded into a smooth ball and then they are covered and rest for 20 minutes.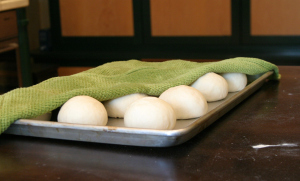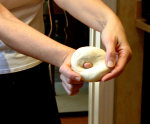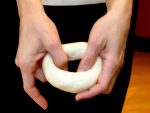 Then you poke your thumb through the ball to make a hole and gently stretch , using your thumb inside the hole to form a bagel, about 2-3 inches in diameter.  The bagels are then allowed to rest for 20 minutes and then you do the float test.
 Put one bagel in cool water and if it floats, the bagels are ready for the next step.  Mine floated after about 10 minutes.  It was exciting.  I felt like I'd passed the swimming test at summer camp again!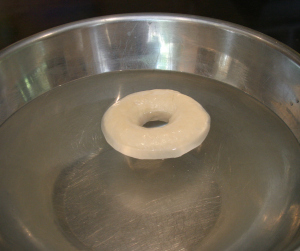 Then the bagels take a nice long cool nap in the fridge overnight or up to 2 days.  It is this extended period of cold fermentation that makes an exceptional bagel.  The flavours are given a chance to develop.  I left mine in the fridge for about 30 hours.  Next it's time to boil the bagels in a water bath before baking.  Some baking soda is added to the boiling water to coat the bagels and make them shinier and more golden when they are baked.  They spend about 1 minute in the boiling water, then they are flipped and go for another minute.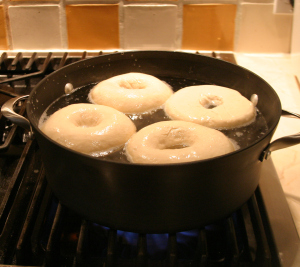 Next the bagels are topped.  I used poppy seeds sesame seeds and fleur de sel.  Into a hot oven and 10-12 minutes later, you have bagels.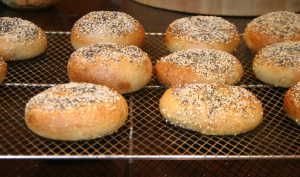 We patiently waited 30 minutes and then devoured them.