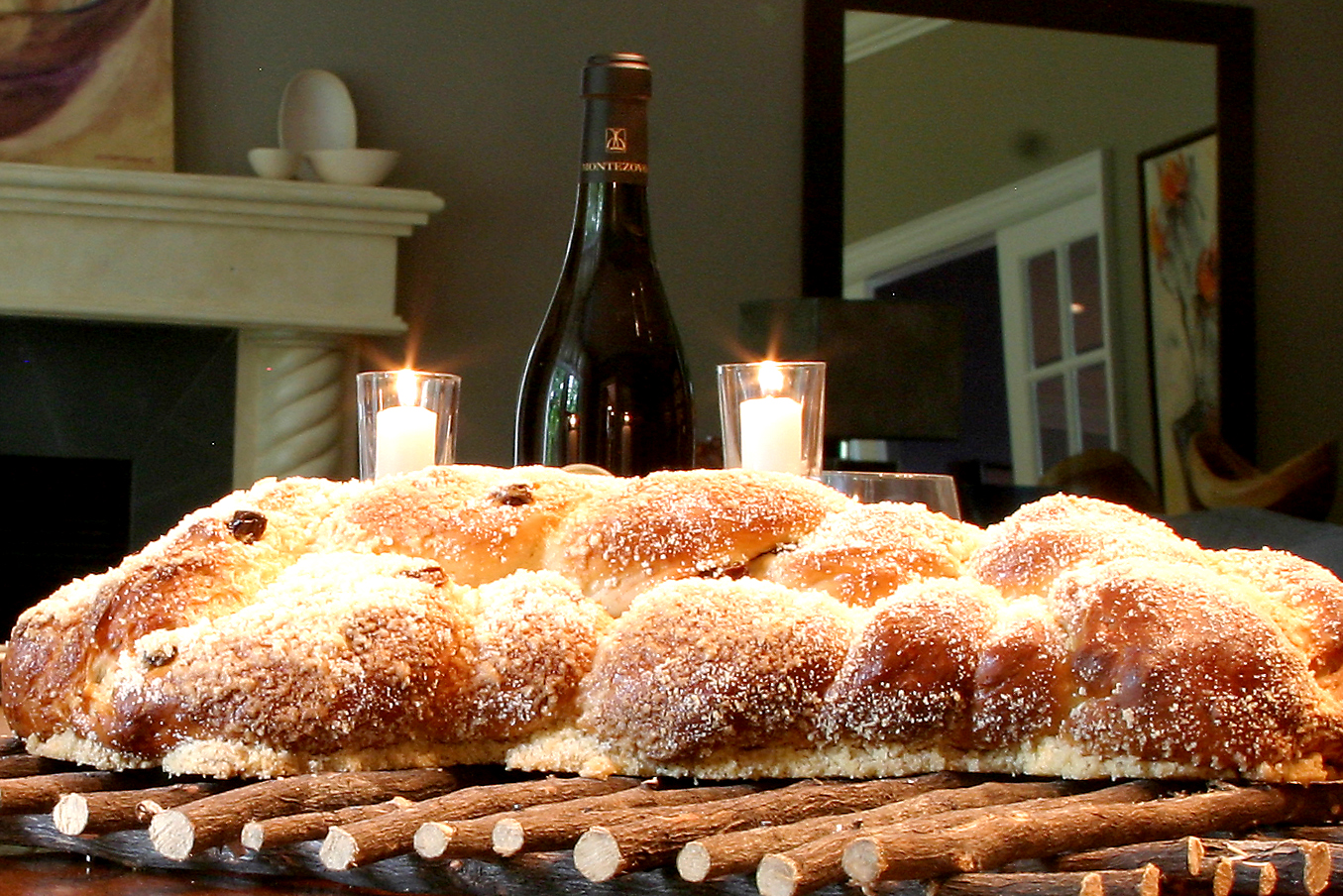 This is the most delicious challah I have ever eaten.  Anytime I am invited anywhere for Shabbat dinner, I offer to bring my challah.  It's amazing how often I am invited back.  This recipe is actually a marriage of two different recipes.  The challah recipe comes from my friend Margo.  The topping part of the recipe comes from my sister's cousin's friend, Elaine.  Elaine and Margo have never met, as fas as I know.  My sister would like to introduce them.  She thinks they's like each other.  In my little cyber world, they are already great friends!
What you need:
1 package or 1 tablespoon traditional yeast
1 teaspoon sugar
1 cup warm water (115 –120 degrees F)
2 cups all-purpose flour
1 cup whole wheat flour
1/3 cup sugar
1 teaspoon kosher salt
1 large egg, lightly beaten
1/3 cup vegetable oil
1/2 cup raisins (optional)
1/2 cup all purpose flour
1/2 cup granulated sugar
4 tablespoons unsalted butter or margarine
1 egg, lightly beaten
What you do:
1.  In a 2 cup liquid measuring cup, dissolve 1 teaspoon sugar in 1 cup warm water.  Sprinkle yeast on top and let stand for about 4 minutes, until yeast gets all bubbly.
2a.  To make the dough in a stand mixer:  Place 1 cup white bread flour, sugar and salt in the stand mixer bowl, fitted with the dough hook.  Mix briefly to combine.  Pour dissolved yeast mixture into machine and mix for about 1 minute.  Add egg and oil and mix again for about 30 seconds.  Add remaining 1 cup white bread flour and 1 cup whole wheat bread flour and mix on low speed for about 10 minutes.  If dough seems too sticky, add a bit more white bread flour.  Dough should be soft and smooth but not sticky.
2b.  To make dough by hand:  Stir together both types of flour, sugar and salt in a large mixing bowl.  In a separate bowl, whisk egg and oil together.  Add dissolved yeast and egg/oil mixture to flour mixture.  Using a wooden spoon, mix until all the ingredients come together and form a ball.  Sprinkle a bit of white bread flour on the counter and dump out the contents of the bowl.  Knead by hand for about 10 minutes.  As you are kneading, if the dough seems too sticky, knead in a bit more flour.  You want a soft but not sticky dough.
3. If using raisins, use your fingers to poke the raisins deep into the center of the dough. Knead for a minute and then form the dough into a ball and transfer it to a large oiled mixing bowl. Turn dough until all sides are coated. Cover the bowl with plastic wrap and let sit on counter until almost doubled in bulk, about 90 minutes, or you can cover and put it in the fridge overnight and continue the next day.
4.  After the dough has risen , gently knead again, to punch the dough down.  If you have a scale, weigh dough and divide into 5 equal pieces (or you can do 3 pieces for a simple 3 rope braid).  Roll our each piece into a rope about 12 inches in length, making sure the ropes are slightly thicker in the middle and tapered at the ends.  Lay the ropes out on the counter and attach them by pinching together at the top.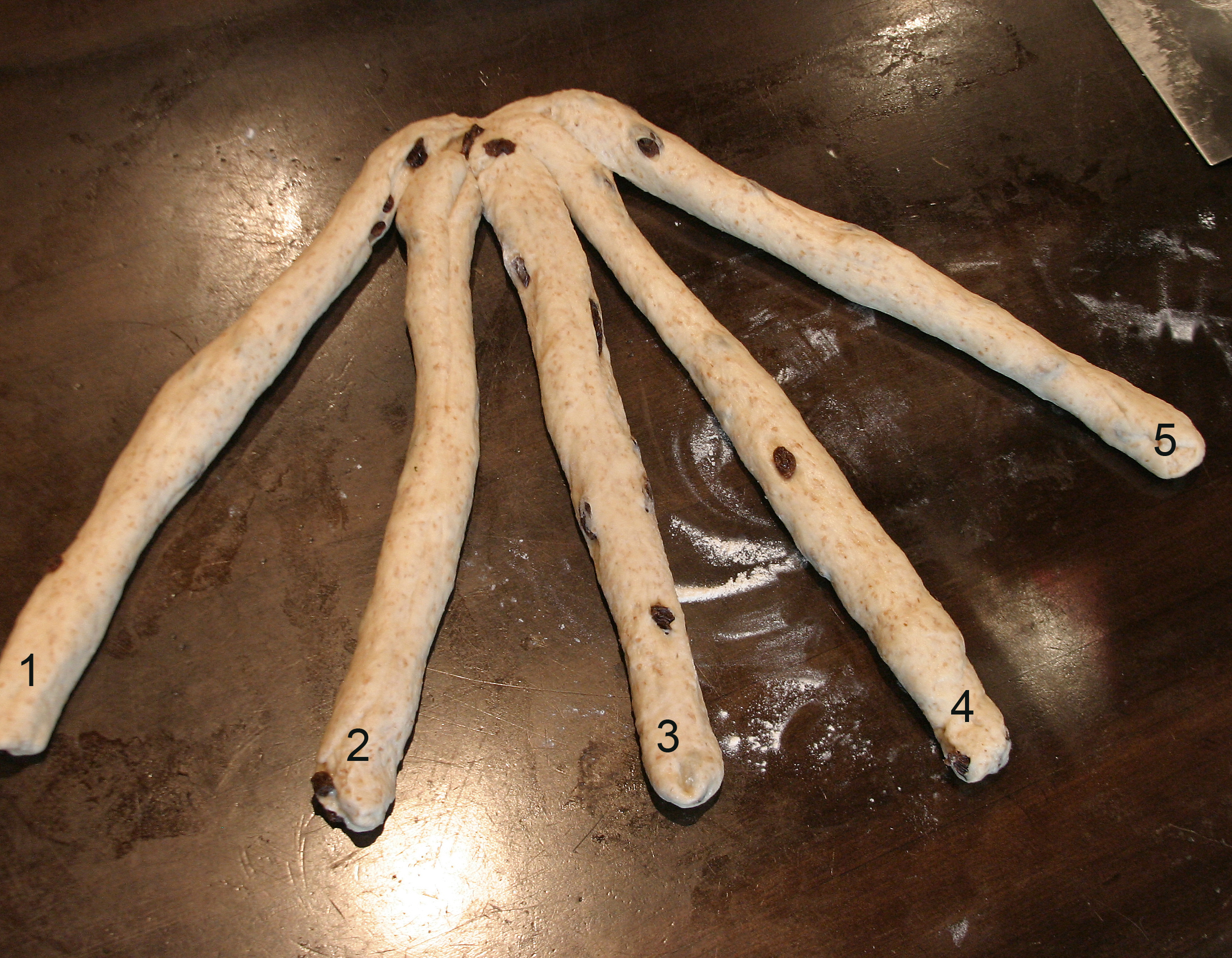 5.  I learned how to do the 5 strand braiding method from Peter Reinhart's book  "The Bread Baker's Apprentice."  I consider myself to have poor  fine motor skills, so if I could master this, you can too!  Here is the pattern to follow:
Strand 1 over Strand 3, Strand 2 over Strand 3, Strand 5 over Strand 2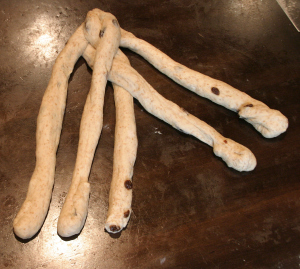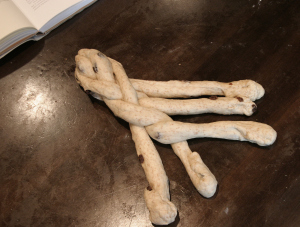 6.  Just keep repeating this pattern until you get to the end.  Gently pinch tip together when you get to the end.
7.  Place braid on a parchment lined baking sheet.  Spray loaf with spray oil and cover lightly with plastic wrap.  Let sit at room temperature until the loaf has almost doubled in size, about 60-90 minutes.
8. While loaf is proofing, make topping.  In a bowl, using your fingertips, mix butter or margarine into flour and sugar until you have coarse crumbs.  I usually make a double batch of this and keep it in the freezer in a zip-loc bag.
9.  After challah has finished proofing, brush gently with beaten egg and then sprinkle topping all over top and sides of bread.  Set aside about 1/2 cup of topping to use later.  Don't worry about any topping that doesn't make it onto the loaf and falls on the parchment paper.  Just use your fingers to sweep the excess topping under the loaf.  When it bakes, it forms little sweet crusty bits on the bottom that you can pick off and eat before anyone comes home.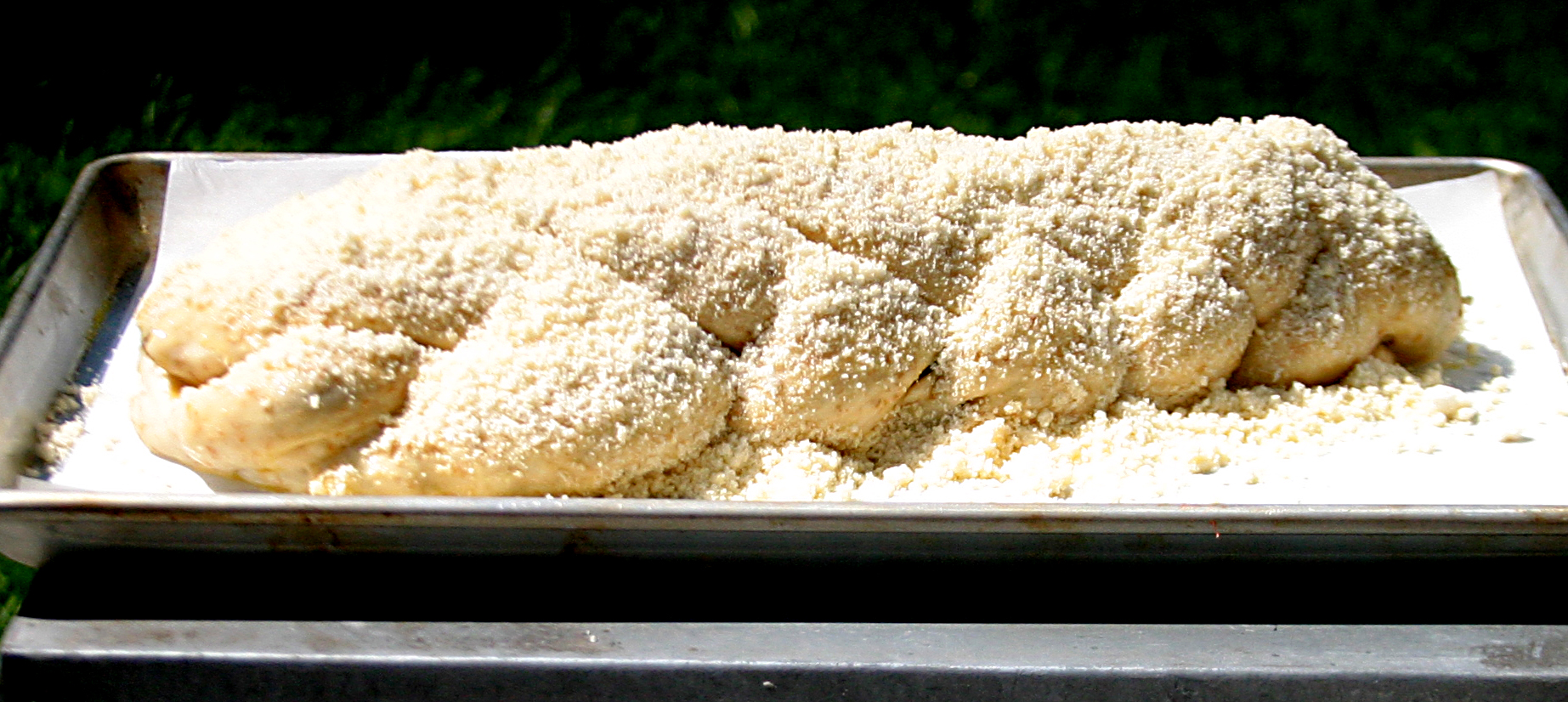 10.  Bake challah at  350 degrees for about 20 minutes.  Remove challah from oven and brush with egg and sprinkle with reserved topping at the seams where the challah has swelled and newly exposed dough is showing.  Turn down temperature to 325 degrees F.  If challah is getting too dark, tent with foil.  Return challah to oven and bake for an additional 15-20 minutes, or until an instant read thermometer, inserted into the brerad registers 190 degrees F.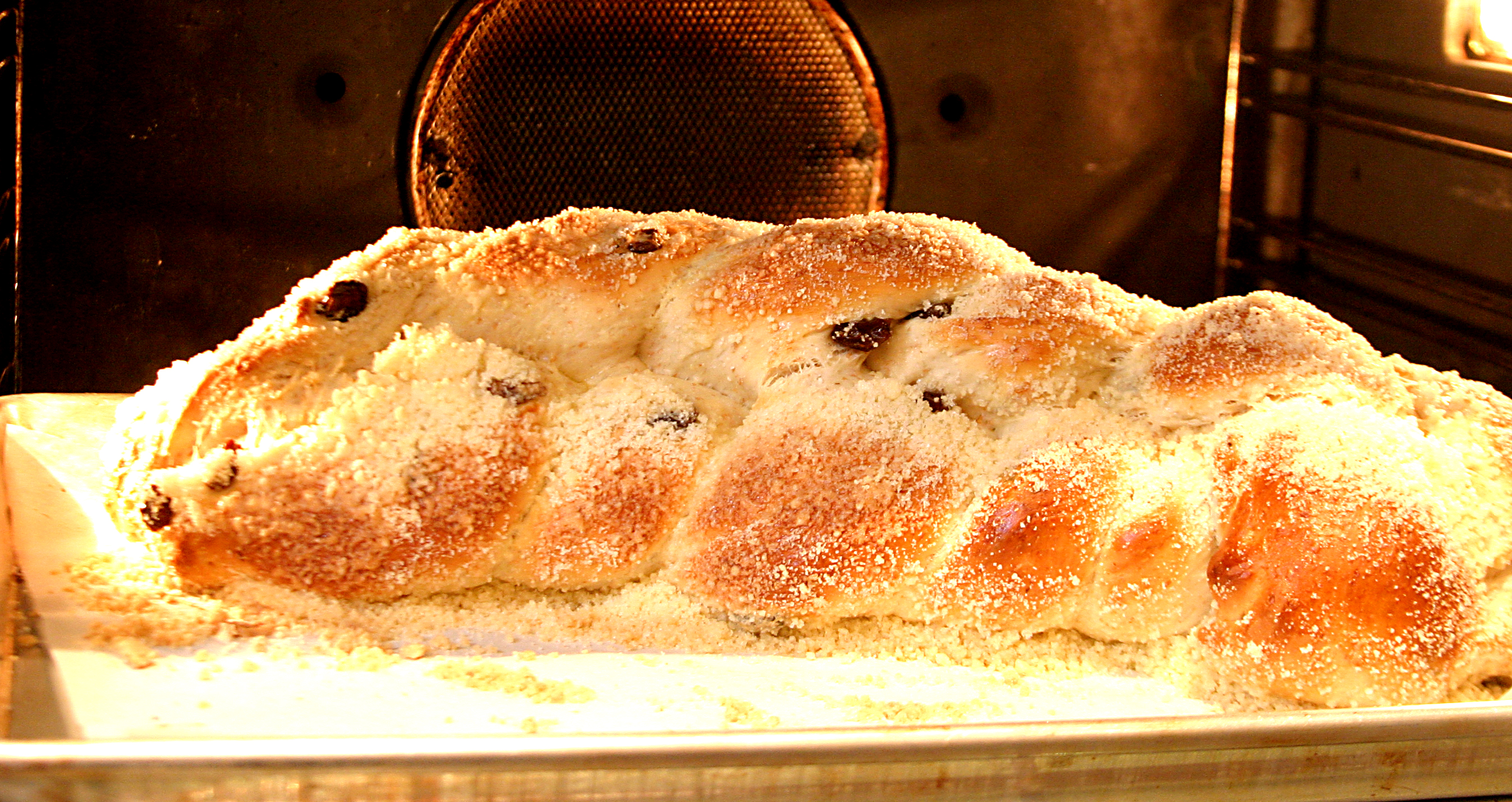 11.  Remove challah to a wire rack and let cool at least one hour before serving.