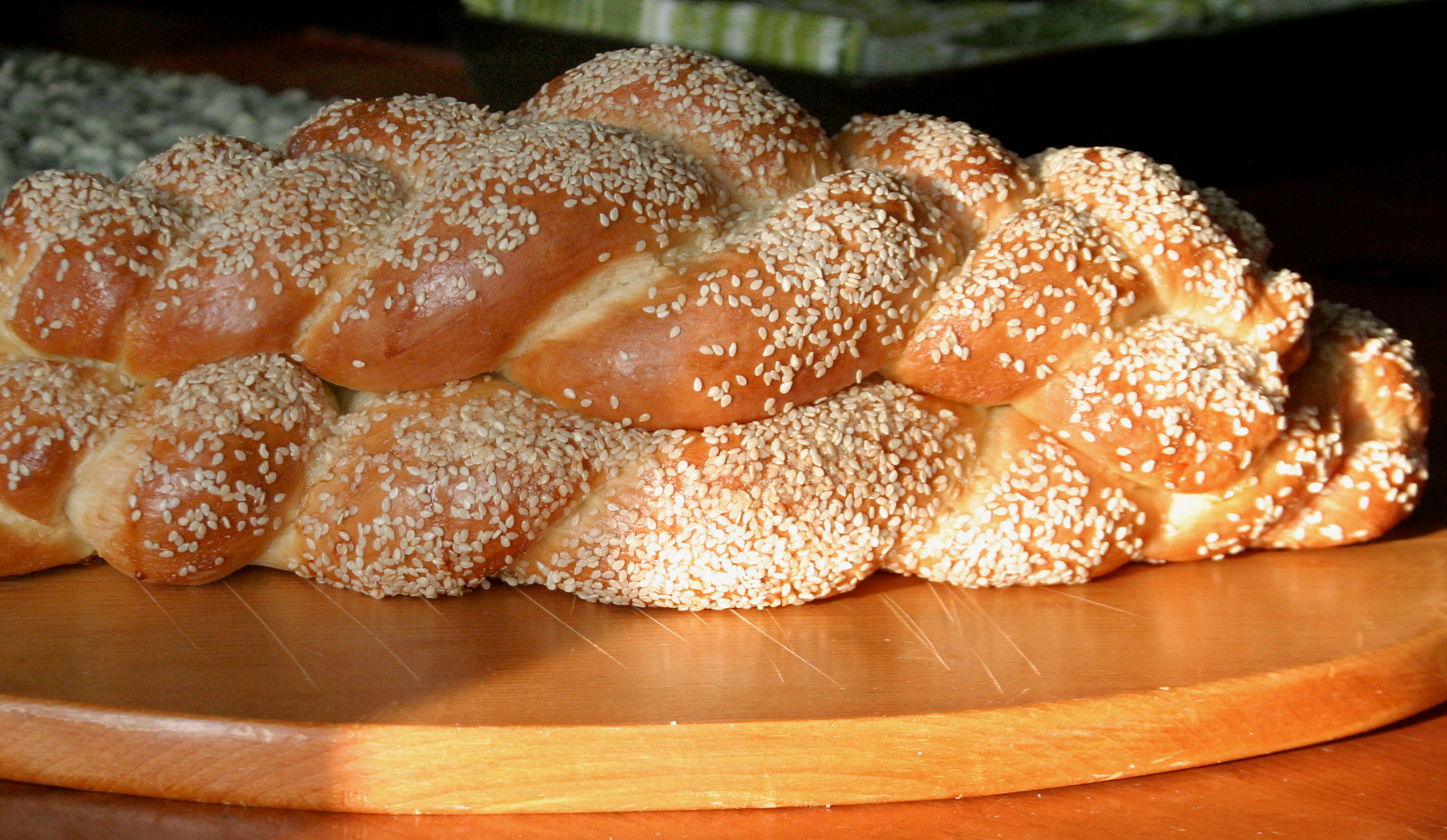 I approached this week's Bread Baker's Apprentice Challenge with a bit of trepidation.  I have been making challah once a week for about 12 years now.  For the past five years I have been making the same recipe and my family loves it.  As the old saying goes, "If it ain't broke, don't fix it."  However, sometimes you have to break with tradition and try something new.  Besides, it really annoys my husband and kids when I change things up on them and it's kind of fun to irritate them.
The recipe I have been making is actually a hybrid of two different recipes.  The first recipe comes from my sister's cousin's friend Elaine.  It is a very rich sweet challah topped with a crumble coating made from butter, floor and sugar.  It's more like eating cake than bread.  I made it every week for about 2 years until I had Shabbat dinner at my friend Margo's house and tried her challah.  Margo incorporates about 1/3 whole wheat flour into her challah and uses less eggs and oil than Elaine.  I decided to try Margo's challah with Elaine's topping and thus a succesful culinary marriage was made.   Elaine lives in Toronto and Margo lives here in Ottawa.  They have never met in person, although in my virtual world they are great friends!!
I decided to break from tradition and make Reter Reinhart's challah this week and surprise my family.  Once I made my challah with dried sour cherries instead of raisins and I almost had a revolt on my hands.  This was going to be fun!!  (I know, I need a life).
I followed Peter's recipe exactly but I decided to do a slow overnight bulk fermentation in the fridge instead of at room temnperature for one hour.  I always start my dough on Thursday and let it do the first rise overnight in the fridge and then form the braid,  let it proof and bake it late Friday morning.   Peter's recipe contains less sugar and oil than mine but more eggs.  The dough mixed up beautifully in my Kitchenaid in about 10 minutes.
I decided to attempt the double celebration design (a little braid on top of a big braid).   When I was a little girl, I had short curly hair and my mom would not let me grow it long.  I never really mastered braiding until I grew up and started making challah.  I never even braided my Barbie's hair.  I used to cut my Barbie's hair all off , just leaving a fringe around the outside with a bald spot in the middle.  I told my mom I gave Barbie a hairstyle just like daddy's!  She never got mad at me, perhaps because when she was a child, she cut the drapes in her living room to make clothers for her doll, so she understood my creative spirit.  Thanks Mom!
The double braid requires a bit of math to properly construct.  If you have a scale and calculator and half a brain, you can do this!  Weigh the dough after the bulk fermentaion.  Use one third for the top braid and the remaining two thirds for the bottom braid.  Divide each into 3 equal weight pieces.  For my bread the entire dough weighed about 900 grams.  I rolled out  three 100 gram ropes and three 200 gram ropes.  I made the ropes for the top braid a little shorter than those for the bottom braid.  I made my ropes a little fatter in the middle with tapered ends.    For a three rope braid, Peter explains it is best to begin braiding in the middle and work your way down, braiding  towards you.  Then turn the loaf 180 degrees so that the unbraided end faces you and braid the second half.  Once both braids are done, lay the smaller one on top of the bigger one.  This is much easier to do than to write about.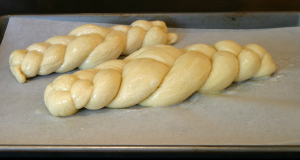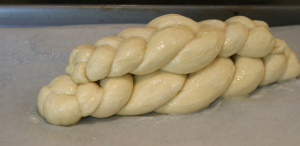 After about 90 minutes the bread looked about doubled in size, so I checked to see if it was indeed finished proofing using a new tip I picked up from fellow BBA baker Phyl .  Phyl calls this the poke test.  Stick your fingertip into the bread and watch what happens next
"If the place you poked doesn't fill back in, the dough is underproofed. 
If it fills back in immediately, you have allowed the dough to overproof. 
If, however, the poke hole fills in slowly, your dough is properly proofed and ready to bake."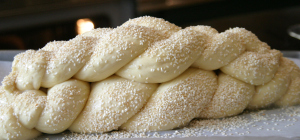 The poke hole filled in slowly, so I egg washed the challah and sprinkled it liberally with sesame seeds.  Into the oven it went.  I checked the challah after 20 minutes.  I could see that the bread was starting to rise and open up.  I brushed any new exposed spots with more egg and sprinkled the naked sections with more sesame seeds.  I turned the loaf 180 degrees and baked for another 15 minutes until it registered 190 degrees F in the center of the bread.
Although there was no uprising or outright revolt, the verdict was clear.  Our family prefer's the Margo-Elaine hybrid.  We found the Peter Reinhart version a little too eggy and airy.  My husband said it tasted exactly like  Rideau Bakery challah.  The Rideau Bakery is here in Ottawa and their challah is considered the gold standard for many here in Ottawa.  So while it was a good challah, I won't be making it again if I know what's good for me.  The Margo-Elaine version of challah can be found here for anyone interested.