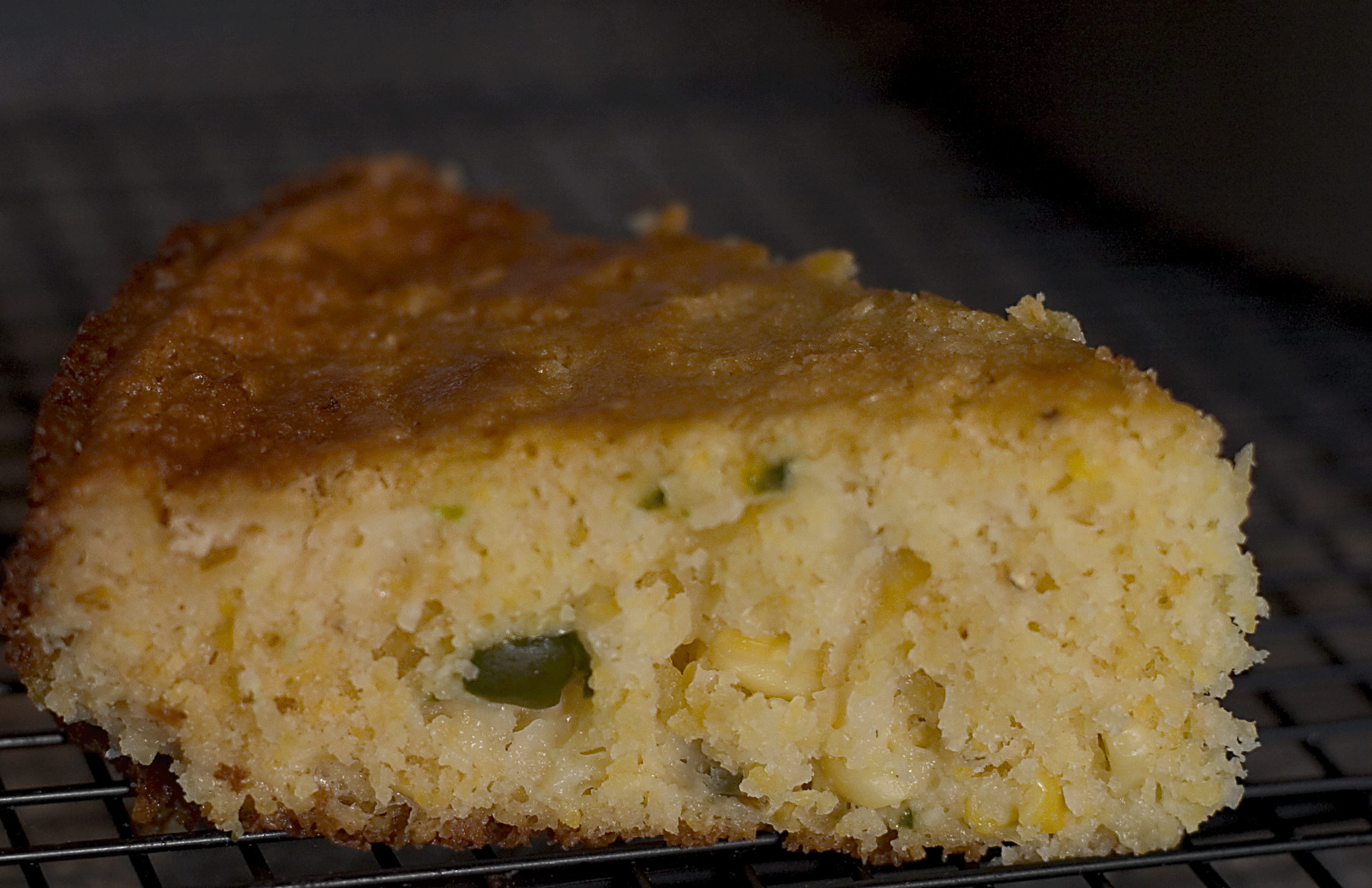 I have to admit, I didn't go into this week's challenge with high expectations.  I have been making the same cornbread recipe since 1987, when my friend Pam shared her recipe with me.  I love her cornbread.  It combines cornmeal and corn flour and makes for a very tender cornbread.  I add canned corn to it which enhances the sweetness and finely diced jalapeno which helps to temper the sweetness.  All in all a wonderful recipe.  I was never tempted to stray from this perfection.  However, the Bread Bakers Apprentice Challenge called for making Peter Reinhart's cornbread recipe this week.
This is the only bread recipe in the book that does not call for yeast.  In baking terminology, it's what is known as a "quick bread" which relies on chemical leavening, typically baking soda and/or baking powder.  While classified as  a quick bread, this version of cornbread takes 2 days to make.  However, day 1 just consists of 5 minutes of time to make the cornmeal soaker.  Coarse cornmeal (also known as polenta) is given an overnight bath in buttermilk.  I did not have any buttermilk, and as I am at the lake at my cottage, I did not feel like driving 20 minutes to the store, so I just added a bit of lemon juice to the milk to sour it.
The next day assembling the rest of the bread is simple.  Sift flour, baking powder, baking soda and salt into a mixing bowl.  Stir in brown and white sugar.  In a separate bowl, the eggs are beaten and honey and melted butter are mixed into the eggs.  This whole mixture then gets combined with the buttermilk soaked polenta.  Dry and wet ingredients are combined and some frozen corn is mixed in.  I also added a finely diced jalapeno.
The cornbread is baked in a 10 inch pan.  I only had a 9 inch pan so I also used some mini loaf pans.  The baking dishes are coated in bacon grease and heated in the oven for 5 minutes before the cornbread batter is added.  This gives the cornbread a crisp crust.  I was not using bacon so I just brushed the pans with vegetable oil and heated them.
I was a bit distracted as I baked the cornbread and did not take my usual step by step photos.  For this you can blame my friends Lynnie and Paula.  They came up to my cottage to spend a few days with me and we were very busy laughing and drinking wine while I made this.  Lest you think I totally slacked off, I did make them cheddar jalapeno bagels on day two of their visit, cornbread on day three and for a final send off on day four I rolled them out the door with tummies full of sticky buns.  We also collaborated on an amazing spinach, watermelon, strawberry and halloumi cheese salad.  Halloumi cheese is a delicious cheese from Cyprus, somewhat like feta but it is served fried.
The finished cornbread was delicious.  I was surprised at how much I loved it.  It had a coarse crumb and crunchy crust and was denser than the cornbread I usually make.  I will be revisiting this cornbread again, but not too soon.  I'm still coming down from my carb loading week with my friends.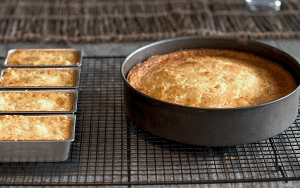 I won't be publishing the cornbread recipe from the Bread Baker's Apprentice Cookbook as all the challengers have agreed that out of respect to Peter Reinhart, we will only promote his wonderful book and not give away his recipes for free.  For an equally delicious cornbread, try my friend Pam's recipe.