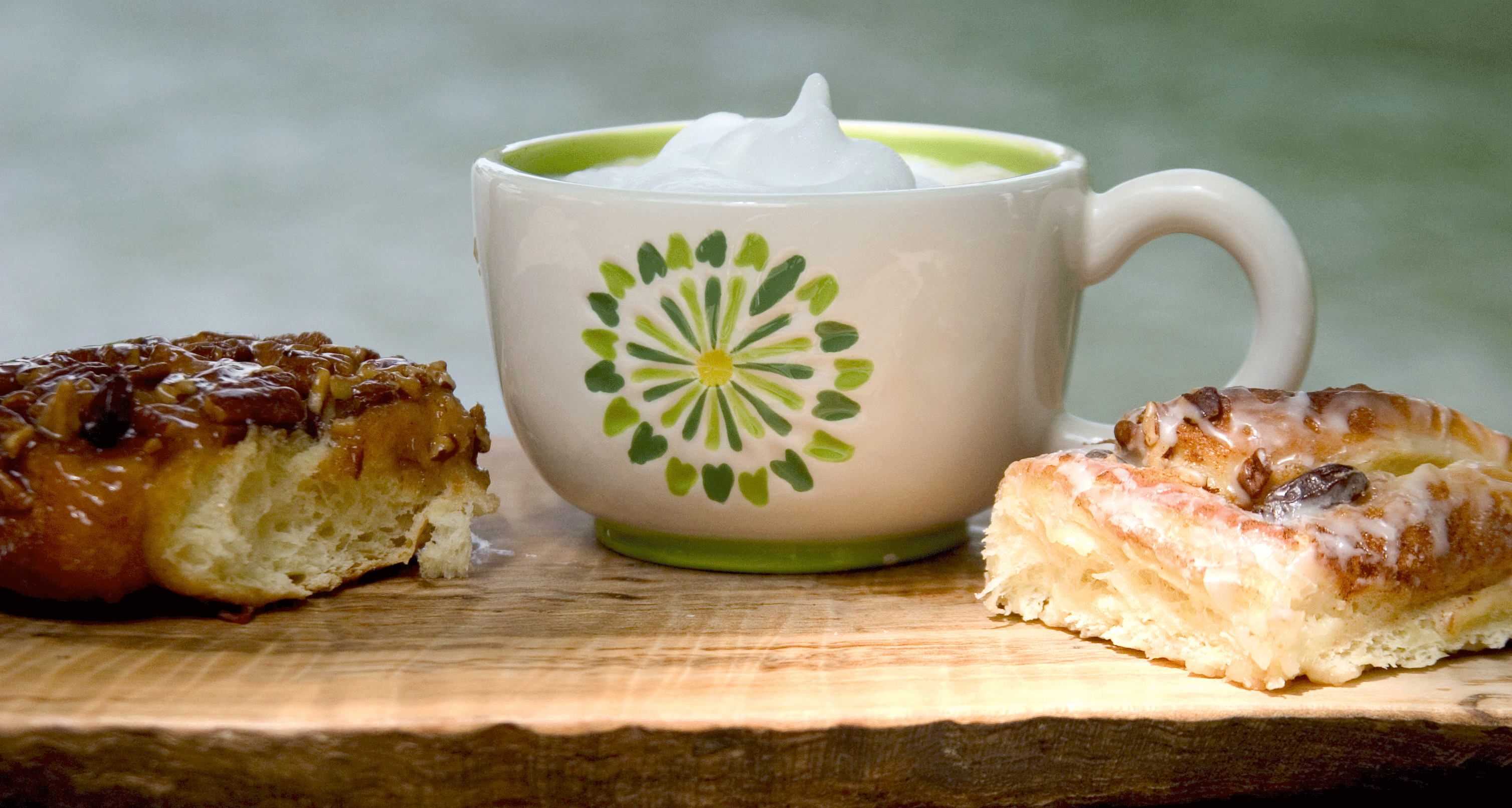 There comes a time in almost every woman's life when she realizes with crystal clarity that "Yikes,  I'm turning into my mother!"  (I don't think the same is true for men and their fathers). That time happened for me last week while I was standing in line, waiting to pay, at the Smiths Falls Walmart. 
I went in to buy some raisins to make the cinnamon buns.  While there, I picked up a few other items.  There was an older woman in line behing me.  She tapped me on the shoulder and when I turned around I saw that she had picked up the sports bra I had in my cart.  "Excuse me" she said, "Is this a brassiere?"  I replied that yes indeed it was.  She then proceeded to ask me the price, and upon hearing I was paying $16.00 for a bra, she felt it her duty to inform me that there were bras available for $4.00 at "Giant Tiger" (a discount store, about one step up from the dollar store).
By this time she felt that we were well acquainted enough and she proceeded to lift up her shirt to show me this bargain bra!  I really did not want or intend to look but it's like a car accident, you can't tear your eyes away from the wreck!    All I can say is, you get what you pay for.  This bra had no support at all and her boobs drooped down to her stomach.
As I stood there wishing the ground would open up and swallow me whole, wondering "why me?", it suddenly occurred to me that it's all in the DNA.  When I was little, my siblings and I would marvel at the way my mother knew the life stories and troubles of almost every stranger she encountered.  She knew the pharmacist's mother-in-law problems, she knew that grocery check-out girl's boyfriend had cheated on her, and she knew that although the dry cleaner's daughter was 5 years old, she still was not sleeping through the night.  My mother emitted some kind of aura that drew strangers towards her.   My mother has many fine qualities, why this particular one was passed on to me I do not know.  I just hope it goes away soon!
 Just thought I'd share that little moment with you all!  Anyways, on to cinnamon buns!
Finally week #8 of the Bread Baker's Apprentice Challenge.  This was the recipe I have been waiting to make.  I am one of those people who cut out interesting recipes and then file them away to try at some later date.  At the end of the year, when I go through that file, I inevitably find at least 10 different recipes for cinnamon buns.  Yet, I never bake any of them.  It always seems to be too much of an ordeal.  Plus, secretly, I think I am afraid to be alone in the kitchen with 12 freshly baked cinnamon buns.  I'm not sure how many would survive before my family came home.  However, cinnamon buns was this week's assignment and I have always been a good student when it comes to doing my homework.
I decided to do half cinnamon buns and half sticky buns.  While this is a one day bread, I decided to begin at night and let the buns proof in the fridge overnight so that I could bake them the next morning.
All ready to go:
Mixing up the dough was fairly simple.  It begins with creaming together the butter,  sugar and salt in the mixer with the paddle attachment.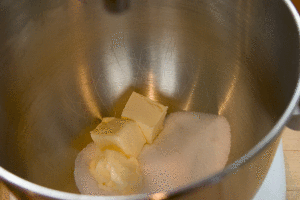 Next whisk in the egg and lemon zest.  Finally add the yeast and milk and flour (I used all-purpose).   Once the dough forms a ball, you are instructed to switch to the dough hook attachment.  Mine never formed a ball, so I added about 1/4 cup more flour and it sort of formed a ball so I switched to the dough hook.  Here is the dough at the beginning of the mixing period.  It was very wet and sticky.  I had my doubts about this forming a dough I could actually work with, but I took a leap of faith and let the machine do it's work for 10 minutes.
Finally after 10 minutes and about an additional 1/4 cup of flour the mixing was complete.  The dough did come together as promised. 
Then it was time for the dough to have it's primary fermentation (that's baker's speak for the first rise.)  Into a greased container it went until it doubled in size.
While the dough was rising, I mixed up the caramel glaze for the sticky buns.  The recipe in the book was created by Peter Reinhart's wife, Susan.  It is an amazing feat of baking chemistry that turns a gooey mixture made from white and brown sugar, butter, corn syrup, salt and vanilla extract into a caramel glaze.  The mixture is spread on the bottom of the baking pan and then the cinnamon buns are placed on top.  As it bakes the sugar caramelizes.  The trick, he says, is to catch it just as it begins to turn a golden amber.  Then it will cool to a soft creamy caramel.  If you leave it in for too  long, and the glaze goes dark brown, the caramel will cool and harden. I figured it would be easiest to tell when the correct colour was reached if I baked my sticky buns in a glass pan.  I used a 8 x 12  inch glass pyrex dish.
The dough took about 2 hours to double in size.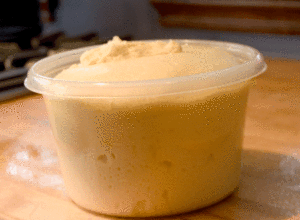 Then I rolled it out to an 18 x 9 inch rectangle.  It was a beautiful, supple dough to work with.  After rolling I sprinkled it liberally with cinnamon sugar.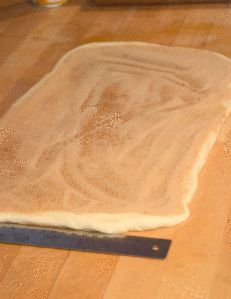 I decided to add toasted chopped pecans and raisins inside my buns.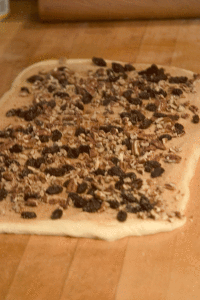 While this made rolling and cutting the dough a bit more difficult, it was worth it.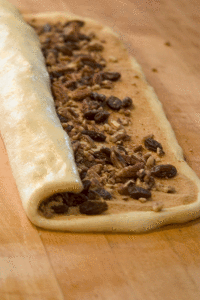 Cutting was a bit messy.  Pecans and raisins spilled out everywhere, but I just stuffed them back in.  I wished I had read Tammy's blog before I did the cutting.  She reminded me of a trick I had forgotten, to use thread or dental floss (not mint!) to make beautiful slices.
I placed 6 of the buns on top of the caramel glaze in the 8 x 12 pyrex pan.  The other six went into a glass dish lined with parchment paper.  They were covered with plastic wrap and then put into the fridge for an overnight rest.
At this point my husband arrived at the cottage.  He wanted to know when we could eat them.  I said that in the morning they could be taken out of the fridge, but had to sit at room temperature for 3-4 hours, to finish proofing, before they could be baked.  He got up at 6:00 am to take them out of the fridge.  It was a holiday (Canada Day) and I slept in a little.  When I came into the kitchen at 9:00 he was all excited to put them in the oven.  I looked at them and felt them and decided they needed a little longer.  They were still kind of small and cool.  He was very anxious so I told him to go for a run and when he came back they would be ready.  I neglected to tell him that the book instructs you to let them cool for at least 30 minutes after removing from the oven.
Finally, at 10:00 they are ready for the oven.
 The cinnamon buns were ready in about 30 minutes and the sticky buns took about 5 minutes longer.  The sticky buns are baked on the bottom shelf of the oven so that the heat can caramelize the glaze.  Cinnamon buns are left to cool in the pan for 10 minutes, then covered with a white fondant glaze (icing sugar, milk and vanilla extract).  Then they are taken out of the pan and left to cool for another 20 minutes.  My husband is convinced I am torturing him.
I have to confess, this is a photo of the second time I made the cinnamon buns (yesterday).  The book suggested you just streak the buns with the glaze.  The first time I used a fork, but this time I put the glaze into a disposable piping bag and artfully decorated them.
The sticky buns are cooled in the pan for 5 minutes and then you flip them over onto a serving platter and the bottom caramel glaze becomes the top.  Any excess caramel in the pan is poured onto the buns or eaten by hungry on-lookers!!  20 more minutes of cooling.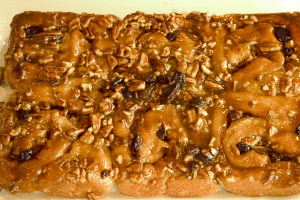 Finally it's time to eat.  Here is angry impatient husband biting into cinnamon bun.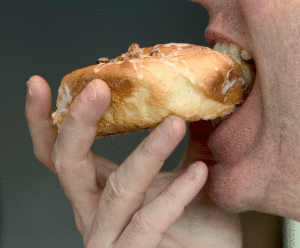 Here is angry impatient husband biting into sticky bun.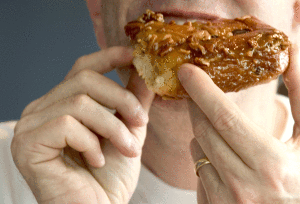 These were unbelievably good.  This recipe alone is worth the price of this cookbook.  My favourite were the sticky buns.  I am a lover of all things caramel but these are in a league of their own.  Biting into one, you get the chewy caramel crust and then inside is all pillowy soft cinnamon goodness. Apparently I actually moaned when I took my first bite.  
P.S.  Husband is no longer angry.  Especially since I made them a second time yesterday.