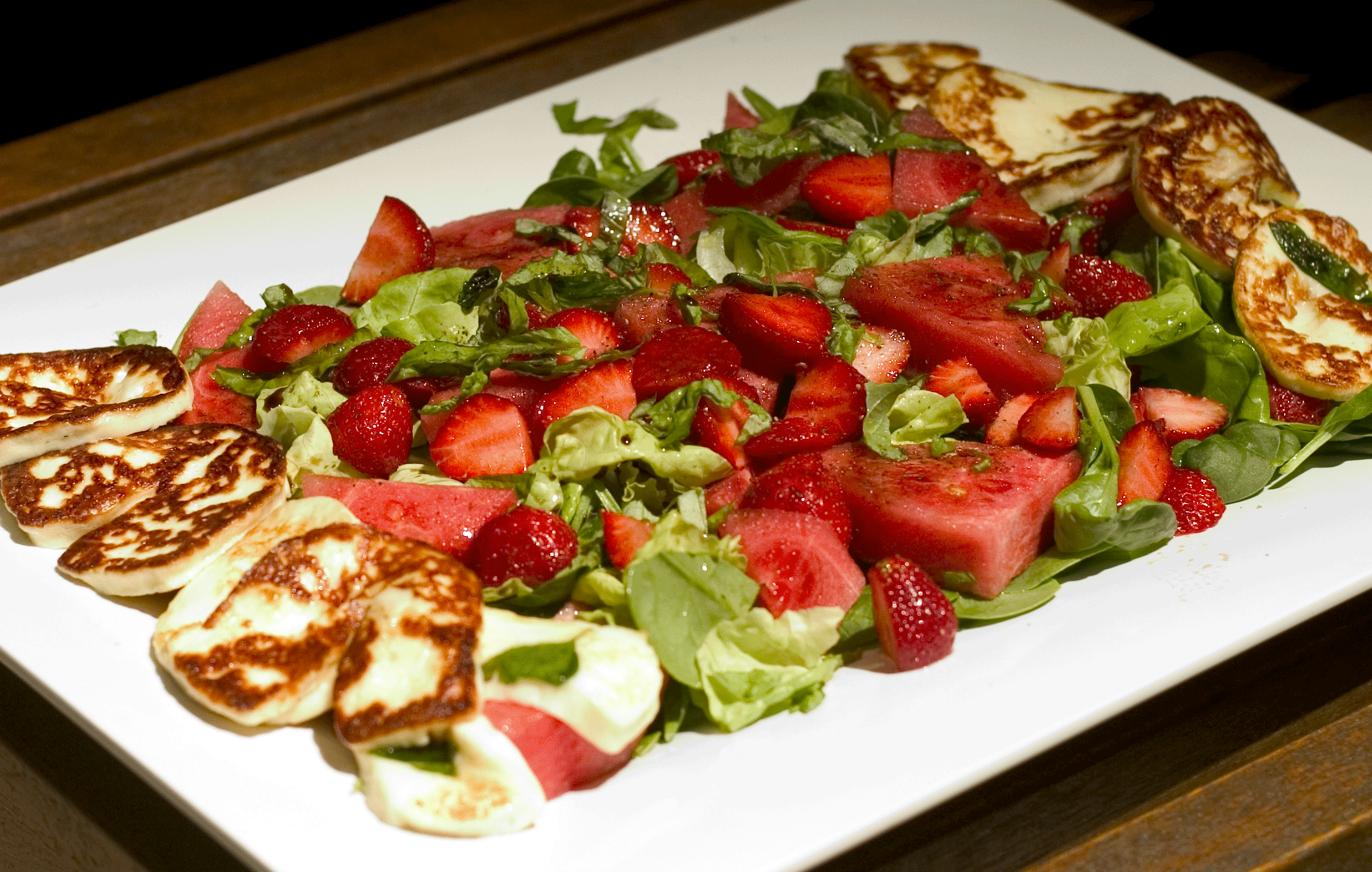 I first learned about Halloumi cheese last summer when I watched Jamie Oliver prepare it on his TV show, "Jamie at Home". Halloumi is a traditional cheese from Cyprus, an island in the Mediterranean Sea. It is made from a mixture of goat and sheep milk, although some halloumi can be bought that also contains cow's milk. Halloumi can be fried until brown without melting due to its higher-than-normal melting point. The resistance to melting comes from the fresh curd being heated before being shaped and placed in brine. When sliced and fried in a bit of olive oil, Halloumi is a wonderful treat. It goes all crispy on the outside and soft and slightly chewy on the inside. It makes a great squeak when you chew it, sort of like fresh cheese curds.
This salad was inspired by an empty bagel platter.  After a lunch of homemade bagels all that was left was the poppy seeds, sesame seeds and fleur de sel that had fallen off the bagels.  My girlfriend speared a piece of watermelon and dipped it into the bagel topping.  She loved how the salt balanced the sweet of the watermelon.  That got me thinking about combining these flavours.  The next day I decided to pair it with Halloumi cheese because it has a great salty taste.  Fried halloumi cheese with watermelon, strawberries, and spinach is an inspired flavour combination!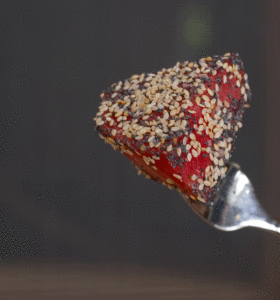 What you need:
1 quart strawberries, washed, hulled and sliced
1/4 seedless watermelon, cut into 1 inch chunks
5 ounce box of baby spinach, washed and dried
2 tablespoons balsamic vinegar
3-4 tablespoons extra virgin olive oil
kosher salt
freshly ground black pepper
2 tablespoons extra virgin olive oil
8 ounces Halloumi cheese, sliced into 8 thin slices
What you do:
1.  Place baby spinach on a large platter.  Scatter strawberries and watermelon over spinach.  Drizzle with olive oil and balsamic vinegar.  Sprinkle with salt and pepper.
2.  Heat 2 tablespoons olive oil in non-stick skillet.  Fry halloumi cheese for about 3 minutes on each side until golden brown. 
3.  Place halloumi slices around edge of salad platter.  Serve.