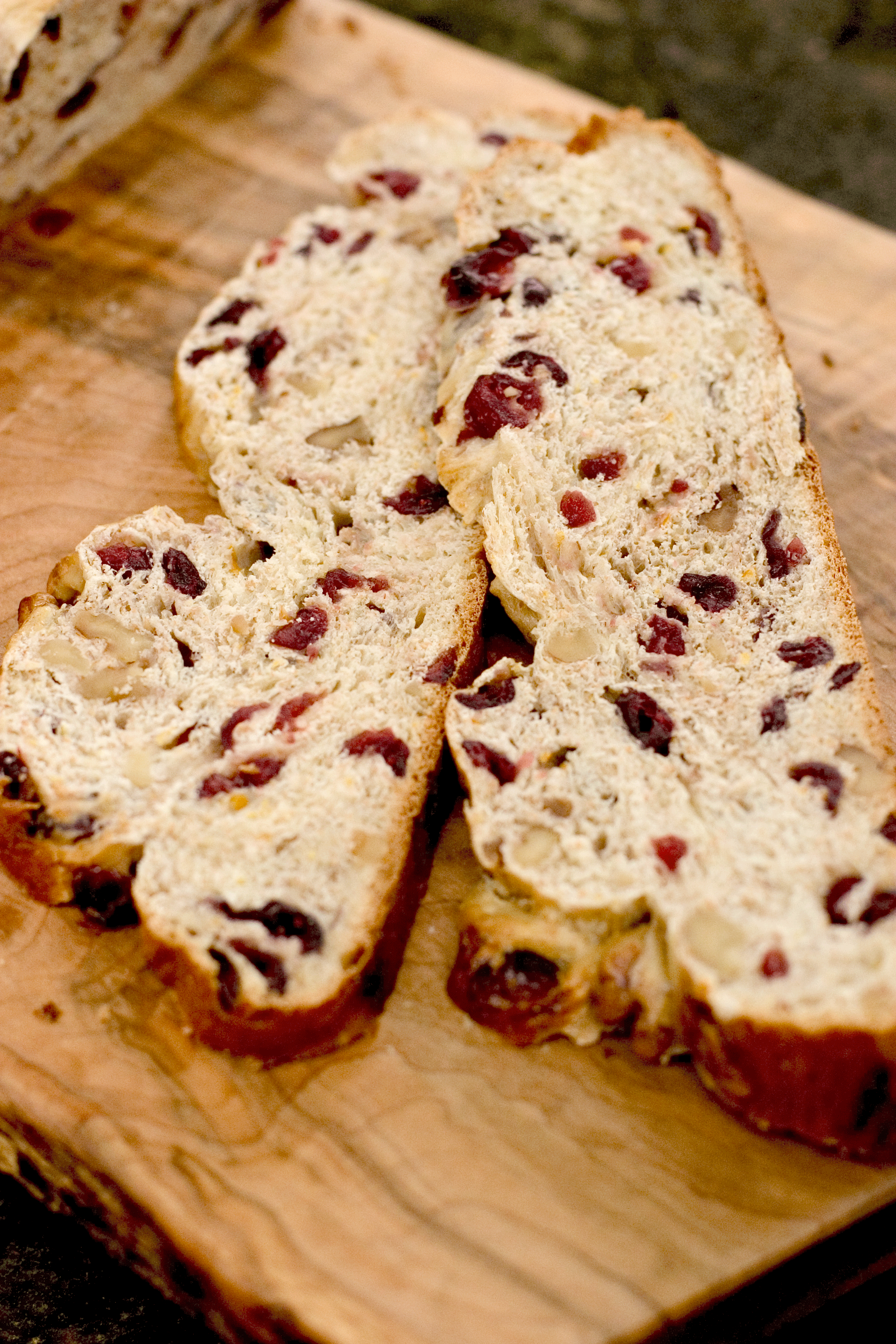 The day I made bread # 11 in the Bread Baker's Apprentice Challenge, in late July, I was expecting 12 guests for the weekend at my cottage.  It's not quite as daunting as it sounds, as I learned a long time ago, that when weekend guests ask what they can bring, assign them a meal.  So I was going to make Friday night dinner and Sunday brunch and had assigned Saturday lunch to one friend, Saturday cocktails, hors d'oeuvres and dinner to two other friends.  So all in all, I was in good shape.  Or so I thought, until I woke up Friday morning with a headache, fever and canker sores in my mouth.  Luckily I had my niece here visiting from New York and she rolled up her sleeves and helped me bake.
First we tackled the challah dough that I had made the day before and fermented in the fridge overnight.  We needed to braid 2 loaves for Friday night's dinner.  My niece was keen to tackle the 6 strand challah I had seen on a youtube video.  So we brought the laptop into the kitchen and after several attempts, braiding and then unbraiding, she mastered it. 
I must say, you learn a lot about a person when you braid bread with them.  What my niece lacks in the way of fine motor and visual perception skills (sorry Sam), she more than makes up for in determination.  She was not about to let this bread get the best of her and after about 30 minutes, she had successfully braided it.  I have to admit, that I have tried to do the 6 strand braid myself, about 3 times now and each time I failed, gave up and did a basic 3 strand braid.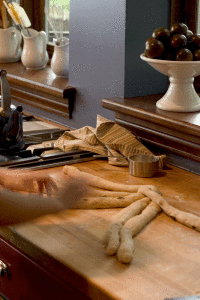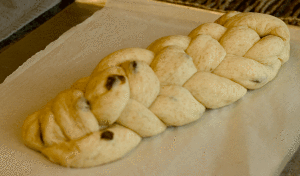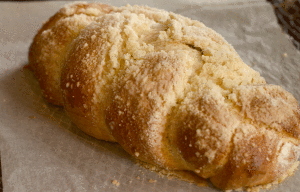 After the challah was in the oven, we made the cranberry walnut celebration bread.  To be perfectly honest, I was not that keen on making this bread.  We have been doing so many enriched breads and I was kind of tired of them.  From reading fellow BBA challenger's blogs, I gathered I was not alone in feeling this way.  Oggi at "I Can Do That" talked about "celebration fatigue" and I know just what she means.  However, I signed on to this challenge and I'm committed to bake each bread, in order.
I decided to incorporate some whole wheat flour into this bread.  I used about 4 ounces whole wheat bread flour and the balance (9.5 ounces) was white bread flour.  Although the recipe called for orange extract, I used orange zest instead.  I also toasted my walnuts first.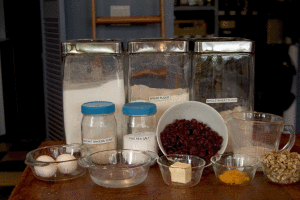 The dough comes together fairly easily.  Dry ingredients are put in the mixer bowl and wet ingredients are added and kneaded for about 5 minutes on medium speed with the dough hook.  It is a soft and pliable dough.  I decided to knead in the cranberries and walnuts by hand.  it seems as though you will never incorporate them all, but finally, they are all crammed into the dough.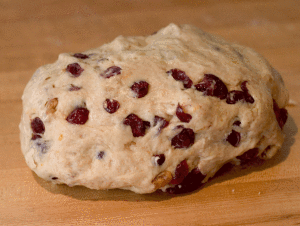 Then the dough is set aside to ferment and double in size, about 2 hours.  While it was fermenting I prepped the rest of my dinner.  (For anyone interested, I made London broil on the BBQ, dilled green bean salad, roasted potatoes and a tomato, basil and purple onion salad with a balsamic vinaigrette.)  The directions in the book call for doing one large braid and then topping it off with a smaller braid, sort of a double decker braid.  My head was pounding and I did not have the brain capacity to do the math necessary for getting the proportions correct, so I just did a 3 strand braid and coiled it into a circle.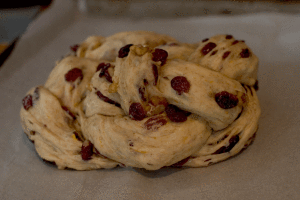 The loaf proofed for about 90 minutes and grew quite large.  I egg washed it and baked it for about 50 minutes.  I set it out to cool and after about an hour my guests started arriving.  I had planned to serve the bread toasted for breakfast on Saturday morning but everyone who came in smelled and then saw the bread and wanted to taste it.  Slice by slice, it disappeared.  My mouth was so sore, I did not even taste it, but everyone said it was delicious!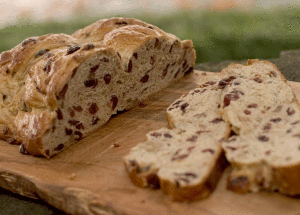 I can't leave you wondering about  how the rest of the weekend turned out.  I spent the entire day in bed on Saturday, knowing that lunch and dinner were taken care of.  By Sunday morning I hade a sore throat and no voice but had 24 bagels, proofing in the fridge, waiting patiently to be boiled and baked.  I wisely decided that I should not handle any food as I was so filled with germs.  I wrote out the instructions and had my friends do the work.  They were thrilled to be making the bagels and marveled at how simple it was and how delicious they were.  I think I may have sold a few more copies of the book!