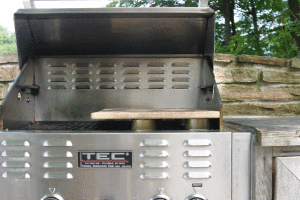 This week in the Bread Baker's Apprentice Challenge I baked Foccacia Bread, on my gas BBQ!  I could try to impress you and say that the reason I baked it on the BBQ is because I wanted to challenge myself, culinarily speaking.  And you just might believe me.  However, I can not tell a lie, (well, actually I can lie, and quite coinvincingly too, but I guess that's not something one should brag about!) I made the Foccacia on the BBQ because my oven died.  Well to be more accurate, I wore my oven out.  Before I get to the baking of the foccacia, here is the story of how I wore my oven out.
I am  up at my cottage on the lake.  Last weekend we hosted a family reunion for my side of the family.  This is the fourth one we have held here.  We try to do it every three years.  The first was in 2000, followed by 2003, 2006 and then again this summer.   With parents, siblings, spouses, children, cousins and aunts and uncles we numbered 41 this year.  It was a 4 day extravaganza, complete with our own version of the Amazing Race, a spaghetti eating contest, two swim marathons, bonfire with s'mores, and lots of games and activities organized by various family members.  I had arranged to have the meals catered as I did not want to spend the entire time in the kitchen cooking and cleaning.  However, we have many talented bakers in the family, so we did the desserts ourselves.
We have a "Family Cookie", originally made by my paternal grandmother (Bubbe).  She never wrote the recipe down and so her daughter (my Auntie BeBe) watched her make the cookies one day in the 80's.  She wrote down everything her mom did and measured all the ingredients to get as accurate a recipe as possible.  Since that time, my sister Bo and I have been making the cookies at least twice a year.  Although we have the same recipe, our Bubbe Cookies turn out completely differently.  The Bubbe Cookie is a poppy seed cookie.  These are not  thin delicate poppy seed cookies.  They are thick and hard, much like a mini hockey puck.  They are not too sweet and are perfect with a cup of tea.  They are also fantastic for long driving trips as each cookie takes a long time to eat and they'll keep you alert while driving.  Our family and everyone who I have introduced them to over the past 30 years, loves them.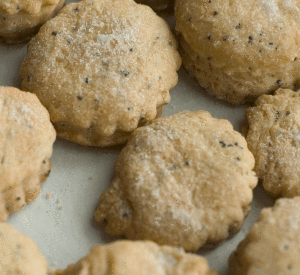 Of course I had to bake Bubbe Cookies for the family reunion.  I baked 1000 Bubbe Cookies.  I made little gift bags with a dozen Bubbe Cooies in each to give to every family member when they arrived.  That accounts for about 500 of the cookies.  The other 500 were piled high in a jar and left on the coffee table for snacking.  I also baked 60 lemon coconut cookies, 75 oatmeal toffee sour cherry cookies and 60 skor bars.  I made all these the week before the reunion and froze them.
Most of my family knows about my participation in the BBA challenge. Some casual requests from various family members about cinnamon buns and bagels had me wondering how I could produce them, fresh and hot from the oven without having to spend the day before covered in flour and elbow deep in dough.  I decided to make the cinnamon buns and bagels the week before and freeze them, unbaked. The cinnamon buns were on the menu for Saturday breakfast, so I removed them from the freezer on Friday night, placed them in baking pans and left them to proof on the counter overnight. I fell fast asleep and in the morning, all I had to do was bake and glaze them.  Needless to say they were devoured within minutes of coming out of the oven despite my screaming that the Bread Freaks Bible (The Bread Baker's Apprentice Cookbook) says that the cinnamon buns must cool for at least 30 minutes before eating.
The bagels were planned for Sunday brunch so on Saturday night I removed them from the freezer, transferred them  to parchment lined baking sheets, covered them with plastic wrap and let them proof all night in the fridge.  Come Sunday morning they were ready for boiling and baking.  I made 24 poppy, sesame and salt and 24 cheddar jalapeno.  They were a huge hit. 
So, to recap, in one short week  my oven produced 1000 Bubbe Cookies, 60 Lemon Coconut Cookies, 75 Oatmeal Toffee Cookies, 75 Skor Bar Cookies, 24 Cinnamon Buns, 24 Sticky Buns, 24 Poppy-Sesame-Salt bagels, 24 Cheddar Jalapeno Bagels and 3 large challahs.  A lesser oven would have died right in the middle of the family reunion weekend.  My considerate oven waited to die until the day after everyone left.  I had planned to use this week to catch up on my BBA baking as I'm a little behind (I wonder why?).  When I preheated the oven to make dinner it would only heat to 125 degrees F.  I think I heard it say, " I'm on strike." 
Somewhere, deep in the recess of my brain I recall a fellow BBA challenger talking about baking bread on their BBQ.  I remembered that they used empty tuna cans, turned upside down, to raise the baking stone off the BBQ.  I went back over old posts and found the reference.  Heather of Bodacious Girl  saved the day.  (http://www.bodaciousgirlblog.com/2009/06/bringing-your-kitchen-outdoors.html).  
The Foccacia recipe in the book is a two day procedure, making and shaping the dough on day one, followed by a night of fermentation in the fridge to allow the wonderful flavours to develop.  It is quite a wet and sticky dough but I resisted the temptation to add more flour. Memories of screwing up my ciabatta loaf by adding too much flour were still fresh in my mind.  After forming the dough it is placed on the counter for a 5 minute rest.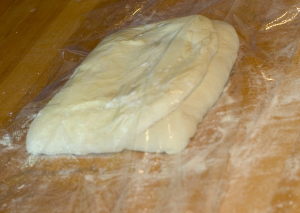 Then the dough is gently stretched from each end, to twice it's original length.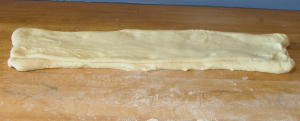 Then the dough is folded into thirds, letter style and allowed to rest for 30 minutes.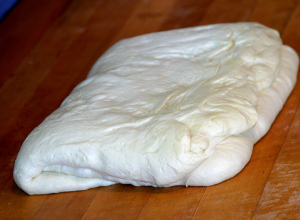 This stretching and folding procedure is repeated twice more, followed by an hour rest on the counter.  While the dough rested, I prepared an herb oil to top the Foccacia with.  I heated about a cup of olive oil in the microwave for about 45 seconds, just until it was warm.  I aded 2 cloves grated garlic, and about 1/2 cup fresh chopped mixed herbs (basil, italian parsley, thyme, oregano and rosemary).  After an hour of resting, the dough is transferred to a parchment lined baking sheet, coated with oil.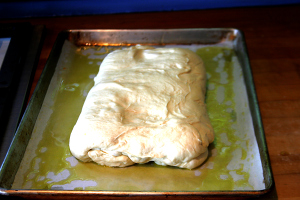 Then the fun part begins.  About half of the herb oil is poured on top and then, using your fingertips, dimple the dough and spread it to almost fill the pan.  Then the dough is covered with plastic wrap and refrigerated overnight (or up to 3 days).  Mine was left in the fridge for 2 days.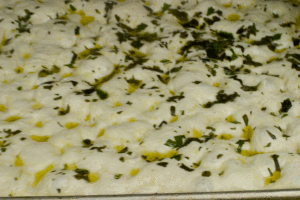 To prepare the BBQ for baking, I turned 4 empty tuna cans upside down and placed my baking stone on top of the cans.  The tuna cans act as protection for the baking stone, raising it up off the direct flame.  I turned on both burners of the BBQ and let it pre-heat on high for 30 minutes.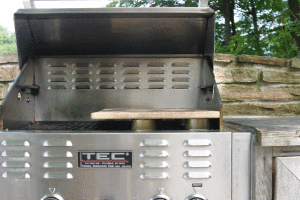 I do not have a thermometer on the BBQ so I was really guessing about temperatures.  I turned down both burners to medium heat and placed the foccacia (still on the baking sheet) onto the stone.  I closed the lid and waited.  After 5 minutes, I could not stand it anymore, so I lifted the lid for a peek. 
Not much was happening, so I closed the lid and waited another 5 minutes.  Then I checked again and the bottom was beginning to brown while not much had changed on top.  I was concerned that the crust would burn before it was cooked through so I turned down the heat to low on  both burners, rotated the pan 180 degrees and closed the lid for another 10 minutes.  After a total baking time of 20 minutes, the Foccacia was done.  Internal temperature registered 200 degrees.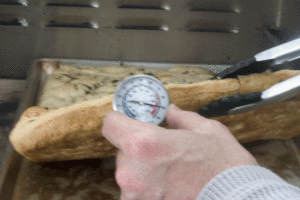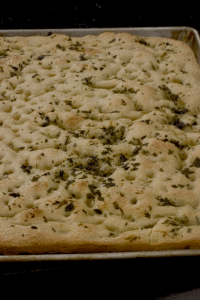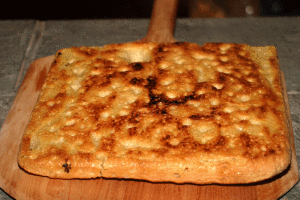 A peek at the bottom crust revealed crispy goodness.  While the foccacia cooled, I decided to go for a run as I realized I would be doing more than tasting this bread.  We sliced into it and had our first piece with a glass of Proseco and peach nectar.  The crumb was not as open as I was expecting but the crunch from the bottom crust was addictive.  The aroma and flavour from the herb oil were unbelievable.  I love this bread.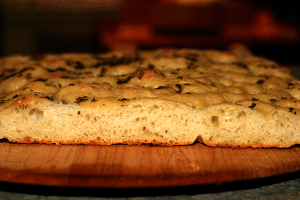 The remainder of the bread was sliced horizontally and we made fresh mozzarella, tomato and basil panini sandwiches for dinner.