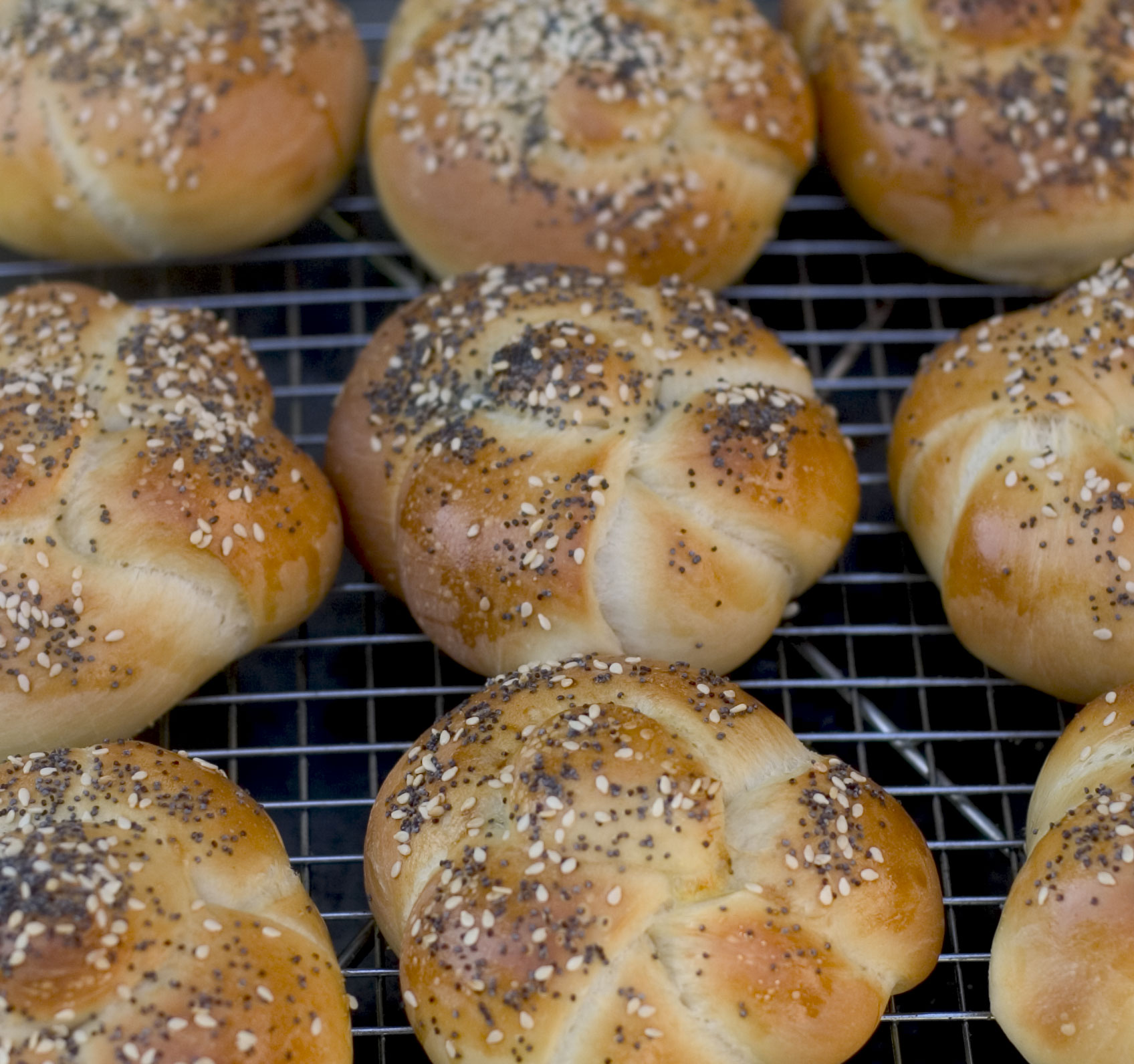 I have been looking forward to making Kaiser Buns for quite a while now, ever since my Kaiser Roll Cutter arrived in the mail from King Arthur Flour last month. There's something so old-fashioned and exiting about getting a package in the mail, even if I did send it to myself.  Usually there is a time lag of about a week between when I order it and when it comes, so I have forgotten all about it and still get that "Ooh, a package for me!" thrill. 
The kaiser buns are a two day affair, making a starter dough on day 1 and the final dough on day 2.  In this case the starter dough is a "Pâte Fermenté", which is simply a mix of bread flour, all-purpose flour, salt, yeast and water.  This dough is left to ferment in the fridge overnight.  This slow overnight process creates certain enzymes that contribute to better flavour texture and colour in the final kaiser bun.  The next morning I took my Pâte Fermenté out of the fridge and let it come to room temperature.  Then I added it, along with the remaining dough ingredients (bread flour, salt, barley malt powder, yeast, egg, vegetable oil and water) to my Kitchen-Aid mixer and got to work.
I'm firmly convinced my Kitchen-Aid mixer read my mind.  As I started mixing the dough for the kaiser buns, I thought, "I really need to begin mixing my doughs by hand, to learn the feel of them better".  Within about a minute of thinking this, my Kitchen-Aid took off at warp speed, then slowed down to a trot and then quit all together.  When I tried turning it on again, at low speed, it gasped, spun one or two revolutions and then shut down again.  It was dead.
Well as they say, "Be careful what you wish for!"  The kaiser dough came out of the mixer and hand kneading commenced.  After about 8 minutes I had a supple dough that was still tacky but not sticky.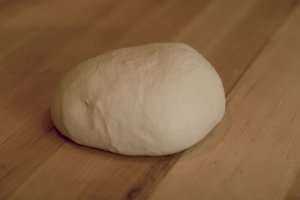 The dough went into an oiled container and was set aside for the first rise, approximately 2 hours or until it doubles.  I think it must have been quite warm in my kitchen because after 90 minutes, I had this: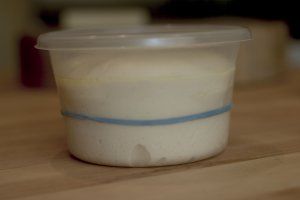 We had the option of making 6 larger buns or 9 smaller ones.  In a never ending (Losing) battle to consume less bread I decied to make 9 smaller rolls, figuring I'd never just eat half of a large roll, but maybe I could stop after just one whole small roll.  The dough was rolled into little balls and then covered to rest for 10 minutes.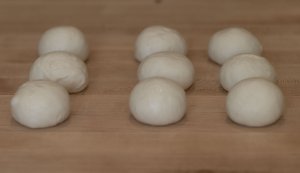 Next it was time to make the kaisers using my new cutter.  I pulled it out of the drawer and looked at it carefully.  Then I looked at my balls of dough.  I quickly realized that the cutter would not work for small rolls.  It was too big and would not make a proper cut on my small buns.  So, onto Plan B, forming my buns into little knots.  The instructions and photos in the book were very easy to follow.  First roll out the dough into an 8 inch strand.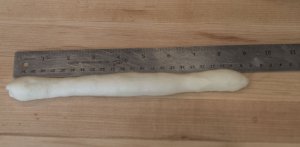 Next tie it into a simple knot.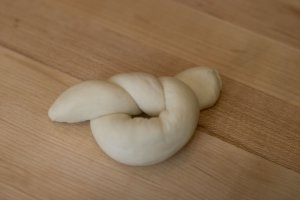 Then, take one tail and bring it and bring it up and over the loop and tuck it into the center hole.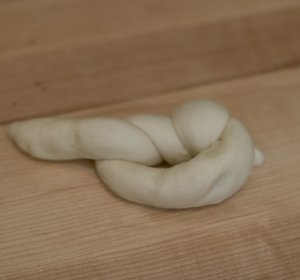 Then take the other tail and bring it under the roll and poke the tail up through the center hole.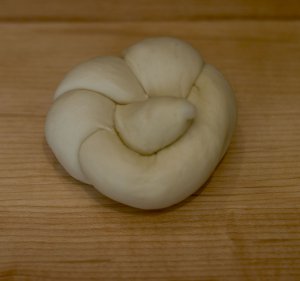 The knots are then placed on a cornmeal coated, parchment lined baking sheet.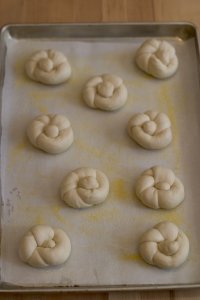 The knots are sprayed lightly with oil, covered with plastic wrap and left to rise for 45 minutes.  Then we are instructed to turn the rolls over and let rise for a further 45 minutes.  When I picked up one of the rolls, I noticed there was cornmeal on the underside.  I did not want the top of my buns to have cornmeal on them, so I ignored this suggestion and let them continue rising, without turning them over, for a further 45 minutes.
After the second 45 minute rising period, they had doubled in size.  I decided to egg wash them instead of spraying water on them as suggested in the book, as I wanted them to have a shiny finish.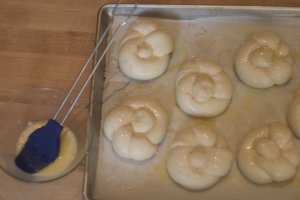 Then I sprinkled them with poppy seeds, sesame seeds and a touch of kosher salt.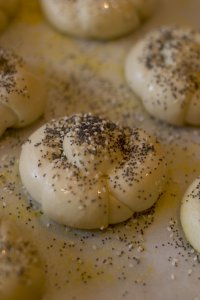 Into a 425 degree oven they went and were done after 14 minutes.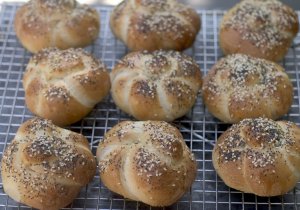 For bottom crust freaks, here is a shot of the underside.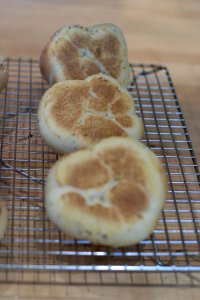 For crumb freaks, here is a shot of the inside.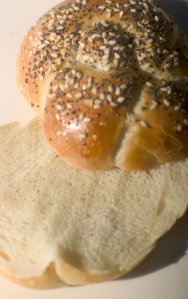 They were tender, a little sweet and the perfect sandwich roll.  For dinner that night we hade grilled salmon and chipotle mayo sandwiches.  Sorry, no picture as they got gobbled up too quickly!