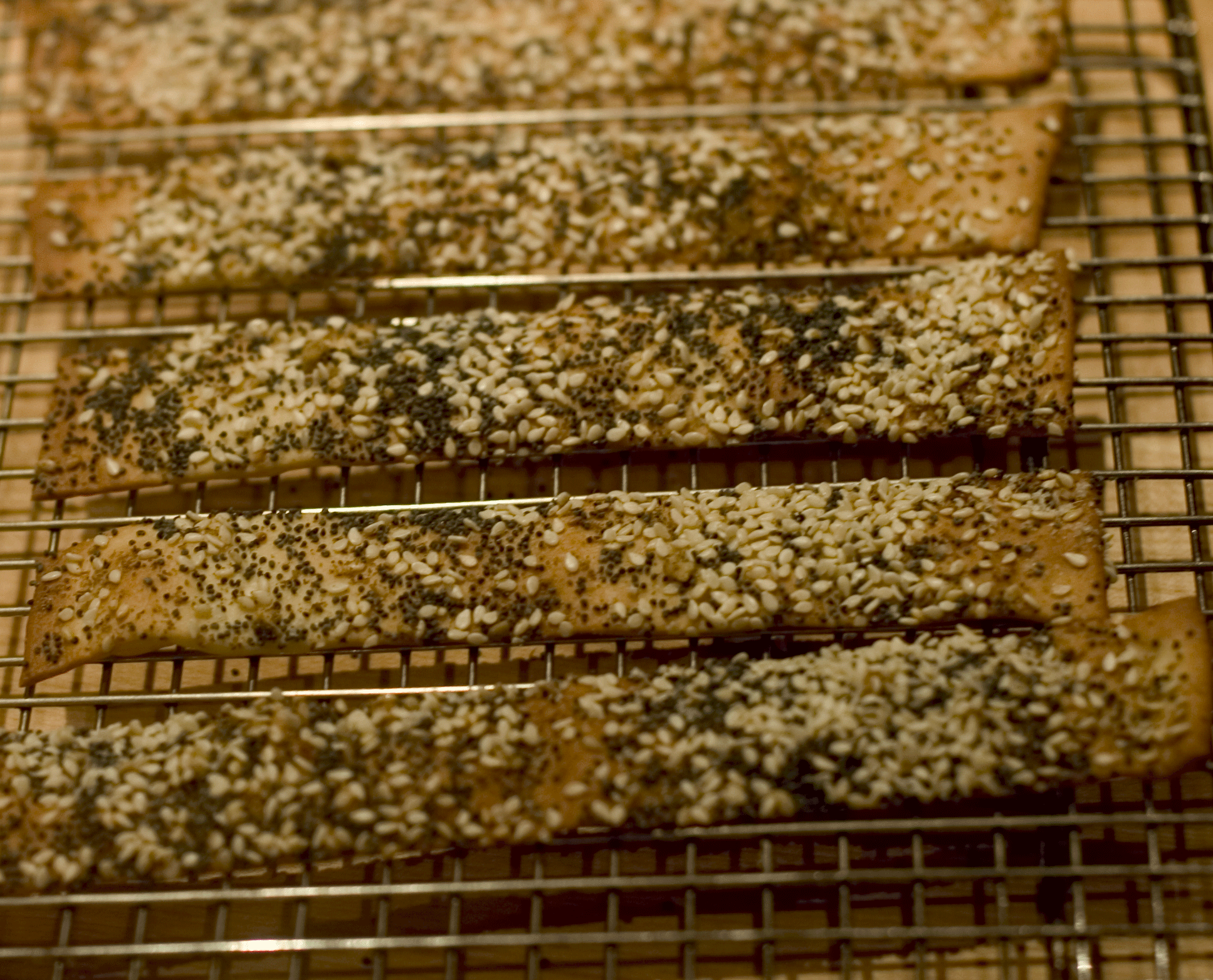 Last week was Rosh Hashanah (the Jewish New Year) and I was having 12 for dinner on Friday night.  In addition to preparing dinner I was also making  5 round sweet challahs. One was for my dinner, one was for my niece to take back to college to share with her friends and 3 were to take to my aunt's house for Saturday lunch. 
Since it was still quite warm out, I thought I'd make an icy cocktail to get the New Year off to a proper start.  I made
Electric Lemonade.  I highly recommend this cocktail for any family gathering.  Family love and harmony will be flowing after everyone drinks one of these.  I was planning to serve a feta-mint dip (recipe below) and crackers with drinks.  Since I'm a little behind schedule in the Bread Bakers Apprentice Challenge, this was the perfect opportunity to start getting caught up, as Lavash Cackers were up next for me.  The recipe seemed fairly straight forward and no overnight fermenting was required.
The dough for these Armenian crackers uses bread flour, salt, yeast, honey, vegetable oil and water.  After 10 minutes of hand kneading I had a supple stretchy dough.  Into an oiled container it went for about 90 minutes until it doubled in size. Then it was time to roll the dough out.   I had already been warned by Carolyn of Two Skinny Jenkins  to roll the dough thinner than the recipe specifies, if you want really crisp crackers. 
 I divided the dough into 3 pieces and began rolling each into a large rectangle.  The dough is quite elastic and resisted being stretched out at the beginning, so I covered it with plastic wrap and let the gluten relax for about 10 minutes.  After that, it rolled out very easily, with no tearing at all.  I transferred the first piece to a parchment lined baking sheet.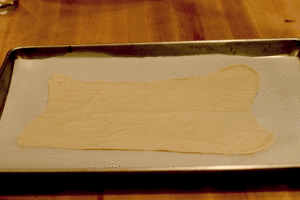 Since I was serving these with a feta mint dip, I thought I'd season them with Dukkah, an Egyptian spice blend.  It contains finely ground hazelnuts, pistachios, sesame seeds, cumin, corriander and salt.  I order it on-line from www.crousset.com, a Quebec retailer.  You could also make it yourself.  I have posted the recipe below.  It is very versatile. 
Once the dukkah mixture went on, they looked a little bare, so I added sesame and poppy seeds and a touch of kosher salt.  After I finished  sprinkling the first piece with spices, I realized I had forgotten to spray the dough with water first.  I pressed the spices in with my fingers and hoped for the best.  I remembered the water on the next two pieces of dough.  I was really surprised at what a great glue water is.  Below is a picture of two finished crackers.  The one on the left had water sprayed onto it before adding the spice mixture and the one on the right has no water sprayed before adding the toppings.  The water really does help the toppings to stick.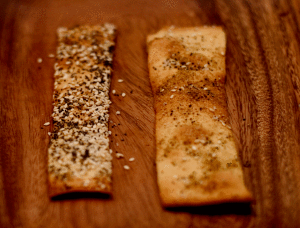 The finished crackers were crisp and delicious.  I'm not sure how soon I'd make these again, since there are so many wonderful crackers available to buy, but they certainly had the wow factor.  My 11-year-old niece was very impressed that you could actually make crackers.  She thought crackers only came from a box.
Feta-Mint Dip with Yogurt 
This recipe comes from the September 2002 issue of Cook's Magazine.  I always make a double recipe as it seems to disappear very quickly. 
1 cup plain yogurt (low fat is ok)
½ cup mayonnaise (light is ok, but DO NOT use fat-free)
2 ½ ounces feta cheese, crumbled (1/2 cup)
¼ cup chopped fresh mint leaves
2 medium green onions, roughly chopped
2 teaspoons freshly squeezed lemon juice
  1.  Place yogurt in a cheesecloth-lined colander set over a bowl.  If you have no cheesecloth, a flat bottomed paper coffee filter works equally well.  Cover with plastic wrap and refrigerate for 8 to 24 hours.  After yogurt has drained, discard liquid in bowl.
  2.  Process all ingredients in food processor, fitted with chopping blade, until smooth and creamy, about 30 seconds.  Transfer dip to serving bowl, cover with plastic wrap, and refrigerate until flavours are blended, at least 1 hour.  Serve cold with crudités or pita chips or crackers.  This dip can be refrigerated in an airtight container for up to 2 days.
 Dukkah
 Warning:  Dukkah can easily become an obsession.  The more you eat, the more addictive it becomes.  Serve with warmed pita and extra-virgin olive oil.  Dip pita into olive oil, then into dukkah and eat.
 ½ cup hazelnuts
½ cup shelled pistachios
1 cup sesame seeds
2 tablespoons cumin seeds
2 tablespoons coriander seeds
1 teaspoon kosher or sea salt
1.  Preheat the oven to 350 degrees F (175 degrees C). Place the hazelnuts on a baking sheet, and bake for about 5 minutes, or until fragrant. While the nuts are still hot, pour them onto a tea towel. Fold the towel over them to cover, and rub vigorously to remove the skins. Set aside to cool.
 2. Place pistachios on baking sheet and toast for about 5 minutes in   preheated oven.  Set aside to cool.
 3.  In a dry skillet over medium heat, toast the sesame seeds until light golden brown. Pour into a medium bowl as soon as they are done so they will not continue toasting. In the same skillet, toast the coriander and cumin seeds while shaking the pan or stirring occasionally until they begin to pop. Transfer to a food processor. Process until finely ground, and then pour into the bowl with the sesame seeds.
4.  Place the cooled hazelnuts and pistachios into the food processor, and process until mixture resembles coarse breadcrumbs.  Do not over process.  You do not want nut butter. Stir into the bowl with the spices. Season with salt and mix well.