In week #25 of the Bread Baker's Apprentice Challenge we make pizza. When I first bought this book, in May, I was flipping through it, looking at the pictures.  My heart skipped a beat when I got to page 208 and saw our bread guru, Peter Reinhart, tossing pizza dough in the air.  I have always wanted to do this and was so excited to learn how.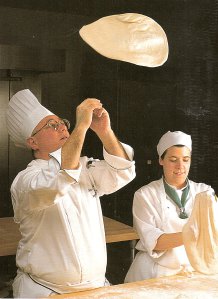 I frequently make pizza and my go-to dough recipe comes from a little book titled, "Pizza" by James McNair.  The ingredients are fairly similar to Peter Reinhart's recipe.  The main difference between the two recipes is that James McNair's recipe follows the traditional route of dissolving the yeast in warm water, whereas Peter Reinhart has us using ice-cold water.  James' dough rises for 1 1/2 hours and then you are ready to make pizza.  Peter has us refrigerate the dough overnight.  This supposedly gives the dough better flavour as well as relaxing the gluten in the dough so that it is not too elastic to work with.
After my resounding success  using ice water and an overnight fridge rest with Peter's Pain a l'Ancienne, I was sold on the concept of "cold" as a method to develop flavour.  Peter describes the process as "delayed fermentation."  So even though this pizza would take 2 days to make, I was excited to discover a new flavourful dough.  Most people think that pizza is all about the toppings.  In fact, the reverse is true.  If you have a cardboard crust,  even the most wonderful toppings in the world won't save it.
This pizza dough can be made with either unbleached all-purpose flour or unbleached bread flour. The bread flour has a higher gluten content, thus making the dough a little tougher and more elastic.  Peter recommends adding a bit of olive oil if you opt for the higher gluten bread flour.  He says it helps to tenderize the dough.  Never one to pass up the opportunity to add more fat to my diet, I opted for bread flour with olive oil!
The dough came together very quickly.  The texture is silky and supple.  I refrigerated it overnight and took it out the next day, about 2 hours before we were planning to have dinner. Once the dough came to room temperature I got my camera all set up on the tripod and set it to the timer mode.  I was planing to have a shot of me flipping the dough into the air.  The timer was set to catch the flip in the air at just the right moment.  I was so excited to capture this moment on film.
I dipped both hands in flour to coat them so the dough would not stick.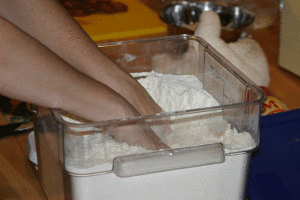 I got ready to toss.  I placed the  disc of dough over my fists, not my fingertips, as instructed in the book.  It became clear, immediately, that this dough was not going to be airborne.  It was such a soft dough that it slumped over my wrists and continued to make a downward slide over my arms.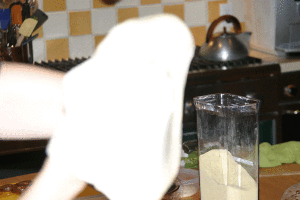 I quickly transferred the dough to my pizza peel, which I had coated with semolina flour, to facilitate sliding the pizza off the peel and onto the baking stone which I had heating in a 550 degree oven.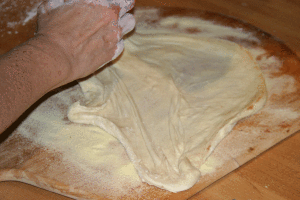 Using my hands, as gently as I could, I managed to spread it out into a very rustic circle.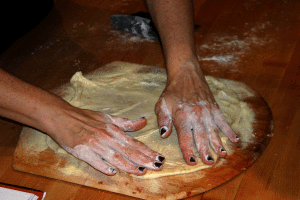 Then I added the toppings.  I decided to forgo tomato sauce.  I sprinkled it with Monterey Jack, Asiago and Parmesan cheese.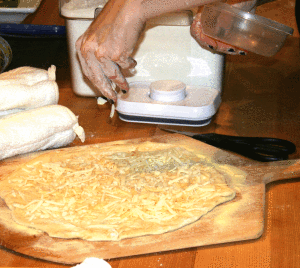 Next came slices of fresh tomato.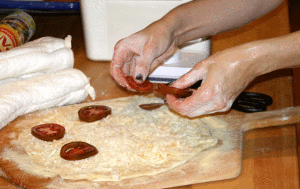 Finally I topped it off with chunks of fresh buffalo mozzarella.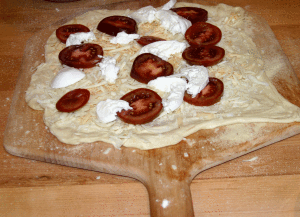 I planned to top it off with fresh basil once it came out of the oven.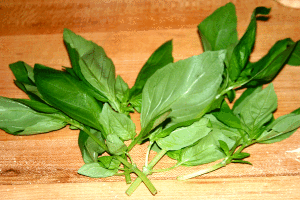 It slid quite easily into the oven.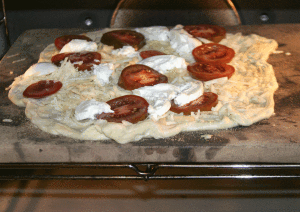 I snapped a quick picture after it had been baking for 5 minutes.  Almost ready!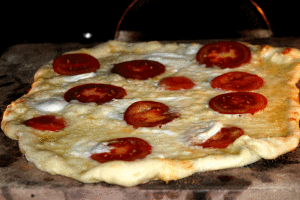 And then it all began to go horribly wrong.  I ran into a problem when I tried to remove the pizza from the oven.  I guess the dough had stretched a bit too thin in some spots, because when I tried to slide my pizza peel under it, to remove it from the oven, it wouldn't budge.  The cheese had melted through a hole in the crust and was now stuck to the baking stone.  I finally wrestled it from the stone and here is what we ate for dinner.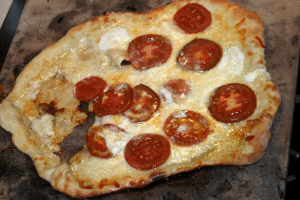 The crust was light and crispy.  It was delicious.  I may try this one again as I am determined to get my dough airborne.  To be honest, I didn't notice that much difference between my usual crust and this cold fermented one.  Maybe I should do a side by side comparison to see if it's really worth the extra fermenting time for this dough.