In week 24 of the Bread Baker's Apprentice Challenge, we prepare the Italian Christmas bread known as panettone.  I have never made or eaten panettone before so I really had no frame of reference on this one.  As I read through the ingredient list I told myself to keep an open mind.  However, I had my doubts about this one.  I hate brandy, rum and whiskey (I'm a wine girl), intensely dislike orange and lemon extract (they smell like furniture polish to me).  I believe that candied fruits have no place in the culinary world. 
 There was one ingredient that was unfamiliar to me, "Fiori di Siclia".  Peter Reinhart describes it as a wonderful blend of extracts and floral oils.  I decided to hunt some down, as I wanted my panettone to be as authentic as possible, a lesson I  learned from my brother-in-law Brandon.  Whenever he visits a new city, he insists on eating whatever that city is famous for and only from the original source.  When he visited Philadelphia, he almost missed his flight waiting in line for a Pat's Cheesesteak.  When he came to Ottawa, he strapped on his skates and a fur trapper hat and skated down the longest skating rink in the world to sample "Beavertails" (fried dough dipped in sugar and cinnamon).  President Obama ate one too when he visited Ottawa!
I had the option of ordering fiore di sicilia from King Arthur for $7.95 plus $25.00 delivery (why do they charge so much for Canadian deliveries???), or from  Golda's Kitchen (a Canadian web site) for $30.00 plus $7.00 for shipping.  Both admittedly were ridiculous options, but I was convinced that without it my panettone would not be authentic.  Since the Canadian economy needs a bit of a boost, I did my part and ordered from the Canadian web site.  The parcel arrived the next day (that never happens with US web sites shipping to Canada).  It arrived in a huge box.  I was a bit confused as I only ordered a 4 ounce bottle.  It was so carefully wrapped in bubble wrap and styrofoam peanuts.  I finally managed to unearth the bottle and opened it up preparing myself for a heavenly aroma.  Feh… furniture polish.  After spending such an outrageous amount of money for this essence, I tried to convince myself that the aroma would transform into something sublime during the baking process.  Okay, so I'm an optomist.
I decided to use dried sour cherries, cranberries, apricots instead of the candied fruit. Here they are soaked in rum.  They glistened,  just like little jewels.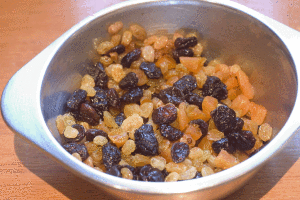 In addition to the dried fruits, soft butter and toasted almonds get added to the dough.
It was almost impossible to mix in all these ingredients with the mixer.  The dough hook just kept going round and round and the dried fruit and nuts sat on top.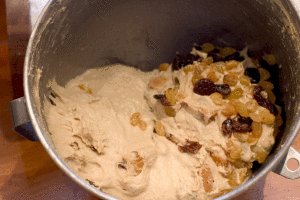 Time for hand kneading!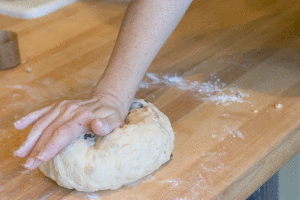 After mixing the dough is set aside to rise for about 2 hours.  Then the dough is formed into little round balls and placed into special paper Panettone moulds.  I decided to do one large one and lots of mini ones.  They just looked adorable in their little paper cups.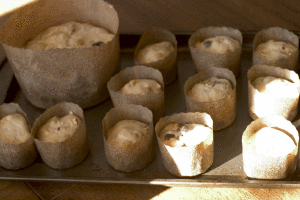 Two hours later they had risen to the top of the moulds.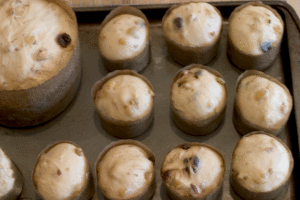 I had to go out so I left my husband in charge of the baking.  Armed with a timer and instant read thermometer, he did a wonderful job.  Here they are fresh from the oven.
I let them cool and then we took a bite.  They looked so pretty and I wanted to love them, but it wasn't to be.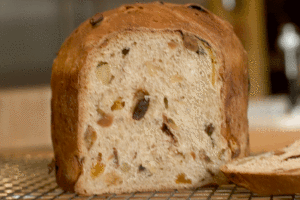 The texture was dry, the aroma was overpowering and all I could taste was the rum and extracts.  I suppose if you were a rum lover, this would be a good thing.  My husband didn't mind them and our babysitter loved them so she and her girlfriend took all 15 of the mini ones home.
The next day I got an e-mail from chefshop.com.  They are selling panettone in about 20 assorted flavours.  There is a Caffe Panettone with coffee, chocolate, hazelnuts and almond icing.  Now that's my kind of Panettone!