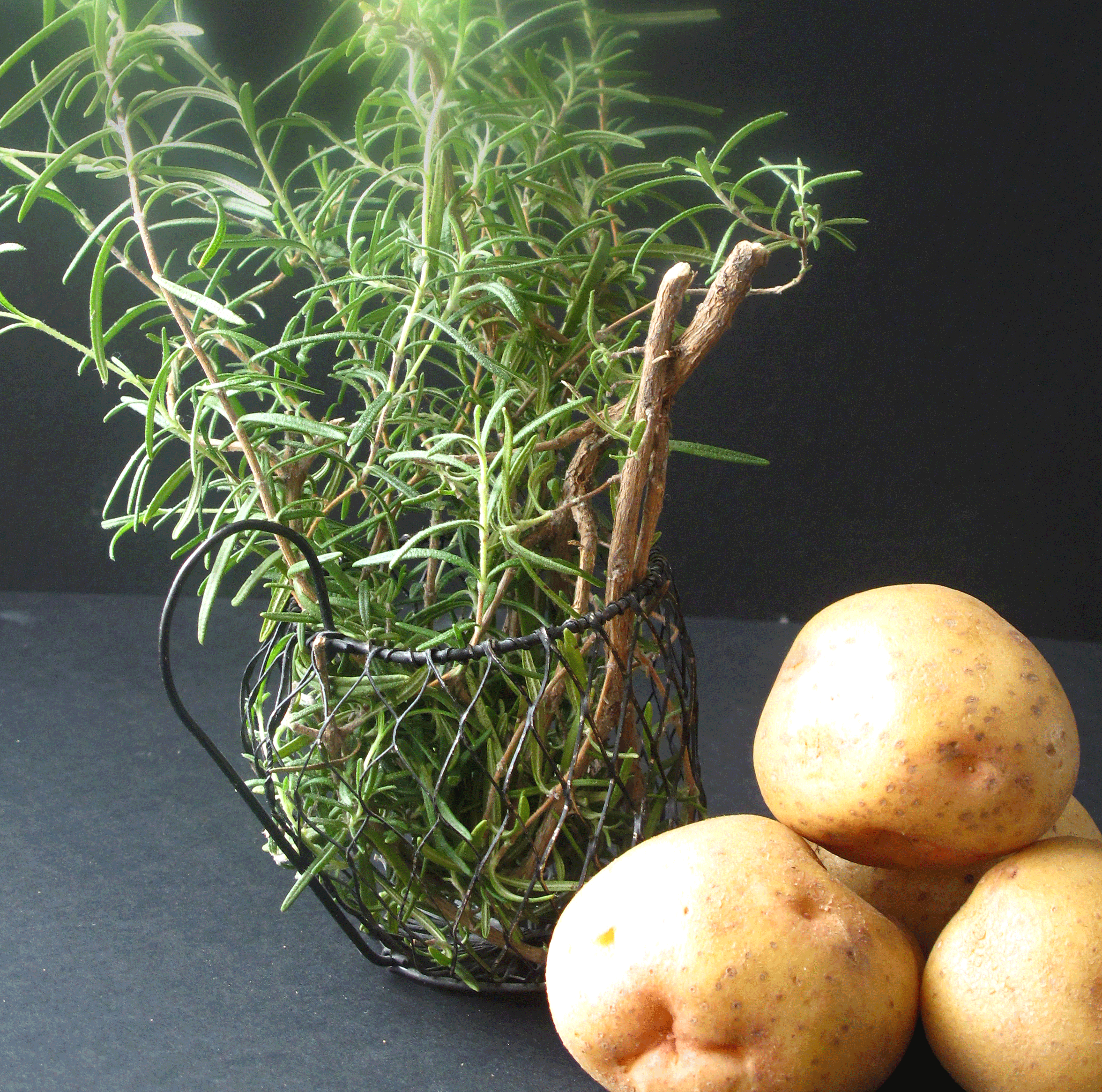 Forgive me, Cousin Mark, for I have lapsed.  It's been 24 days since my last post!  I came home from our winter holiday with a renewed sense of vim and vigour, determined to get back to the Bread Baker's Apprentice Challenge and my once a week baking and blogging schedule. I baked the Potato Rosemary Bread within 3 days of getting home never quite got around to blogging about it.   Life just got in the way.  My daughter was home from school visiting for a week and I began January, spending lots of time doing things for and with her.  Then I went to New York City with friends to celebrate our respective wedding anniversaries.  When I got home from that trip, the last thing I wanted to do was bake, blog or eat bread!  Then it was onto another trip, this time to Israel to visit my daughter, who is studying here for a year, and watch my husband participate in an ice hockey tournament.  Yes, ice hockey in Israel!!  But that's a story for another time.
I'm writing this post from my hotel room in Jerusalem.  My cousin Mark has shamed me into it.  Thanks Mark!  It's just the push I needed.
As I read through the ingredient list in Peter Reinhart's recipe I noticed a few unusual ingredients.  Roasted garlic and mashed potatoes?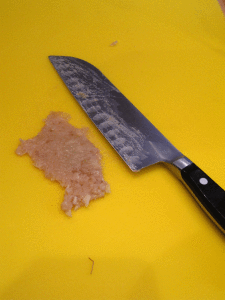 Let's just say, as Renee Zellweger says to Tom Cruise, in Jerry Maguire, "You had me at hello.",   Peter Reinhart, you had me at mashed potatoes!  Mashed potatoes are my go to comfort food.  When I was pregnant with my first child, it was all I craved.  I was working in a gourmet take-out food shop, and our chef, Karen Barnaby, would make staff lunch every day.   Usually it was some version of Pad Thai.  But for me, she made mashed potatoes with butter, cream and cheddar cheese.  Every day!  No wonder I gained 40 pounds with that pregnancy.  You might think that I would never want to look at mashed potatoes again after eating it every day for lunch for 6 months, but the exact opposite is true.  I still love mashed potatoes.  The recipe called for 1 cup of mashed potatoes.  It was unclear as to whether it should just be plain potatoes, mashed up or actual leftover mashed potatoes, made with salt and butter and cream.  I opted for the latter and made a big batch, saving a cup for the recipe.  The starch in the potatoes adds a tenderness to the bread .  It was a happy day in my house as I inhaled the aroma of an entire head of roasted garlic while eating a big bowl of mashed potatoes. 
The dough begins with a biga (a starter dough, prepared the day before).  The biga is incorporated with flour, salt, pepper, yeast, mashed potatoes, olive oil, rosemary and water to prepare the dough.  Then the dough is flattened out into a rectangle and the roasted garlic is spread on in an even layer.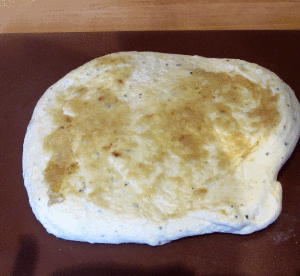 The dough is then gathered up into a ball and kneaded by hand for an additional minute until the roasted garlic is evenly distributed.  It smells like heaven!  Then the dough is placed in a large container to double in size.  It takes about 2 hours.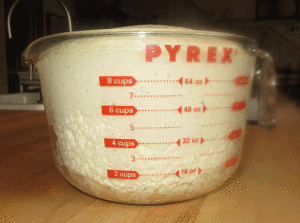 Then the dough is divided in half, and formed into round loaves, called "boules".  It is given a second rise, about 2 more hours, and then a sprig of rosemary is "glued" to the top with water as decoration.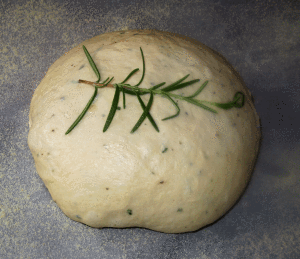 The loaves go into a hot oven for about 35 minutes.  These were gorgeous loaves, all burnished brown with a very heady aroma of garlic and rosemary.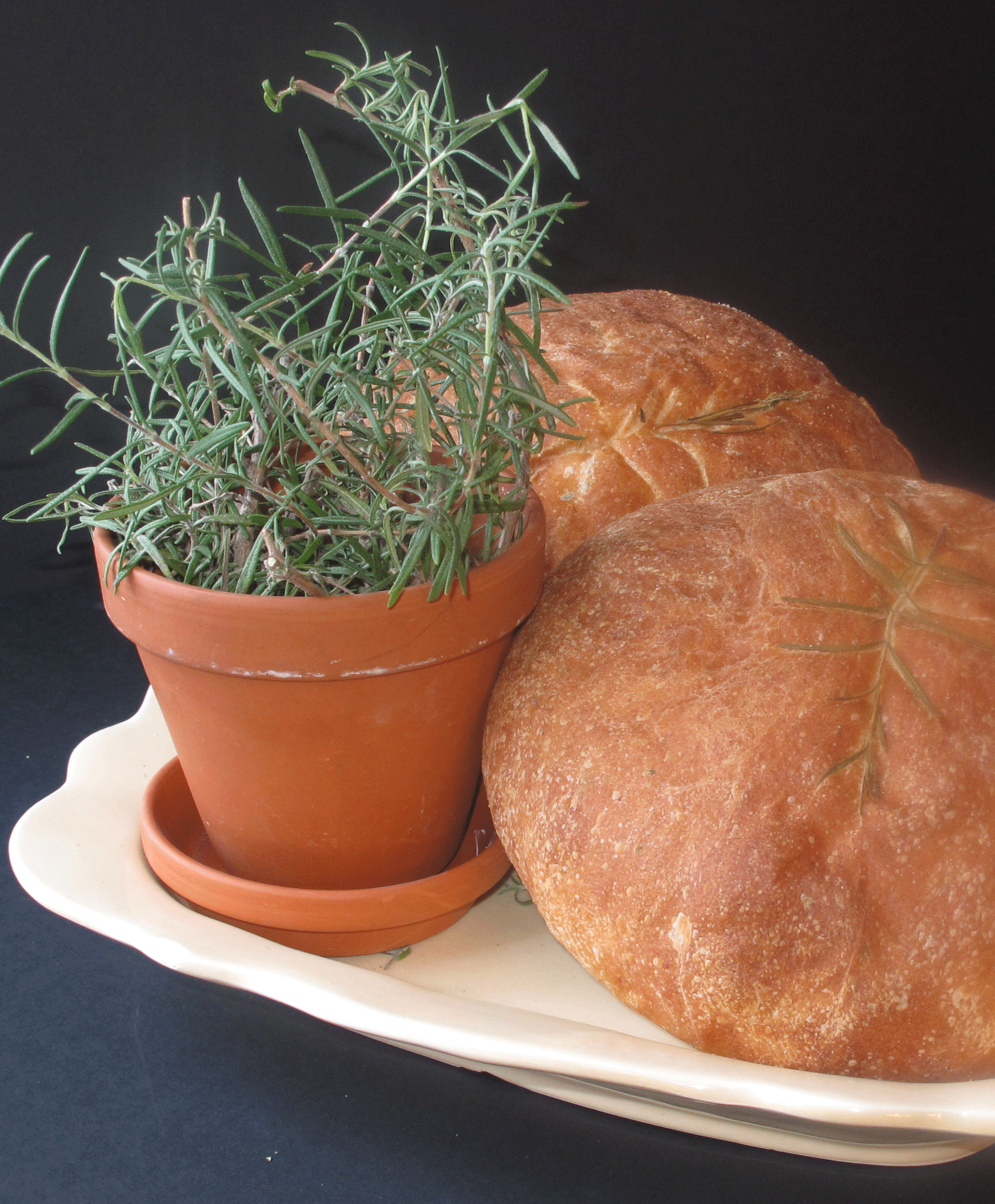 Of course we had to wait an hour before slicing into them.  I decided to invite some friends over for drinks and bread.  I prepared a pitcher of lemonade mojitos.  I put out some roasted almonds, dried cherries, dried apricots and a few different cheeses.  The girls came over and we ripped into the bread and mojitos.  Although I have no photos of the sliced bread, I can assure you that it was a tender crumb and the flavour of this bread was intense.  After 2 mojitos, my hand was not really steady enough to hold the camera.  We'll leave it at that.