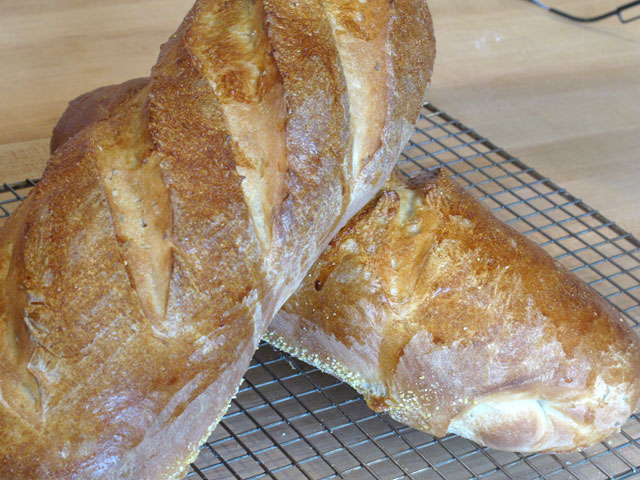 "New York Deli Rye".  Those very words conjure up some pretty powerful images.  For Peter Reinhart, author of  The Bread Baker's Apprentice, those words bring back the childhood memory of having to make that agonizing decision on visits to Hymie's Deli; would it be a roast beef, schmaltz  and onion sandwich or a corned beef,  coleslaw and russian dressing sandwich?  But always on onion rye!  Oh, such decisions.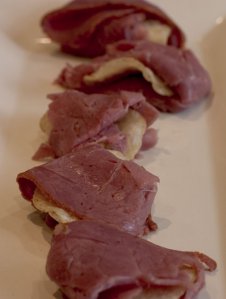 For me, the memory does not involve rye bread at all.  I know, sacrilege to deli lovers everywhere and I apologize.  My starch of choice was potato chips.  I'd wrap the  pastrami slices around a great big potato chip.  The folded chips were the best.  (We called those wish chips)  Okay, all you cardiologists out there please don't comment on this post warning me about impending heart disease.  I do not indulge in this on a regular basis any more, but every once in a while…
Bread # 31 in the Bread Baker's Apprentice Challenge is New York Deli Rye.  The version in the book adds sauteed onions to the dough.  This seemed kind of strange to me.  (I know. … This coming from a woman who wraps her deli meat around potato chips).  I guess it just seems odd because I love rye bread best for breakfast, toasted with salted butter and American Spoon sour cherry preserves.  I ate this for breakfast every day for 2 entire years.  I tend to do that.  These days it's Oat Squares cereal, with a handful of Fibre First on top and a sliced banana.  I'm just a wild and crazy girl!  All this to say, I decided to leave out the sauteed onions.
This bread is a two day affair.  I was thrilled because I got to use my sourdough starter "Phyl" again in this recipe.  I mixed 1 cup of Phyl with white rye flour and water and it sit on the counter for about 3 hours until bubbly.  Then into the fridge it went for an overnight rest.  The next day the starter is mixed with the rest of the ingredients (bread flour, rye flour, brown sugar, salt, yeast, caraway seeds, buttermilk and vegetable oil). 
Rye flour has a very low gluten content (6-8%) as compared to regular bread flour (12%).  What this means is that you have to be careful and not knead this bread for too long or else the dough becomes very gummy.  I kneaded it by hand for about 6 minutes.  A regular wheat dough recipe normally requires 12 minutes of kneading.  I ended up with a beautiful supple dough.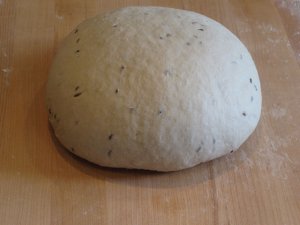 After the dough rests and doubles in size, it's time to form the loaves.  This bread could be formed into sandwich loaves and baked in a loaf pan but to me, rye bread should be an oval free form loaf.  So I shaped mine into batards (torpedo shape) so I would have a nice oval rye loaves.  Here's a video of me forming the dough into batards.  Since no one was home at the time, I managed to figure out how to mount the camera onto a tripod as shaping batards takes 2 hands.  Another new skill mastered!
After about 90 minutes they have grown to about 1 1/2 times their original size and it's time to slash.  Like this: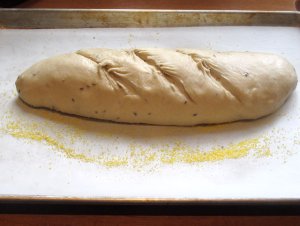 And like this: (I think I'm finally getting the hang of this!)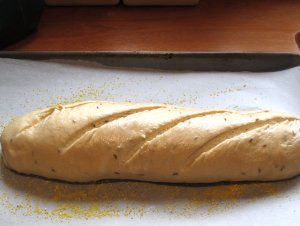 I brushed the loaves with beaten egg white to ensure a shiny finish.  I was not disappointed.  These were some gorgeous burnished loaves.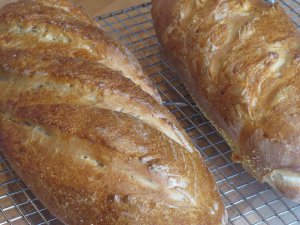 Slicing into the loaves revealed a fairly tight crumb with just enough holes to make me happy.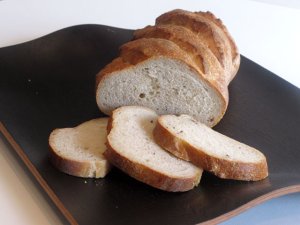 This rye bread made excellent pastrami and dill pickle sandwiches and I threw in a few potato chips for old times sake.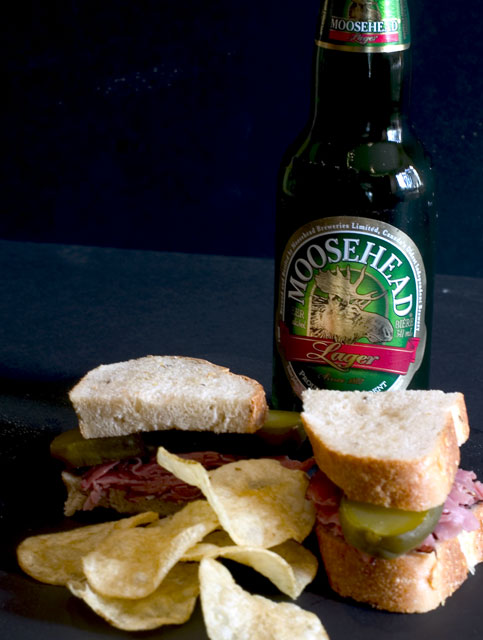 Check out what some of my fellow Bread Freak friends thought of this bread:
Oggi of "I can do that" loved the flavour and chew of this bread.
Sally of "Bewitching Kitchen" was surprised at how much she liked this one.
Mags of "The Other Side of 50" made adorable bread bowls.
Paul of "Yumarama" changed things up a bit and used some dark rye flour.
Katya of "Bread Babes" baked her rye in a clay baker.