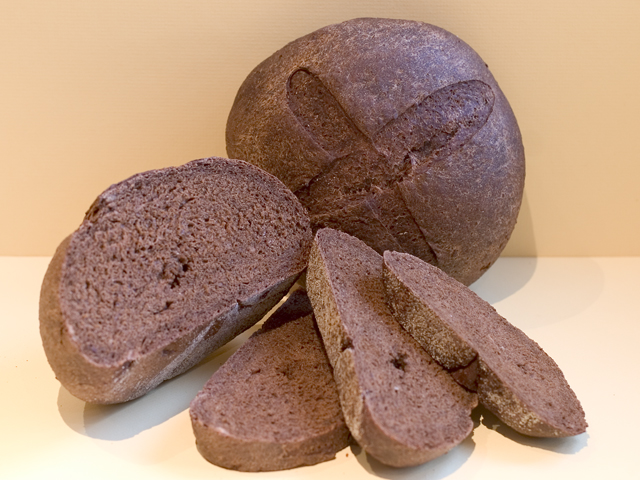 The 34th bread in the Bread Baker's Apprentice Challenge is Pumpernickel Bread.  I just love saying "Pumpernickel". The word always makes me smile .  It makes me remember Saturday night dinners when I was growing up.  We would have sliced Pumpernickel Bread from Open Window Bakery (in Toronto),  creamed cottage cheese and several different types of smoked fish (which I never would eat).  My mom would have a big platter of sliced tomatoes and cucumbers, a bowl of tuna salad and sliced cantelope.  I would eat one slice of pumpernickel with tuna, cucumber and tomato and a second with creamed cottage cheese and jam.  Sometimes she would get the Pumpernickel rye rolls which I really loved.  Oh my!! I haven't thought of those pumpernickel rolls in years.  I just did a google search to see if they still make them and YES, they do.  They also make a light rye roll that is killer with butter and jam.  Here is a picture of both of them. 
I just want to get in that car right now and drive to Toronto to buy some.  But it's a 4 1/2 hour drive from Ottawa and probably by the time I got there my craving would be gone, or possibly, even worse, I'd eat too many and go into a bread coma. 
Peter Reinhart's pumpernickel bread begins with a rye starter, made up of some of my sourdough starter, pumpernickel grind rye flour flour and water.  This is mixed up and left out on the counter for several hours until bubbly.  Then into the fridge for an overnight rest.  The addition of the rye flour to the starter creates an acidic environment which helps to make the final bread more flavourful and more easily digested.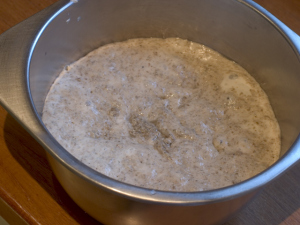 One of the ingredients called for in this recipe is bread crumbs made from rye bread.  Kind of an unusual thing to add to a bread dough.  Peter Reinhart promised that it adds wonderful texture to the final bread.  I had some rye bread in the freezer so I defrosted a few slices and put them into the food processor to produce rye bread crumbs.
Next all the dry ingredients are dumped into a big bowl.  These include clear flour, brown sugar, caramel powder, salt, instant yeast and rye bread crumbs.  In case you were wondering, clear flour is not transparent flour.  This is the flour that clears the first sifting (to separate out the bran and germ), still retains some of the finer bran fiber from the outer endosperm of the wheat berry and is thus coarser and contains higher levels of ash. This is the flour New York City bakers have always used for their signature Jewish-style rye breads.   The caramel powder gives the bread it's dark brown characteristic colour.  It looks a bit like like instant coffee granules.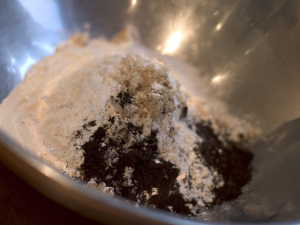 The rye starter, vegetable oil and water are added to the dry ingredients and mixed up to make a tacky but not sticky dough.  As with all doughs that contain rye flour, great care has to be taken not to overmix or else the dough will get gummy.  The dough was dumped out of the bowl onto the counter and then hand kneaded for about 5 minutes until the dough was smooth and supple.
After that the dough is left to rest in an oiled container for about 2 hours until doubled in size.
Once the dough is doubled, it is divided in half and formed into 2 boules.  They are covered and left for about 90 minutes for the final proofing.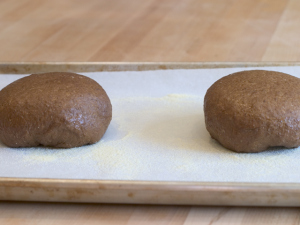 Then I scored them.  I think I got the timing just perfect for the scoring as there was almost no drag to the lame (scoring tool).  It was very smooth!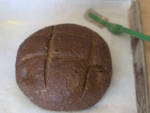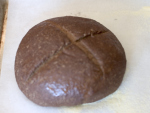 Into a hot oven they went.  I baked them on a preheated baking stone and had a pan of water below the breads to create steam in the oven.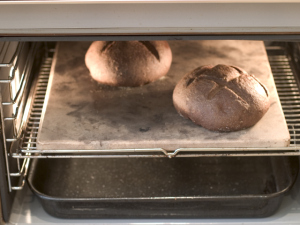 Fresh out of the oven: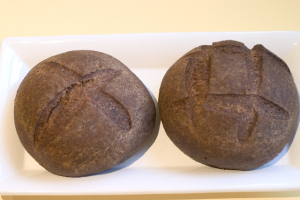 We had the bread for dinner that night.  I have to admit that while the flavour was great, the texture was not what I was expecting.  It was a little light and fluffy.  I was hoping for a denser, chewier bread, like what I remember from my childhood. Looks like a trip to Toronto is in order!