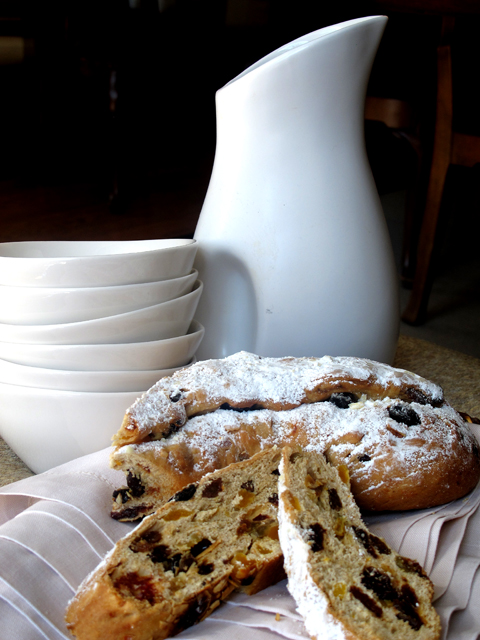 Who knew that a German fruit filled bread could demonstrate my learning deficiencies so clearly?  As I read through the recipe for Stollen,  this week's bread in Peter Reinhart's The Bread Baker's Apprentice, I knew that I had a real challenge on my hands.  I could not, for the life of me, figure out how to shape this loaf.  I read through the directions at least 4 times and it just didn't make any sense to me.  There were even some pictures to demonstrate the method but I still could not figure it out. 
Full disclosure here, I am not really great with written instructions.  (I can see my husband laughing his head off right about now as he reads this).  I never the read instruction manuals that come with anything new I buy.  I believe that things should be designed so that they are intuitive.  Usually I end up breaking something before I give in and pull out the manual.  I have never assembled anything from Ikea where I did not have at least 3 or more extra bolts or screws left over, leaving me wondering about the stability of whatever I just put together. 
Sorry, got a little off track there.  I proceeded to make the dough for the Stollen, without a clear plan on how I was going to shape it.  I figured that I'd just wing it when I got to that part.  The recipe begins with mixing some warm milk with flour and instant yeast to make a sponge.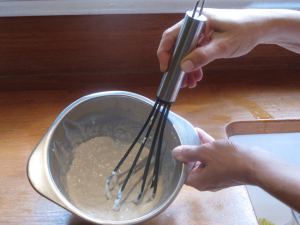 This mixture is set aside for about an hour, to get all bubbly.  The recipe called for golden raisins and candied fruit mix to be soaked in brandy or rum and orange or lemon extract.  I remembered  my experience with the Panettone bread I made back in November.  I hated that bread with the dried fruits soaked in alcohol so I decided to forgo this step.  As well, I decided to leave out the citrus extract.  I figured I'd get enough citrus flavour from orange and lemon zest.  I decided to skip the candied fruits as well and went with a combo of golden raisins, sultana raisins, dried cherries and dried apricots.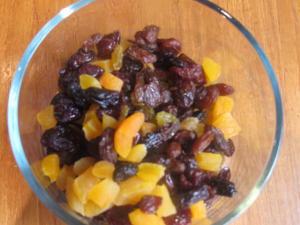 Once the sponge was all bubbly, it is added to all-purpose flour, sugar, salt, orange and lemon zest and cinnamon.  Butter, an egg and a bit of water are added until a sticky dough is formed.  Then about 3/4 of the dried fruit is added. The remainder gets added during shaping. I was feeling a bit lazy and decided to knead the fruit in by machine but it soon became apparent that hand kneading was in order.  I dumped the mixture onto the counter and kneaded for about 5 minutes until I had a silky dough and all the fruit was evenly incorporated.
Then the dough was set aside to rest, covered for about 45 minutes.  At that point I figured I'd better do some research to figure out what I was going to do about shaping this bread.  I googled Stollen and came up with several variations and shaping suggestions. 
There was a wreath shaped stollen from Martha Stewart's mother. David Lebovitz formed his stollen into simple batards (oval-shaped loaves).   My favourite, however, was the stollen shaped like Mick Jagger's lips from Philadelphia Chef John Gallagher.  Once baked, his version is dipped in melted butter and then rolled in a sugar-cinnamon mixture. 
I was just about to make the Mick Jagger version when I decided to read the shaping instructions in the Bread Baker's Apprentice book one last time.  Eureka!  After my 5th read through I thought I finally understood how to do this.  It seemed that the shaping instructions were describing a simple letter fold.  Because I am a visual learner, I videoed myself shaping the bread for all you other visual learners out there.
I was quite proud of myself for figuring out how to shape this bread, and I only had to read the instructions 5 times.  I was just about to slide the stollen into the oven when a phrase in the instructions caught my eye, "Turn the dough seam side up…."  Huh?? I read it one more time and it was on my 6th read through that I finally understood that Peter Reinhart was describing an accordion style fold.  So I opened up my stollen and reshaped it.
Although the recipe called for brushing the baked bread with vegetable oil, I opted for melted butter.   Then 2 coats of icing sugar and it's done.
 As I baked this bread on Friday, I used it as our Sabbath challah stand-in.  I believe that the finished loaf is supposed to symbolize the blanket of baby Jesus.  Oh well, the world needs a little more culinary coexistence.  It was delicious and a nice change from our usual challah.  It was even better toasted with butter for breakfast the next day.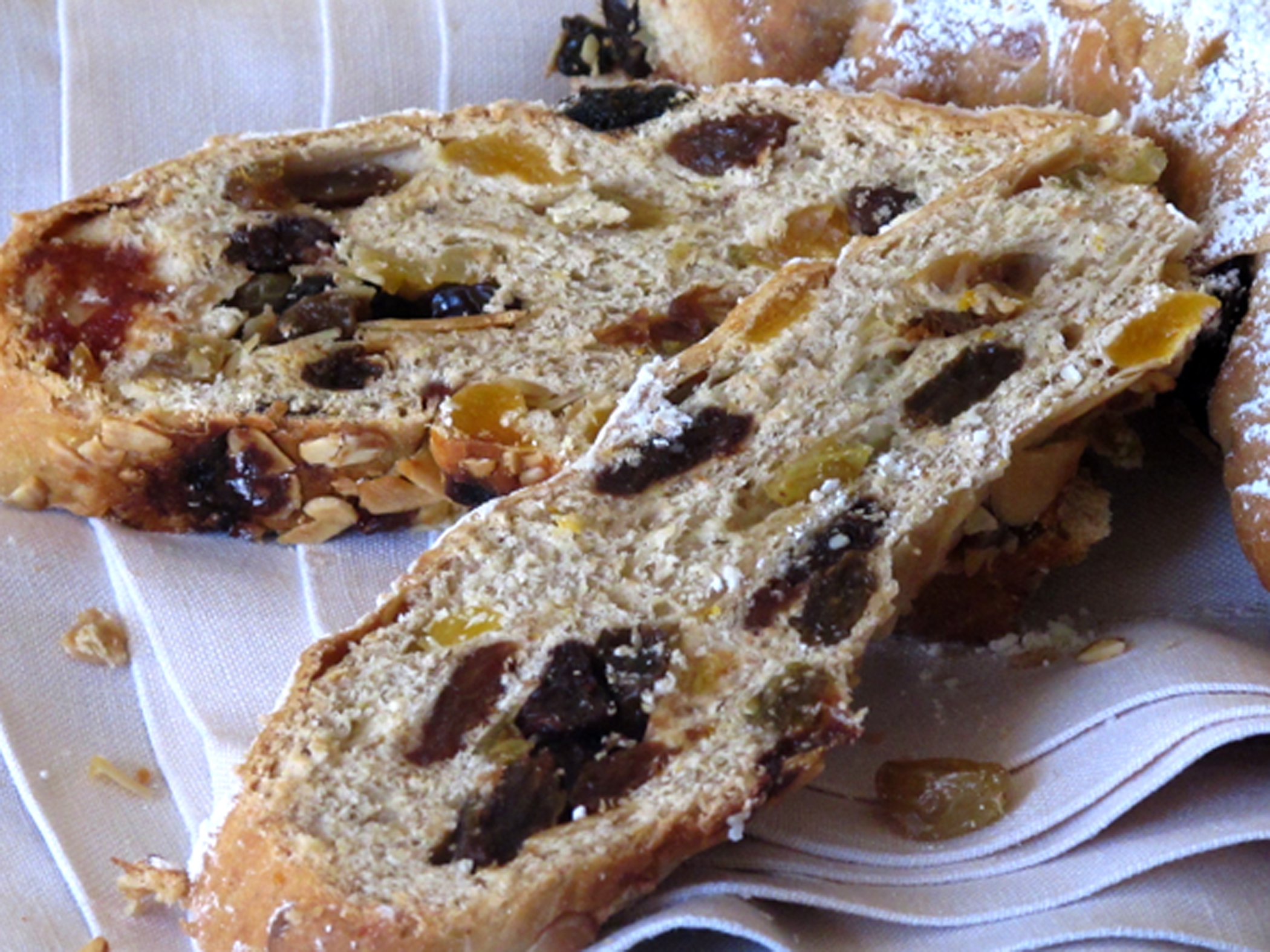 P.S.  I just discovered that fellow BBA challenger Kelly of Something Shiny figured out the accordian fold about a month ago and posted about it on her blog.  She also originally thought it was a letter fold and only after making it a second time worked out the proper shaping technique.