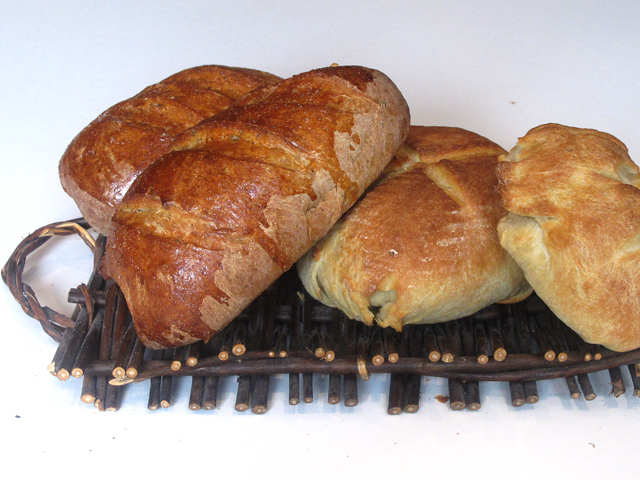 In week 37 of the Bread Bakers Apprentice Challenge we tackle Swedish Rye bread. How, you may ask, does Swedish Rye differ from the regular rye bread we are all familiar with?  This bread is flavoured with licorice flavoured aniseed and fennel seed and a pinch of cardamom.  It also calls for dried orange zest.  Fellow challenger Janice, of "Round the Table" is so dedicated, she dried her own orange zest from oranges growing  in her own yard.  Her own orange trees!  I am more than a little envious.
 To be honest, I'm not much of a black licorice lover. I'm more of a Twizzlers girl! 
My dislike of the licorice flavour probably goes back to when I was 18 years old and went out on my first real "grown up" date.  You know, dressing up and going to a nice restaurant, not just "hanging out" at his parents place or yours!  Things were going well until after dinner when the waiter brought 2 flaming liqueurs to the table.  I had no idea what you were supposed to do.   Should I blow out the flame or wait until the flame burned out and then drink it.  It was all just so awkward.  We  just stared at the drinks and then at each other, both too embarrassed to ask what to do.  Eventually the flame burned out and we drank the liqueur.  It was awful.  Eventually the romance also burned out (OK, full disclosure here, he dumped me!) I guess ever since then, licorice flavoured things have left a bitter taste in  my mouth. 
 Since then I have learned that right after the drink is lit you are supposed to blow it out and then down it.  For the more adventurous, you can take the shot and hold it in your mouth and then light the sambuca from your mouth and let the flames light up momentarily before swallowing the shot.  And then in the "don't try this at home kids" category, you can let the flame keep burning and down the shot while still on fire. I think the logistics of this would be quite challenging and I can only imagine setting myself on fire if I tried to do this.
Whoops, I digress.  Back to Swedish Rye Bread.  To say that I was not looking forward to this bread was an understatement.  I was telling my friend Ross about this bread and he mentioned that he loved licorice flavoured foods.  I promised  I'd bake it for him.  This bread takes 2 days to make.  On day 1 the starter "sponge" is prepared.  It contains some of my sourdough starter, molasses, orange peel, aniseed, fennel seed, cardamom amd some white rye flour.  The next day the sponge is mixed wth yeast. salt, brown sugar, shortening and bread flour.  After a quick 6 minutes of kneading, I had a smooth dough.
After the bread is allowed to rise for the first time the loaves are formed.  I opted for batards (free form ovals) as I would get a chance to practice my slashing skills.
 After slashing, the loaves rise for another 90 minutes.  They are egg washed and baked.  I have to admit they looked quite beautiful.  I sliced off a small piece to try and it was not as bad as I feared.  I guess my tastebuds as well as my taste in men have grown up a bit.  My friend Ross loved the bread.
P.S.  I have now gone through my second 10 kilogram sack of bread flour.  Had anyone told me that at the beginning of this challenge, last May, I would have found it hard to believe.  Here is a photo of my empty bag!