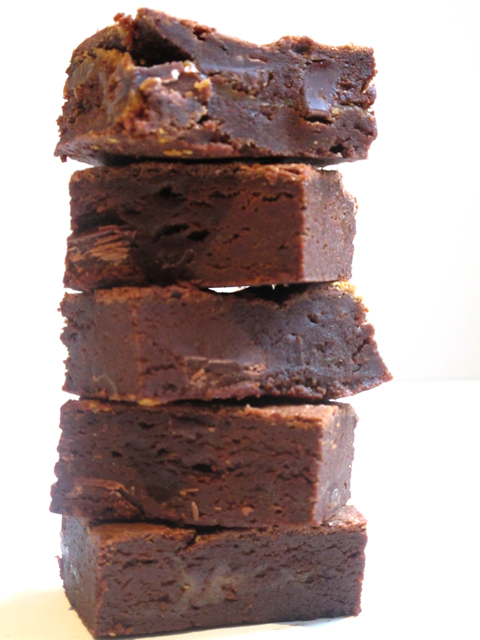 Okay, I have become a little bit obsessed with Bobby Flay's show "Throwdown" on the Food Network.   It might be the catchy theme song that I just can't stop singing, or maybe it's just Bobby's curls that I am obsessed about.  I used to have curls just like that before I discovered the CHI flat iron.  For those not familiar with the show,  here's  The Food Network's summary of the main plot :
"Flay is on a secret mission: to challenge the absolute masters in different kinds of cooking – award-winning BBQers, bakers, pizza makers and more. In each episode, one of these cooks thinks Food Network is shooting their profile for a show. What they don't know is that Bobby is going to drop in for a surprise visit and challenge them to an unexpected cook-off."
In 91 episodes so far Bobby has won 28 challenges, tied one and lost 63.  In baseball parlance he's batting 307 which for a major league ball player is pretty respectable.  The latest episode I watched was a brownie throwdown.  Shawna Lidsky and Katherine Hayward of The Vermont Brownie Company prepared their famous goat cheese (chevre) brownies.  Bobby challenged with his Peanut Butter Caramel Swirl Brownie. 
 I was actually shocked that the judges chose the chevre brownie as the winner.  I am not a chevre lover.  I find the taste a bit cloying but perhaps the chocolate helps to temper that tang.  I was mighty pleased, however,  to see that Shawna and Katherine top their brownies with a pinch of sea salt.  Ever since watching that episode last week I have been unable to think about anything other than Bobby's brownies.  I had to make them.
The original recipe instructs you to line  a 9 x 13 inch pan with foil.  My sister Bonnie has brainwashed me into believing that foil should never come into contact with food as studies have shown that Alzheimer's sufferers have a high concentration of aluminum in their systems.  Although cooking in aluminum pots or using aluminum foil has not yet been scientifiacally proven to cause Alzheimers, my sister is adamant in her belief.  
Besides, the foil does not usually peel right off the baked goods and someone always ends up biting into a brownie with foil stuck to one corner.  In my family, that someone is my Uncle Stephen.  He always gets the bone in the boneless chicken, the olive pit in the pitted olive salad and the foil on the brownie.  So now I line my baking sheets and cake pans with parchment.  Here is an easy way to line a square or rectangular baking dish that I learned many years ago when I worked at Dinah's Cupboard in Toronto.
You begin by making a caramel sauce.  Water and sugar are combined in a small pot and cooked without stirring for several minutes until it caramelizes and becomes amber in colour.  Then whipping cream is whisked in.  Next a half cup of peanut butter is mixed in. Here's a great tip: spray the measuring cup with Pam and the peanut butter will slide right out, without sticking.  Transfer to a bowl and let mixture cool for about 30 minutes.
 Chop the chocolate. Then melt with butter over a double boiler.  While the chocolate mixture cools, break some eggs, whisk them with brown and white sugar and combine with the melted chocolate.  add some salt, flour and chocolate chunks.
 Then comes the fun part, making the peanut butter caramel swirl.
As promised, the parchment peels right off once the brownies have cooled.  Because of the high percentage of unsweetened chocolate in these brownies, they are not too sweet.  The taste of peanut butter is pronounced and the hit of caramel is a perfect background note.  Only one small complaint:  Making these dirties a lot of bowls and pots!
With a glass of milk, they are the perfect snack for watching an episode of Throwdown.

Peanut Butter Caramel Swirl Brownies
Ingredients
1/2 cup heavy cream
1/4 cup sugar
1/4 cup water
1/2 cup smooth peanut butter
1 tablespoon corn syrup
Pinch sea salt
1/8 teaspoon vanilla extract
1 cup (2 sticks) unsalted butter, cut into chunks
6 ounces high-quality unsweetened chocolate, coarsely chopped
2 ounces bittersweet chocolate, coarsely chopped
1 teaspoon espresso powder
4 large eggs
1 1/2 cups granulated sugar
1/2 cup packed light brown muscavado sugar
2 teaspoons pure vanilla extract
1/4 teaspoon fine salt
1 cup unbleached all-purpose flour
4 ounces bittersweet chocolate, coarsely chopped

Directions
Bring the cream to a simmer over low heat in a small saucepan. Combine the sugar and water in a small saucepan over high heat and cook, without stirring until amber brown. Slowly whisk in the warm cream until smooth and let cook for 1 minute. Remove from the heat and whisk in the peanut butter, corn syrup, sea salt and 1/8 teaspoon of vanilla extract until smooth. Transfer to a bowl and let cool until thickened at room temperature, about 30 minutes.
Put a rack in the middle of the oven and preheat the oven to 325 degrees F. Line a 9 by 13-inch baking pan with parchment paper..
Combine the butter, unsweetened chocolate, 2 ounces bittersweet chocolate and espresso powder in a medium bowl set over a pot of simmering water. Let the chocolate melt over low heat, stirring frequently until smooth. Remove from the heat and let cool slightly, about 5 minutes.
In a large bowl, whisk the eggs, both sugars, vanilla and salt until smooth. Whisk in the melted chocolate mixture until combined. Scrape down the sides of the bowl. Beat in the flour in 2 additions (the batter will be thick). Stir in the remaining 4 ounces of chopped bittersweet chocolate.
Scrape half of the batter into the prepared pan and smooth the top. Using a tablespoon, drop dollops of half of the peanut butter caramel every 2 inches over the top of the batter. Carefully add the remaining batter and smooth over the caramel. Smooth the top and dollop the remaining caramel over the top. Use a butter knife to swirl through the batter to get a marbleized effect.
Bake until the top is set but still soft and the edges are puffed and just beginning to pull away from the sides of the pan, about 23 to 25 minutes. A toothpick inserted in the center will come out still gooey (be brave!–underbaking the brownies is one of the secrets to their fudgy texture). Transfer the pan to a wire rack to cool completely.
For the neatest cuts, refrigerate the pan for about 20 minutes before cutting the brownies. Using the foil, lift the brownie slab out of the pan. Carefully peel off the foil and put the brownie on a large cutting board. With a large sharp knife, cut the brownies into 48 squares. (The brownies can be stored in an airtight container, at room temperature, for up to 3 days; they can also be frozen, well wrapped, for up to 2 weeks.)