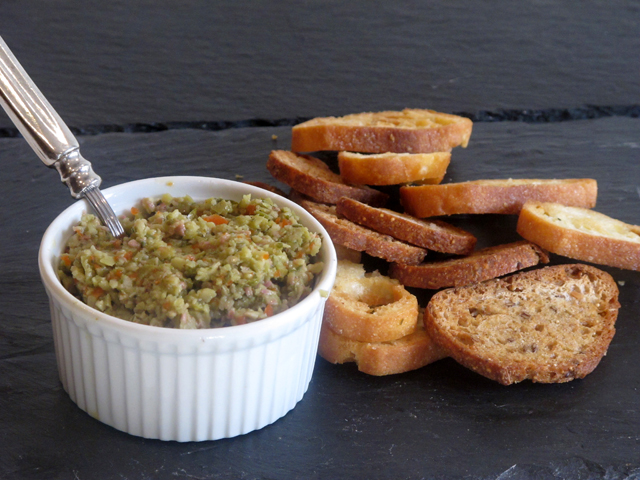 I think I have a special fondness for these recipes because the last time I  had them was at my friend Sandy's cottage.  Sandy and her husband are the ultimate hosts.  After almost 3 weeks of rainy July weather, upon our arrival, they arranged for the sun to come out and there it stayed for the entire 3 days of our visit. Each day, at precisely 5:15 p.m., drinks and hors d'oeuvres were served on the dock.  There we were, lounging by the lake in our comfy Muskoka chairs and Sandy appeared with a bowl of this tapenade and flatbread crackers.  I think my love of this tapenade may also have something to do with the fact that she served it with these ice cold pomegranate martinis. 
Any left over tapenade keeps well in the fridge for weeks.  It is also wonderful in sandwiches and tossed with hot pasta.
Sandy's Green Olive Tapenade
2 cups green olives with pimentos, drained of brine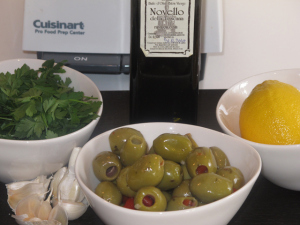 1/3 cup Italian parsley leaves
1 large clove garlic
¼ cup extra-virgin olive oil
2 tablespoons lemon juice
¼ teaspoon freshly ground black pepper
 1.  Place green olives and parsley in the bowl of a food processor fitted with the metal blade.  Turn machine on and drop garlic clove through the top while blade is spinning.  Pulse mixture about 10 times until olives are coarsely chopped.
 2.  Add olive oil, lemon juice and black pepper and pulse 2-3 more times.  You want a chunky mixture.  Do not process until smooth.
 3.  Transfer mixture to small serving bowl and serve with crackers or slices of toasted baguette.
Frozen Pomegranate Martinis
This recipe is adapted from a July 2000 recipe in Gourmet Magazine.  In the original recipe they used frozen chunks of watermelon instead of the pomegranate ice cubes.
You can actually feel virtuous drinking this cocktail.  The antioxidants in pomegranate juice have been shown to be beneficial to heart health by breaking down fatty deposits on the artery walls.  This drink requires some advance planning as you need to make POM ice cubes from the juice.  Once frozen, they will keep in a zip-loc bag in your freezer for several months.  It's always good to have a bag of POM cubes on hand.  You never know who will show up.  Serves 4
2 small bottles POM wonderful pomegranate juice (each bottle is 473 ml)
zest from 1 lime
¼ cup granulated sugar
¼ cup lime juice
½ cup Vodka  (regular, raspberry, lemon, mandarine) use whatever you have
1.  Pour 2 bottles of pomegranate juice into ice cube trays and freeze for several hours, until solid.  If not using right away, frozen juice cubes can be kept in a zip-loc bag.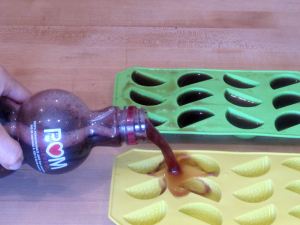 2.  Zest Lime and add to sugar.  Juice limes.
3.  In a blender, combine half the juice ice cubes, lime zest, sugar, and vodka.   Blend until almost smooth and add remaining juice cubes, a few at a time, blending until totally smooth.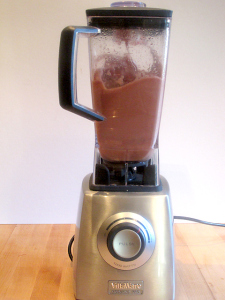 3.  Pour into martini or wine glasses and serve with a straw.  Beware of a brain freeze if you slurp too fast.