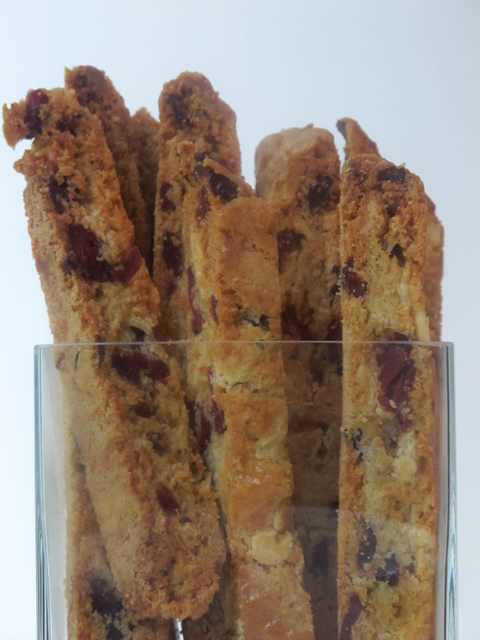 Yesterday morning at 5:45 am I received an e-mail request to bake for a charity auction/fundraiser being held this Saturday night.  You may be wondering why I was awake so early. It wasn't on purpose.  It's just that I keep forgetting to put my blackberry on "silent" mode before I go to sleep, so the beep of an incoming message woke me.  The request was from the Lanark County Therapeutic Riding Program.  I immediately hit reply and said YES!!  My speedy, enthusiastic (well, as enthusiastic as I can be at 5:45 am) reply was due to two reasons.
The main reason I replied yes is that my son, who has cerebral palsy, has been riding with them for over 6 years.   When he began he could not even sit up on the horse.  Now he is trotting.  He has developed increased balance, flexibility and coordination over the years.  But more importantly, he has gained a feeling of great independence and freedom as well as tremendous pride in his accomplishments.  I never could have imagined a day when I would see him trotting down a country road on a horse.  It is a joy to behold.
The second reason for my speedy acquiescence is that I love any excuse to bake, especially when I know the baking will be leaving my home and moving out of harm's way (Harm in this case, being my mouth!)
I knew right away what I wanted to bake.  I was planning to bake on Thursday and the event was not being held until Saturday, so it had to be something that didn't get stale quickly.  Biscotti would be the perfect thing to make.  They keep well for several weeks, although they never seem to last that long around here.  The inspiration for this biscotti recipe came from the now defunct Gourmet Magazine (a moment of silence here please!!).  The original recipe was for cranberry biscotti dipped in white chocolate.  I decided to add white chocolate chunks to the dough instead of dipping them.  I also added coconut to the dough because coconut makes everything taste better!   Unbeknownst to me, my sister Bonnie made the exact same changes to the recipe.  We laughed when we discovered what the other had done.
Oh, and I had a third reason to be excited to bake today!  I would get to try out my new Beater Blade for my Kitchenaid mixer.  The company claims that this blade, " … virtually eliminates hand-scraping the bowl and batter build-up on the blades. Ingredients are thoroughly incorporated ensuring foolproof mixing and baking preparation." After softening the butter, I set to work creaming the butter and sugar.  I was very impressed with the new blade.  No scraping down was needed.  I love it when a product delivers like it promises.
Then time to add the rest of the ingredients.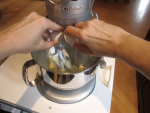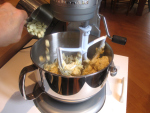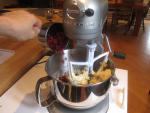 Biscotti is Italian for "twice baked".  First the dough is formed into logs and baked.  Then the logs are sliced and put back into the oven for a second baking.  This is a wonderful dough to work with, so pliable and malleable.  Forming the logs is simple.
The logs are brushed with beaten eggwhite and baked for about 25 minutes.  Then they cool for about an hour.  I discovered that using a cleaver works really well for slicing the logs.  I got an inexpensive one from Ikea.  I like to slice them on the diagonal for really long biscotti.  They go back into the oven for a second baking.  They will be a bit soft when you remove them from the second baking but will firm up as they cool.