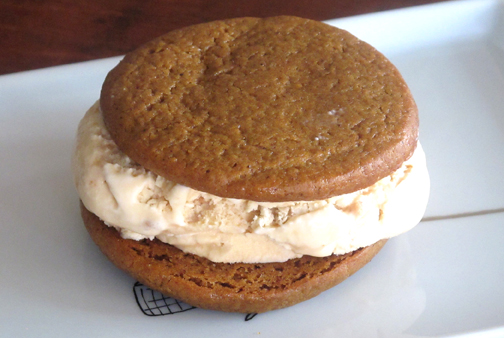 I love it when a product delivers as promised.  My friend Brigitte introduced me to a mirror that has changed my life.  This little mirror magnifys to the power of 15 making it unnecessary for me to wear my reading glasses when tweezing my brows. (wearing glasses while tweezing your brows is next to impossible because the frames get in the way of your brows)  I now have impeccably groomed brows. Should you decide to get this mirror do not use it for anything other than tweezing.  Step away immediately after tweezing.  Because this is one scary mirror.  Everything on your face is super magnified and it's not a pretty sight.  Don't say you weren't warned.
One product that didn't deliver as promised was my Donvier Ice Cream machine.  This is a manual machine with a hand crank. Purchased many years ago I thought it would be a fun activity for my dinner guests.  I thought wrong!  After a few spins, people got bored so I was left alone in the kitchen turning the handle myself.  The ice cream was ok, not great.  The machine quickly got relegated to the basement storage room.
Then 3 years ago, I decided to purchase an electric ice cream machine.  I planned to take it up to the cottage and amaze my family and friends with imaginitive flavour combinations.  I decided on the Cuisinart machine because you could make 2 flavours at the same time.  And the price was great.  (In the States and in Canada too!!)  The first summer was so cold I never wanted to make ice cream.  Last summer I was baking my way through Peter Reinhart's Bread Baker's Apprentice Book, so I never had time for ice cream.  But this summer, aaah, this summer is going to be the "Summer of George"  Oops!  Sorry, I mean the summer of ICE CREAM.
I decided to begin with a vanilla base and add flavours from there.  The process is very simple.  Whole milk and sugar are whisked together until the sugar dissolves.  Then you add heavy cream and vanilla.  The mixture gets poured into the chilled cylinder and you hit the on switch and stand back and watch the magic happen. 
It has a clear lid so you can see the mixture freezing.  After 15 minutes you can add your mix ins.  I added Skor bits and dulce de leche sauce.
At this point it has the consistency of a Blizzard.  If you want firmer ice cream, transfer it to a container and let it freeze for a few more hours.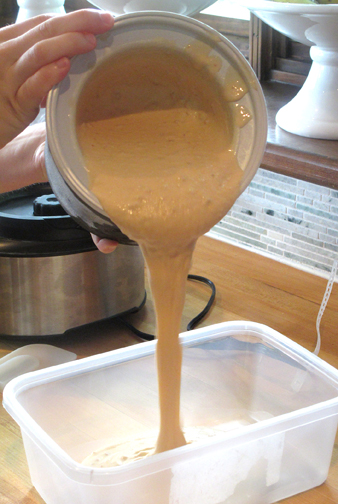 The texture was silky smooth and the addition of the Skor bits gave a great crunch.  The dulce de leche added an amazing deep caramel flavour.  All in all a resounding success.  But, it was a touch too sweet. It needed something to temper the sugar.  All of the sudden it came to me. I would make gingerbread cookies and create ice cream sandwiches.  I'm not sure what I was thinking, turning on my oven at the cottage when it was sweltering (31 degrees C/91 degrees F) outside but once I started thinking about that flavour combo I had to bake the gingerbread cookies.  Inside my kitchen it smelled like December but felt like hell.  It was so wierd.
Of course I had to gild the lilly and roll the outside of the ice cream sandwich in more skor bits.  It was so good!!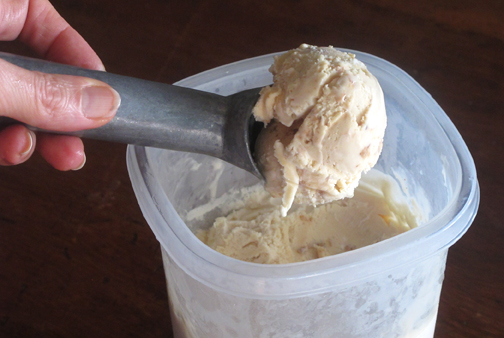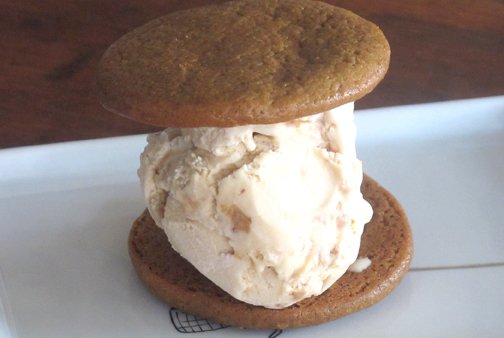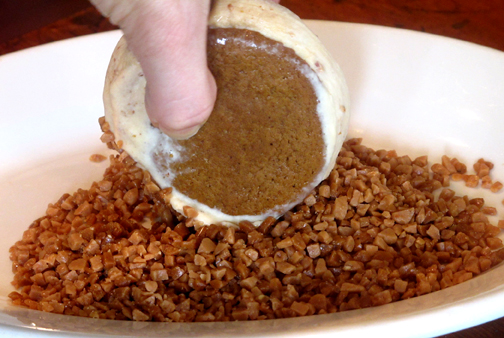 Dulce de Leche Ice Cream
(adapted from basic vanilla ice cream recipe in Cuisinart recipe booklet)
Ingredients:
3/4 cup whole milk, well chilled
2/3 cup granulated sugar
1 1/2 cups 35% cream (heavy cream). well chilled
1 teaspoon pure vanilla extract
1/2 cup skor bits
1/2 cup dulce de leche (President's Choice makes a great one)
Directions:
1.  In a medium bowl, use a whisk to combine milk and sugar, whisking until sugar is dissolved.
2.  Whisk in heavy cream and vanilla.
3.  Pour into ice cream machine and let mix until thickened, about 20 minutes.
4.  Add skor bits and dulce de leche.  Mix for 5 more minutes.
5.  Transfer ice cream to an airtight container.  Cover surface of ice cream with plastic wrap and then put on lid container.  This will help prevent the formation of ice crystals.  Freeze for an additional 2 hours.
Thick and Chewy Gingerbread Cookies
 This recipe comes from Cook's Illustrated Magazine.  It makes about 18 large or 30 small gingerbread cookies. 
Ingredients:
3 cups unbleached all-purpose flour
¾ cup firmly packed dark brown sugar
¾ teaspoon baking soda
2 teaspoons ground cinnamon
2 teaspoons ground ginger
½ teaspoon ground cloves (totally optional – I leave it out as I hate cloves)
½ teaspoon salt
12 tablespoons (1 ½ sticks) unsalted butter, softened but still cool, cut into 12 pieces
¾ cup molasses
2 tablespoons milk
Directions:
In a food processor, process the flour, brown sugar, baking soda, cinnamon, ginger, cloves and salt until combined, about 10 seconds.  Scatter the butter pieces over the flour mixture and process until the mixture is sandy and resembles very fine meal, about 15 seconds.
With the machine running, gradually add the molasses and milk.  Process until the dough is evenly moistened and forms a soft mass, about 10 seconds.
Scrape dough out onto a work surface and divide it half.  Working with one piece at a time, roll the dough, ¼ inch thick, between 2 sheets of parchment paper.  Leaving the dough sandwiched between the parchment layers, stack on a baking sheet and freeze until firm, 15-20 minutes.
Adjust the oven racks to the upper and lower middle positions and heat the oven to 350 degrees F.  Line 2 baking sheets with parchment paper.
Remove 1 dough sheet from the freezer; place on work surface.  Peel off top parchment sheet and gently lay it back in place.  Flip the dough over; peel off and discard second parchment layer. 
Cut the dough using cookie cutters of your choice.  Transfer shapes to prepared baking sheets, using a wide metal spatula, spacing them ¾ inches apart.  Set scraps aside.  Repeat with remaining dough until baking sheets are full.
Bake the cookies for 8 – 11 minutes, until they are set in the centers and the dough barely retains an imprint when touched very gently with a fingertip. The baking sheets should be rotated from front to back and switching positions top to bottom, halfway through the baking time.  Do not overbake.  Cool cookies on the sheets for 2 minutes, then remove the cookies with a wide metal spatula to a wire rack to cool completely. 
Gather the scraps; repeat rolling, cutting and baking.