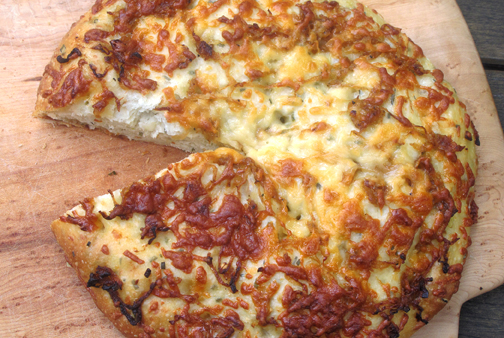 I waited to make the last bread in the Bread Baker's Apprentice Challenge until all my children were home and the whole family was under one roof again.  It only seemed fitting that we should end this together as we were all home together last spring when I began my journey.  So finally, the planets were aligned and we were ready for a family dinner.  It turned out that my nephew was in town visiting, so we invited him to join us.  Only one hitch in the plan.  My nephew's mom was visiting with him.  It had been a long time since I had seen my (ex) sister-in-law, as she and my brother-in-law were divorced over 12 years ago.  But in the spirit of, "the more the merrier", we invited her to join us as well. 
I have to admit that it was a bit strange at first, but once I pulled this bread out of the oven, and sliced it up there was no need for any more awkward conversation.   I poured some wine, sliced more bread, served dinner and soon we were all laughing and telling stories about when the kids were little and reminiscing about family holidays of years gone by.  Before I knew it, over 4 hours had flown by.  It was really nice to catch up and have a visit.  I do believe that this is a magical bread, able to bridge any gap and smooth out any awkwardness that life has thrown in your path.
The recipe makes such a huge amount of dough that it has to be kneaded by hand as it will not fit into the mixer.  I began with roasting the onions in the oven and ended up burning them.  I put a second batch in the oven and proceeded to burn them! again!  So then I sliced them thinly and caramelized them on top of the stove where I could keep an eye on them.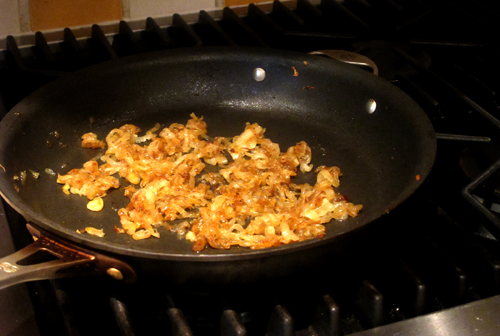 I sliced the green onions and chives and grated some Asiago cheese.
 Once the dough is mixed, the green onions and chives are kneaded in and then it's shaped into a boule and placed in the fridge for an overnight rest to allow the flavours to develop.
The next day, the dough is brushed with olive oil, dimpled and covered with a thin layer of Asiago cheese, the caramelized onions and more cheese.  Into a hot oven and 20 minutes later, golden perfection.
The crust was crunchy on the bottom, chewy on top from all that cheese and the bread had a beautiful open crumb.  A perfect ending to the Bread Baker's Apprentice Challenge!!