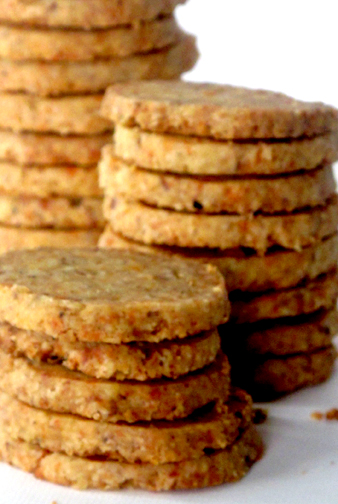 In my last post I declared that this would be the "Summer of Ice Cream."  I had grandiose plans about creating a different flavour every few days and posting about them.  It began well with this.  So well in fact that I got stuck on dulce de leche  ice cream and made it about 5 more times.  Finally I moved onto making Mocha Almond Fudge ice cream.  (Sorry, no pictures, I ate it all too fast).  If you are interested in trying it, use a basic vanilla ice cream recipe and reduce the milk by about 1/2 a cup.  Add 1/2 a cup of cold espresso or strong coffee, and about 1/2 cup chopped toasted almonds.  When the ice cream is finished mixing, swirl in about 1/2 cup hot fudge sauce.  Store bought fudge sauce will do but the Cook's Illustrated recipe is sublime.  Unfortunately, my plans for the summer of ice cream came to a complete halt when it became obvious  that I was eating most of the ice cream and my shorts were getting  tight.
I am fortunate to be able to spend the entire summer at my cottage.  When we first got the cottage we had guests almost every weekend.  My kids were small so we would invite other families with kids so they would have playmates.  As the years have gone by, the kids are busy with other things and don't spend as much time here at the cottage.  We have gotten lazy about inviting company.  But this summer I decided to be sociable again.  So sociable in fact that we have had back to back guests since mid-July.  One set of guests would leave and by the time the sheets were washed, dried and put back on the bed, the next set of guests were arriving.
I do not stress out too much about all this entertaining because when my friends or family ask if they can bring anything, I  reply, "Yes, could you bring dinner for Saturday night?"  Everyone is used to it by now and they are all happy to contribute.  I make Friday night dinner, Saturday and Sunday lunch and everyone has a great time.  To make things easier this summer, I came up with a standard cocktail time snack, that we have been serving every weekend.
This cheese biscuit recipe comes from a Quebec restaurant called Les Fougeres.  They are the perfect accompaniment to Frozen Peach Bellinis.  They are crunchy and a little bit spicy.  And best of all, the dough freezes beautifully.  They are like the savory version of Pillsbury Slice and Bake cookies.  It makes me feel very happy and secure to know that my freezer is stocked full.  I think it harks back to my childhood when I would pick the frosting off the frozen Sara Lee bananna cake (Yes mom, it was me!).
These biscuits are easy to put together.  Butter and cheddar contribute to their richness and toasted pecans and a surprising ingredient (Rice Krispies) contribute to their crunch.  A pinch of cayenne adds some welcome heat.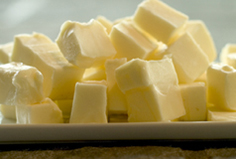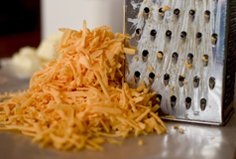 You can mix the dough in a big bowl by hand or do it in the food processor.  Form the dough into logs and wrap in waxed paper to chill.  Then just slice and bake.

Add a big bowl of raw peas in a pod and a pitcher of frozen peach bellinis and watch the good times roll!
Les Fougeres Cheese Biscuits
1/2 pound (227 g) butter, softened
1/2 pound (227 g) sharp cheddar, grated
2 cups (500 mL) flour
2 teaspoons (10 mL) sugar
1 teaspoon (5 mL) salt
1 teaspoon (5 mL) freshly cracked black peppercorns
1/4 teaspoon (1.25 mL) cayenne
3/4 cup (175 mL) chopped toasted pecans
2 cups (500 mL) Rice Krispies
1. In the bowl of a food processor, fitted with the stainless steel knife, add flour, sugar, salt and cayenne.  Pulse to combine.
2.  Add butter and pulse about 10-15 times until mixture resembles a coarse meal.  Add cheddar, pecans and rice krispies and process breifly, about 30 seconds until crumbly.
3.  Dump dough out onto counter, divide in half and and form each half of dough into sausage shape. Roll each log in in wax paper.
4. Chill.
5. Slice into 1/4 inch rounds and place on a lightly greased baking sheet.
6. Bake in a preheated 350°F (190°C) oven until golden, about 15 minutes.
Note: These biscuits can be successfully frozen in the sausage shape and simply sliced and baked when desired.
Frozen Peach Bellinis (serves 2-3)
3/4 cup prosecco (Italian sparkling wine)
1/4 cup peach schnapps
1/2 cup fresh peach puree* or peach nectar (such as Ceres brand)
1/2 cup ice
1 teaspoon lemon juice
Place all the ingredients in a blender and puree until smooth.
* Only use fresh peach puree if peaches are ripe and juicy.  To make your own puree, bring a large pot of water to a boil.  Cut a small x in the bottom of each peach.  Plunge peaches into boiling water for about 30 seconds.  Remove peaches from boiling water with a slotted spoon and dunk  in a bowl of cold water.  Skins will slip off easily.  Cut peach in half and discard pit.  Puree peaches in blender or food processor.  Any left over puree can be frozen in ice cube trays.  When frozen, pop cubes into a zip loc bag and keep in freezer.