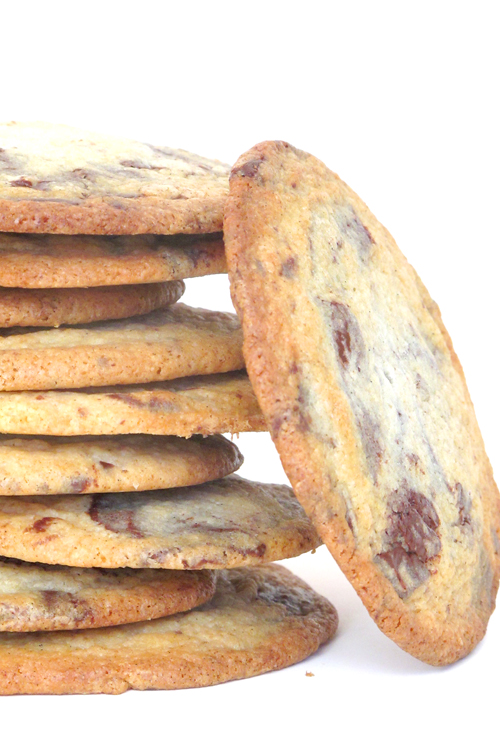 Ever since I watched Emma Feigenbaum make Giant Chocolate Chip Cookies on  the "Best Burgers" episode of Everyday Food, I have been unable to think of anything else.  I know that lots of people bash Martha Stewart, but I happen to love this show.  There are no bells and whistles, no audiences applauding when the host mentions cheese, garlic or wine. (Sorry, Rachael Ray, I love you, but I just can't stand that phony applause)  There are no "fake friends" coming around for dinner parties (Ina and Giada).  It's just a simply produced show with a gorgeous set and appealing recipes that make you want to cook.  I find all the cast members credible and really enjoy Emma, the newest cast member.  She has the sweetest smile. I think we could be friends.
I managed to resist baking them for about a week, but then suddenly, all 3 of my children were under my roof for an entire 48 hours.  I had to bake!  As I was taking the butter out of the fridge to soften, my stack of Lindt fleur de sel chocolate bars caught my eye.  I always have at least 8 bars on hand in the fridge.  You never know when the craving will hit.  I decided to chop them up and use them in the cookies instead of regular chocolate chips.
Over the years I have had favourite chocolate chip cookie recipes.  We were hooked on Jacques Torres' Chocolate Chip Cookies for a while, but they were just too much trouble.  Apparently what makes them so special is the Valrhona feves (giant oval shaped chocolate discs), but seriously, I live in Ottawa, and sourcing them was a pain!  They also required 24-72 hours of chilling time for the dough before baking.  When you have a craving for chocolate chip cookies you don't want to wait 3 days!
Before Jacques Torres', we were into Marcy Goldman's Better Baking.com Chocolate Chip Cookies (she nicknamed them "Big League" Chocolate Chip Cookies). But they required you to melt half the butter and then cool it and she also recommended chilling the dough for 24 hours.  Problem was, everyone ended up sneaking little bits of cookie dough from the fridge and by the time we got around to baking them, there was hardly any dough left.  Also, for some reason, I always got inconsistent results with this recipe.
Lately we have been  worshipping at the alter of Michael Smith's Chewy Chocolate Chip Cookies.  But I just could not stop thinking of these Giant Cookies Emma made.  I was not disappointed.  They were crisp around the edges and chewy in the center.  The addition of the fleur de sel chocolate chunks took these cookies to a whole new level.
When it comes to chocolate chip cookies, people are in one of 3 camps.  There are those who love them all warm and gooey from the oven. Then there are those who prefer them once they have totally cooled, and the chocolate has a snap when you bite into them.  Finally, there are those who love them best straight from the freezer once they have cured for a few days.  Granted, that camp is quite small (BTW, I am firmly in this camp) but they have their followers.
Chop the chocolate, cream butter and both sugars together, add the vanilla and egg.
Using the mixer is ok for incorporating dry ingredients, but mix in chocolate chunks gently with a spatula.
Form cookies using a 1/4 cup measuring cup.  Don't overcrowd. 4-5 cookies per sheet is the maximum.  Bake for 14-15 minutes.
Giant Fleur de Sel Chocolate Chunk Cookies
To print recipe, click here.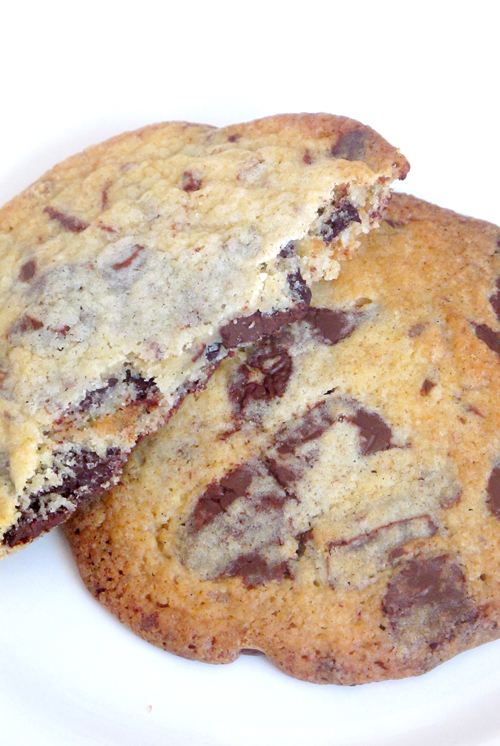 2 cups all-purpose flour, spooned and leveled
1 1/2 teaspoons baking soda
1 teaspoon salt
1 cup (2 sticks) unsalted butter, room temperature
1 cup granulated sugar
3/4 cup packed light-brown sugar
2 large eggs
2 teaspoons pure vanilla extract
4 100 gram bars of Lindt Fleur de Sel Chocolate. coarsely chopped
Fleur de Sel for sprinkling (optional)
Preheat oven to 375 degrees. In a medium bowl, whisk together flour, baking soda, and salt. Set aside.
In a large bowl, with an electric mixer, beat butter and sugars until light and fluffy. Add eggs one at a time, beating well after each addition until combined; mix in vanilla.
With mixer on low speed, add flour mixture; mix until just incorporated. With a rubber spatula or wooden spoon, stir in chocolate chunks.
Drop 1/4-cup mounds of dough onto parchment lined baking sheets, at least 4 inches apart and away from edges of pan. (You will fit about 4 cookies to a sheet; bake in two batches, using two baking sheets per batch.) Bake until golden, 14-15 minutes, rotating sheets front to back and from top to bottom of oven halfway through.
As soon as they come out of the oven, sprinkle each cookie with a pinch of fleur de sel. Cool 1 to 2 minutes on baking sheets, then transfer to a rack to cool completely. Store in an airtight container up to 2 days.