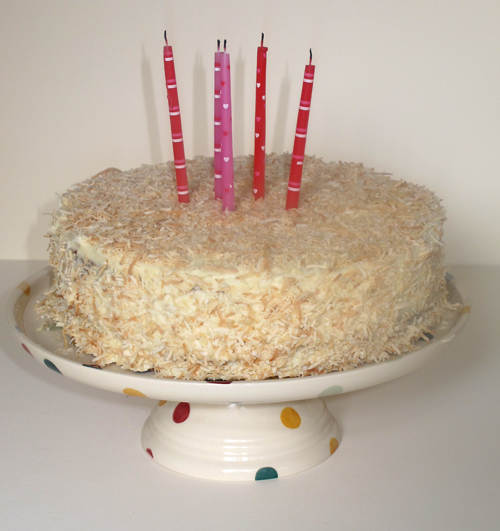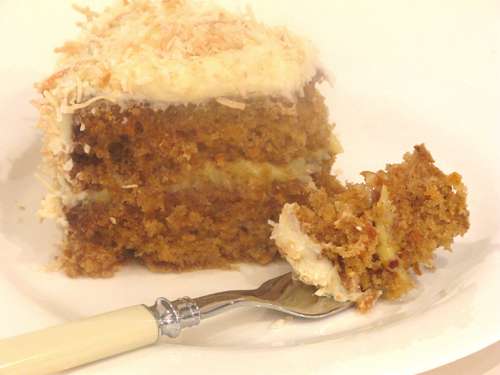 Every family has their own birthday traditions.  When I was growing up, birthdays were celebrated with a "Deluxe Bakery" (Deluxe was actually the name of the bakery) cake, complete with pink buttercream flowers, which my sisters and I fought over.  Now that I have my own children I let each of them choose their favourite cake and I bake it for them.  My youngest always picks chocolate.  My middle child usually selects something challenging for me to recreate.  One year it was a treasure box, another year we made a swimming pool, complete with bright blue Jell-O as the water.  My oldest, whose birthday is in December, always requests strawberry almond shortbread cake.  It's not always easy to find great berries in the winter.
Yesterday was my birthday and I began the day by baking my own cake.  Now don't go feeling sorry for me.  I have been baking my own cake for many years now.  When I was younger, my sister had a friend who worked at a bakery.  Every year she would bake and decorate her own birthday cake.  We always thought it was the saddest thing.  However, now that I'm grown up, I think that baking your own birthday cake is a joyous thing to do.  Think about it.  No having to be gracious and pretending to be thrilled when someone brings you a chocolate cake, when what you really wanted was carrot cake.  
Not that I would know anything about being gracious!  I am ashamed to admit that one year my good friend bought me an over the top artisan bakery creation for my birthday.  We were at my cottage for a girl's weekend.  I told her, "Thanks, but I made my own cake for tonight.  We can serve yours tomorrow night."  So, no I don't get any points in the generosity of spirit category for that one, but I did get to eat my carrot cake on my birthday.
The carrot cake I'm takling about here is not your standard issue carrot cake.  I am talking about a dense, moist carrot cake with lemon curd filling and cream cheese frosting, showered with toasted coconut.  The lemon curd filling keeps it from being too cloyingly sweet, something that too many carrot cakes are guilty of.  This cake was created by my friend Pam.  This is not one of those cakes that you mix up in one bowl and then bake.  Baking it requires you to dirty pretty much every bowl, measuring cup, spoon, spatula and whisk you own.  This cake is a labour of love.
While the cake is baking, you can prepare the lemon curd filling.  After whisking sugar, eggs, lemon zest and lemon juice in the mixer until light and fluffy, the mixer bowl is then placed over a pot of simmering water and you whisk until it has thickened.   The tricky part is not making lemon flavoured scrambled eggs.  You have to know just when to take it off.  After whisking for10 minutes it has thickened a little bit.  After 20 minutes it is perfect.
Time to assemble the cake.
Here's a neat trick for getting the coconut onto the cake.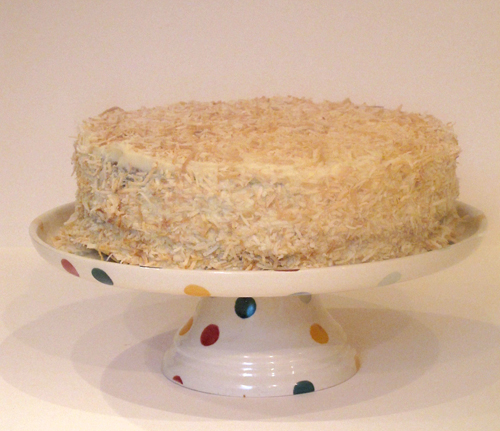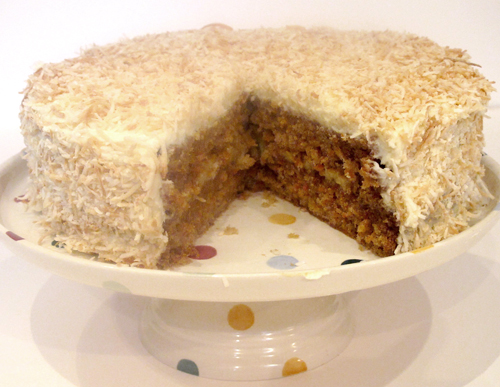 Pam's Carrot Cake
 Carrot cake
 2 cups all-purpose flour
2 teaspoons baking powder
½ teaspoon baking soda
1 teaspoon cinnamon
½ teaspoon salt
1 ½ cups vegetable oil
2 cups sugar
4 large eggs
2 cups grated carrots
1.  Preheat oven to 350 degrees F.  Butter the inside of two 9-inch round cake pans.  Line bottom of each pan with a circle of parchment paper. 
2    Sift together flour, powder, soda, cinnamon and salt.  In an electric mixer, cream together the oil and sugar for about 5 minutes.  Add eggs, one at a time.  Mix in dry ingredients and carrots.  Do not over mix or cake will be heavy.  Pour batter into parchment lined pans.  Bake in oven for 40 minutes, or until a tester comes out clean.  Remove from oven and allow to cool completely in the pan, set on a wire cooling rack.  Turn out and remove paper before filling with lemon cream.  Cake layers can be made a day ahead. Wrap well in plastic wrap and store at room temperature.
 Lemon Cream
2 large eggs
½ cup sugar
Zest of 1 lemon
1/3 cup lemon juice (about 2 small lemons)
4 tablespoons unsalted butter, room temperature
  1.  In an electric mixer, whisk together the eggs and sugar until doubled in volume and very light in colour.  Mix in lemon zest and juice.
 2.  Transfer mixture to the top of a double boiler and cook over high heat until very thick, about 20 minutes.  Once the mixture has begun to thicken, stir occasionally with a wire whisk to help the eggs cook evenly.  Remove from heat.  Cut butter into small pieces and add to lemon mixture.  Stir until melted.  Set aside to cool.  Can be made a day ahead and refrigerated.
 Cream Cheese Frosting
 8 ounces cream cheese
¼ cup unsalted butter, room temperature
½ teaspoon pure vanilla extract
¼ teaspoon salt
3-4 cups icing sugar
In an electric mixer, cream together the cream cheese and butter. Mix in vanilla and salt.  Mix in icing sugar and cream until smooth.
 Coconut
1 cup shredded sweetened coconut
1 cup shredded unsweetened coconut
Place both types of coconut on a baking sheet and toast in a 350 degree F preheated oven for about 8 minutes until the edges are lightly golden brown.  Let cool.
 To assemble carrot cake
   1.  Set one layer on a serving platter and spread the lemon cream evenly over the cake.  Cut 4 small strips of waxed paper and slide them under each side of the cake to keep platter clean while icing.  
   2.  Cover the lemon cream with the second cake layer.  Ice the sides and then the top of the cake with the cream cheese icing.  Cover the sides of the cake with the toasted coconut; pressing gently to make sure it adheres well.  Refrigerate until serving time.