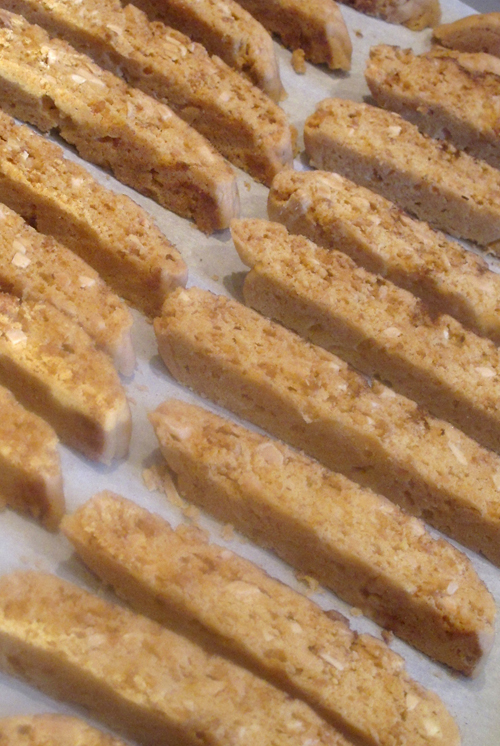 These are a biscotti unlike any other you may have tried.  Traditionally, biscotti are hard, sturdy cookies, made for dunking into coffee or tea.  These biscotti are firm but crisp and quite crunchy and airy all at the same time.  They are delicate and will shatter if you are not careful handling them.  It is a lot like eating a crunchy cloud, if you can imagine that.  I call them breakfast biscotti because they are made with Special K cereal.  That's what gives them their unique texture.
This recipe comes from a childhood friend's mother (Mrs .B).  I was friends with the daughter of the family and my sister was friends with the son.  Working as a tag team, we managed to wear Mrs B down until she gave us the recipe.
Biscotti, in Italian, means twice cooked.  The cookies are first formed into a log, cooked until slightly firm, allowed to cool, then sliced into thin cookies and baked a second time until firm.  All cultures around the world have their own form of this cookie.  Jewish bakers haveMandelbroit (meaning almond bread), the English have their "Rusks", in France they are called "Croquets de Carcassonne", in Greece, "Paxemadia" and in the Ukraine they are called "Kamishbrot".
These biscotti keep well in an airtight container for several weeks.  I have almost managed to convince myself that they are a complete and healthy breakfast!
The dough mixes up quickly in the kitchenaid.  Oil and sugar are creamed until light.  Next the eggs are added.  This is followed by the dry ingredients and finally, the Special K.
 The dough is quite sticky, but do not be tempted to add more flour.  Scrape out dough onto a heavily floured counter and knead lightly.  Divide dough into 4 and then form logs.  Bake logs for about 30 minutes until slightly firmed up.
After logs have cooled for at least an hour, slice on the diagonal.  A serrated knife or chinese cleaver works well for this.  Sprinkle with cinnamon, turn slices cut side up and return to the oven for second baking.
Breakfast Biscotti
To print recipe, click here.
makes about 60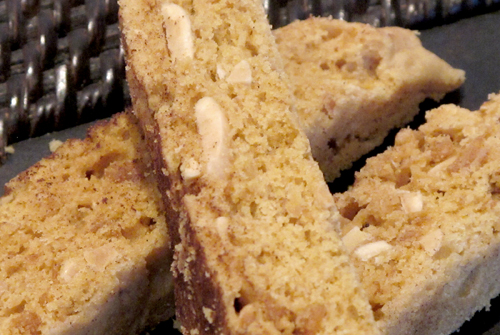 3 large eggs
1 cup sugar
½ cup vegetable oil
½ cup shortening
2 ½ cups all-purpose flour
½ teaspoon salt
2 teaspoons baking powder
1 teaspoon vanilla extract
2 cups Special K cereal
¾ cup slivered almonds, toasted and cooled
cinnamon for sprinkling on half-baked cookies
Preheat oven to 300 degrees F.  In an electric mixer, beat together the eggs and sugar until light and fluffy.  Add oil, shortening and vanilla and mix until well blended.  Add salt, flour, baking powder, special K and almonds.  Mix just until blended.
Line two baking sheets with parchment paper.  Divide dough into 4 pieces. The dough will be quite soft and sticky.  Flour your work surface well so that you can handle the dough more easily.  Roll each piece of dough into a log, about 2 inches wide and about 8 inches long.  Place two logs on each baking sheet and brush off any excess flour with a dry pastry brush.  Bake for about 20 minutes, switching pan positions halfway through.
Remove baking sheets from the oven and let logs cool for about 30 minutes.  Reduce oven temperature to 275 degrees F.  Place each of the cooled logs on a cutting board and sprinkle lightly with cinnamon.  Using a serrated knife, cut into ½ inch diagonal slices.  Arrange slices on parchment lined baking sheets, cut side down.   Bake for about another 40-45 minutes, switching pan positions halfway through.  The mandelbroit will be a bit soft when you take them out of the oven, but they will harden upon cooling.  These freeze very well and our family likes them even better frozen.