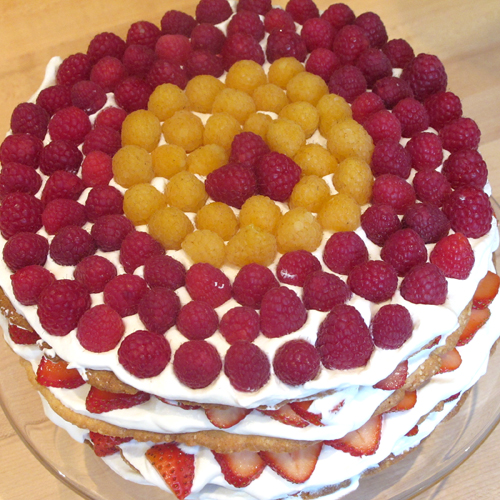 This post is wrong, so wrong, for many reasons.  I apologize.  In the first place, hot on the heels of 8 days of cookies, I should be coming to you with healthy and good for you recipes like cauliflower salad, in order to attone for the gluttony that preceeded. In the second place, this is not berry season, for goodness sake.  The berries in the supermarket now are pale and insipid and have had to travel many miles to get to me.  I am certainly creating a huge carbon footprint with this one, and for that, I apologize again.
However, in my defense, I had to make this cake or there would be hurt feelings in my house.  This is the cake my first born requests every year for his birthday.  It's his favourite cake and it's not his fault he was born in December.  Blame the mother. (we get blamed for everything else!!)  This year he is turning 21.  A very big birthday which deserves a very special cake.  And this cake, while perhaps off-season now, is nothing short of spectacular.
I found this recipe many years ago in Chatelaine magazine.  I make it twice a year now, once in September, for my husband's birthday and once in December for my son.  Some traditions you just don't mess with.
This is a simple cake to make, essentially you make 4 giant shortbread cookies and then layer them with whipped cream and berries.  Start with creaming the butter and sugar, add the egg yolks, then add cake and pastry flour and ground almonds.
The dough gets chilled for about 30 minutes, then divided into 4 and pressed into large discs.  The wonderful thing about this cake is that the layers can be pressed into shape by with your fingers and palms, just using a rolling pin at the end to smooth out the round.  Here is a video showing how to form the layers.
While the layers are baking, get the berries ready.  I found golden raspberries, red raspberries and strawberries in the supermarket that day.  Feel free to use whatever is in season, or looks good.  This is awesome with little wild blueberries in August.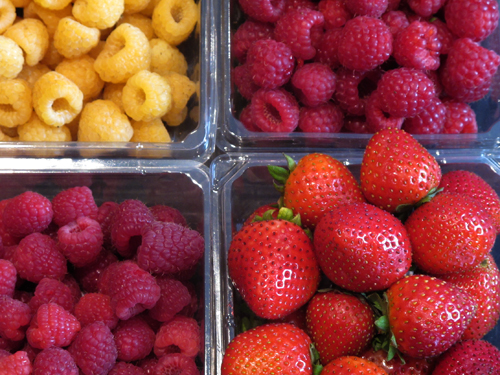 While cake layers are cooling, whip the cream.  The original recipe called for adding a few tablespoons of icing sugar to the cream but I prefer the cream unsweetened.  You get enough sweetness from the cake layers and berries.
After slicing strawberries, assemble the cake.  To keep things tidy, cut 4 layers of waxed paper and lay around the edges of the cake plate.  Put a blob of whipped cream in the center to hold the cake in place so it does not slide across the plate when carrying it into the dining room (not that this ever happened to me!).  Spread 1/4 of the cream on the first layer.  I made an orderly boarder of strawberries and then dumped more berries, haphazardly in the middle.     Continue with 2 more layers and then finish the top layer, taking care to place the berries in a decorative fashion.
The cake should be made several hours in advance.  Leave it in the fridge for the layers to soften a bit, so cutting it will be easier.  It is not the prettiest cake when sliced, but it is the most delicious.
To print the recipe, click here.