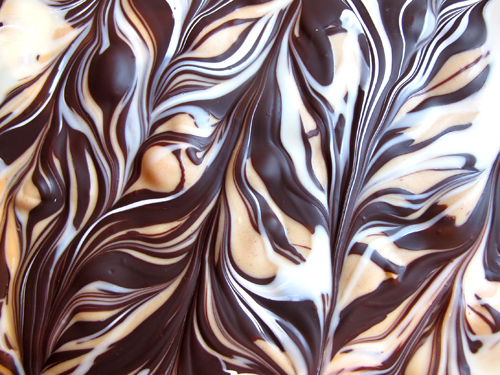 On the 5th day of holiday baking my true love ran to the store to get me another 2 kg jar of crunchy peanut butter for this creation.  I think I love this recipe so much because it really allows the artist in me to come out.  I was never very good at drawing, so baking has become my creative outlet.  With this peanut butter bark, you get to swirl the chocolates with the tip of a knife and create an unbelievably beautiful marble pattern.  It is so impressive.  I have made this recipe probably over 150 times over the past 18 years and it never ceases to thrill me.
I am not even sure where I found the original recipe anymore.  I think it was printed in our local newspaper (The Ottawa Citizen).  It is critical to use good quality chocolate when making this.  Do not use chocolate chips for melting as chocolate chips are made to hold their shape when baked. Chocolate chips have hardly any cocoa butter and that is why they keep their shape. Chocolate chips are not usually good for melting as they may be lumpy and some types may even have a gritty texture after melting.
My sister told me about an amazing source for top quality chocolate.  www.qzina.com.  They are the largest North American Importer and Distributor of Gourmet Professional Chocolates & Specialty dessert ingredients.  They sell to Whole Foods, Ritz Carleton, Four Seasons, Loblaws, Safeway and other retail giants.  But they will also ship to home consumers.  I paid $16.92 a kilo for Cacao Barry White Chocolate (callet form) and $15.04 a kilo for Cacao Barry 64% Bittersweet chocolate (callet form).  And is there anything sweeter than having a huge crate of chocolate delivered to your house?
Melt white chocolate and peanut butter together in a large bowl, set over a pot of simmering water.  Do not even think about using health-food store peanut butter.  Kraft or Skippy are best!  When they are smooth stir in salted roasted peanuts.  Pour this mixture onto a foil and parchment lined jelly roll pan.
Then comes the art.  I made a little video showing how to do the next few steps.  Watch!
Chill and slice!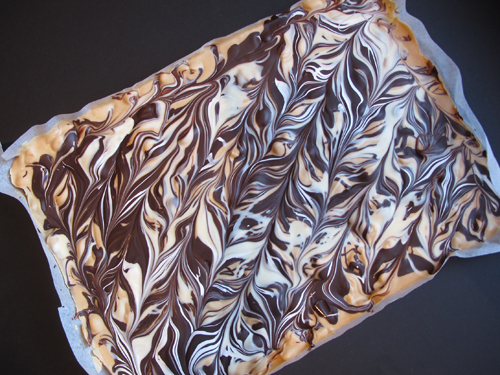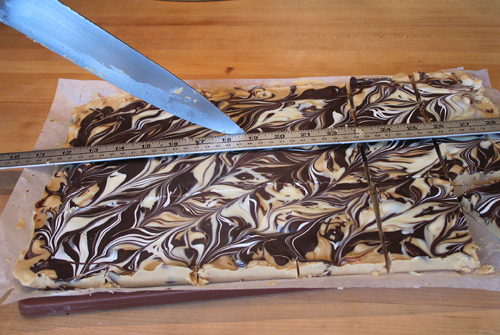 To print recipe, click here.