On the eighth day of holiday baking, my true love threatened to leave me if I didn't stop tempting him with cookies everyday.  Good thing my baking was all done.  Now for the fun part, packaging and labelling.  I am always on the lookout for interesting containers to pack up the treats in.  I found these containers at IKEA in June.  I got a lot of strange looks as I wheeled my cart to the checkout, overflowing with 40 sets of these cookie tins.  Several people wanted to know what I was going to do with them.  When I told them I was using them for holiday gifts, to be filled with home-made cookies, I was besieged with "Friend" requests. 
I like to package each type of cookie in a separate bag and label them so people know what they are eating.  I use clear heavy-duty flat bottom candy bags.  They are quite durable and the cookies look tidy packaged in them. The cookies can also be frozen in these bags for a few weeks and they do a good job keeping them fresh until you are ready to give them away.   I invested in a professional bag sealer a few years ago.  I used to tie each bag with ribbon but that took too much time.  I figure the bag sealer has paid for itself already in the money I  am saving on ribbon.  Plus, it looks so professional. And, when the bags are tied with ribbon, it's way too easy to break into a bag and sneak a cookie or two. 
I make my own labels with a program called Print Shop.  I have been using it for years and it is very easy to use and quite versatile.  This year I decided to do square labels.  Onlinelabels.com has a huge selection of all sorts of shapes.  My daughter had the brilliant idea of photographing the cookies for the label.  I decided to shoot them on a wooden tray I painted with chalkboard paint several years ago.  I arranged the cookies on the tray and then wrote the name in chalk.   I was not thrilled with how it looked.  I decided to import the photo into my Print Shop program and add text.  I found the perfect font called "Chalk Dust."  I have a bit of an obsession with fonts. 
Here are the rest of the labels for this year.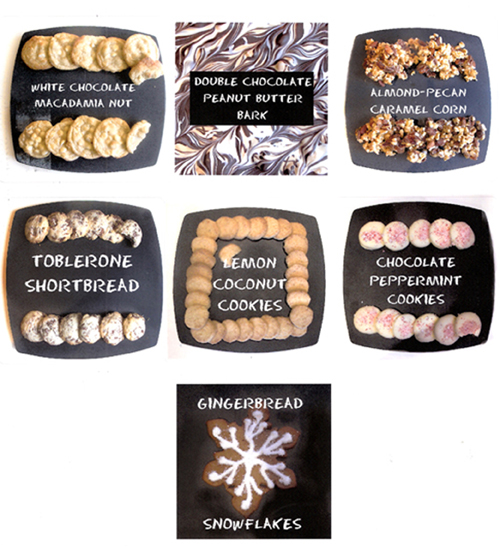 Ribbons and boxes all ready to go.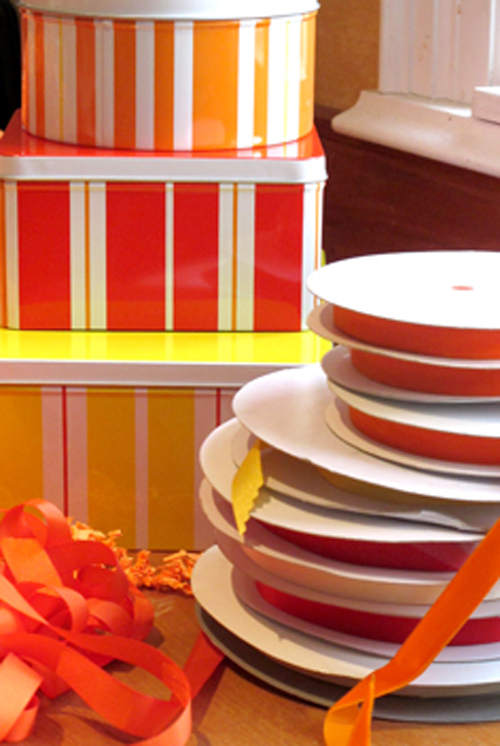 Bottom box held white chocolate macadamia, caramel corn and peanut butter bark.  Middle box held lemon coconut, chocolate peppermint and toblerone.  And the gingerbread snowflakes fit snugly into the top box.