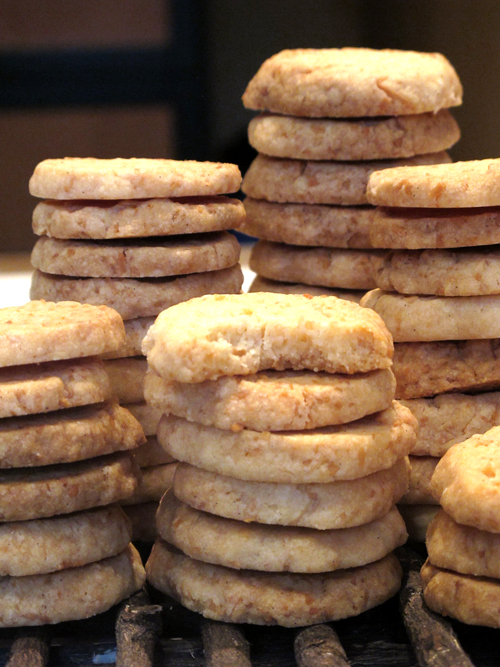 On the sixth day of holiday baking, my true love brought to me a microplaner to zest lemons.  These lemon coconut cookies may look Plain Jane,  but once you bite into one you will realize they are anything but.  They have a complex depth of flavour.  So tender, they just melt in your mouth.  Betcha can't eat just one!
This recipe comes from the May 1993 issue of Gourmet magazine.  Gosh every time I even have to type that name I feel bitter.  I am still mourning the loss of that wonderful publication.  I have moved from denial to anger on the grief hierarchy, so I guess that's progress but I am still a long way off from acceptance.  I am still hoping for a rebirth!
I have adapted the recipe slightly.  The original called for sifting icing sugar on the finished cookies but I found that really took away from the delicate flavour of the lemon and coconut.  The recipe also calls for lemon zest and lemon extract.  I am not a lemon extract fan.  It's scent reminds me of Lemon Pledge.  However, I have tried it with and without, and in this cookie it adds a zing of flavour that is not overpowering.
It's a simple slice and bake cookie dough, which I love when I am really strapped for time (like Day 6 of my baking adventure).  They keep well in the freezer for several weeks.
Roll the dough into logs, slice and bake.
To print this recipe, click here.