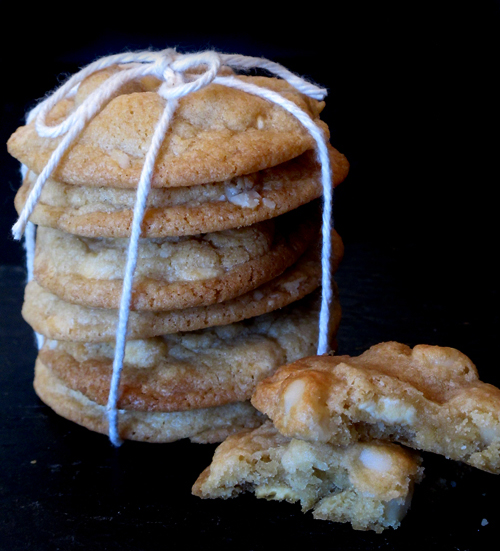 It seems like only yesterday I was going on about how wonderful it is when a product delivers as promised.  Oh wait, it was yesterday.  Yes people, my wonderful new beater blade has bit the dust.  Serves me right for bragging about it.  On the 10th batch of the Toblerone shortbread I was making, the spout of the bowl I was using to pour the chopped Toblerone into the mixer, accidentally hit the top of the spinning blade and it cracked my wonder blade into several pieces.  All my fault!!  I should have been more careful pouring.  So I had to bake today using my old beater blade and it took way longer than usual because I had to keep stopping the machine to scrape down the sides.  But not to fear, Golda's Kitchen offers next day delivery so I'll be back in business again tomorrow.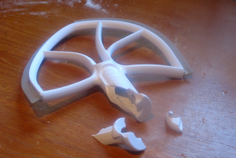 I got the recipe for these cookies many years ago when I worked at the now defunct David Wood Food Shop, in Toronto.  I was pregnant when I worked there and the pastry chef took pity on me and fed me as many as I could eat. (Which was a considerable amount).  Just knowing these cookies were in the shop made me practically skip to work everyday.  I went through terrible withdrawal when I left to have my baby.
This is an odd recipe as you cream together the butter and brown sugar, but the white sugar gets sifted in with the flour as part of the dry ingredients.  I never really understood why that is and what difference it makes.  But that's how they made them at David Wood and who am I to mess with perfection?
The recipe instructs you to quarter the macadamia nuts.  Please go ahead and do that if you are that type of person and have the patience.  Truthfully, I just add them whole.  I find that the beater blade breaks them up somewhat and it all works out fine.   I like to use salted macadamia nuts. (I know, what a shock!)
To print the recipe, click here.
The edges get a little bit crunchy and the center is wonderfully chewy.   Macadamia nuts and white chocolate have such a natural affinity for each other.   The little hint of salt from the rich nuts balances the creamy sweetness of the white chocolate.