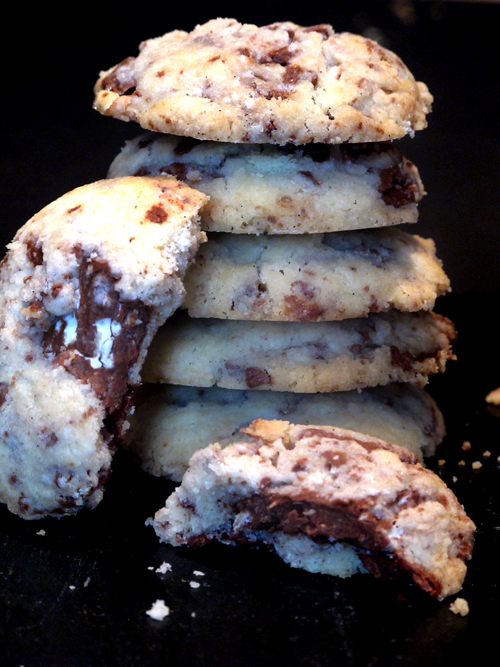 On Day two of my holiday baking adventure, I made Toblerone Shortbread.  I got the idea for these cookies from  pastry chef Anna Olson.  She was preparing them on Cityline TV.  She made a basic shortbread and topped each one with a chunk of Toblerone.  I decided to kick it up a notch and mix chunks of Toblerone right into the dough.  Toblerone, for those of you who don't know, is a triangular-shaped milk chocolate bar filled with honey and almond nougat.  I sometimes play games with myself and bake things I don't really love, so I won't eat too much of them.  I thought I was safe here.  I don't really like honey and nougat, and lately my tastes have shifted to dark chocolate.
I bought 8 jumbo (400 gram size) bars and proceeded to chop them up.  As I was chopping I  took a small taste to see what we were dealing with here.  It had been a long time since I hed tried a Toblerone bar.  I let the chocolate melt in my mouth and then chewed the crunchy almond nougat.  Oh #&@!& !!!! I do like Toblerone!  Good thing I bought extra.
The recipe begins with creaming room temperature unsalted butter and icing sugar together.  Can I just take a moment here to tell you again how much I love my new beater blade!  Nothing makes me happier than when a product delivers as promised.   Every time I use this blade I wonder what took them so long to come up with this idea.  The beater blade is shaped like the regular paddle blade but it has little windshield wipers on the edges of the blade that scrape down the sides of the bowl for you. Mixing the dough is so much faster because you don't have to stop the machine and scrape down the sides with a spatula.
I am all about saving time.  I have always thought it would be brilliant to be able to get a pedicure and have your teeth cleaned at the same time.  The hygenist could work up top in your mouth, and the esthetician could work down at your feet.  They wouldn't get in each others way and it would be such a time saver.  I suggested it to my dentist and he looked at me like I was crazy.  If there are any dentists out there, I really think this would be a great way to increase your revenue.
Chop up the Toblerone bars.  Cream icing sugar and room temperature butter together.  Add sifted dry ingredients.  Add Toblerone .
I use an ice cream scoop to form the cookies.  That way, they are all the same size and they bake evenly.
It is not necessary to chill this dough before scooping and baking.  It is necessary to keep your mouth shut while scooping.  This dough is amazing raw.
The baked cookies are tender, rich and crumbly, all you could ask for in a shortbread cookie.