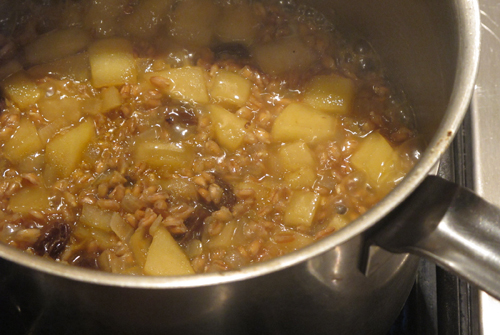 Let me begin by apologizing.  Usually when you open up a new post from me you are greeted with a mouth-watering photo of something delicious to eat.  We have a problem here.  This Farro Pilaf with Apples and Raisins is not the most photogenic thing I have ever made.  But do not stop reading here!  I beg of you to be patient and continue on.  Farro-Apple pilaf combines my two newest food obsessions.
First we have farro.  I have fallen hard for Farro!  No, not the Egyptian Pharaoh!  Farro is a Roman grain, cultivated originally by European farmers as far back as 5000 B.C.  Although it is ancient, it seems to be the new darling of the culinary world and is making a big time comeback.  I accidentally stumbled across it when I was doing a search for Tabbouleh on epicurious.com.  I found a recipe for Farro and Pine Nut Tabbouleh.  Intrigued, I printed it out and put it in my "to try" pile.
The next week, I was watching Giada De Laurentiis on the Food Network, and she made Cheesy Baked Farro, essentially macaroni and cheese but prepared with farro instead of macaroni. Now I just have to say, for the record, that I love Giada!  I think she has great recipes and she seems like a really fun gal to hang out with.  But I just wish she would cover up that cleavage a little.  Ok, rant over.
Two farro recipe sightings in less than a week.  Now my curiosity was definitely piqued.  I had to try this grain.  However, getting hold of farro was no simple task.  I called around to several local food stores.  Two of them said they had never heard of farro, while the other two said that in Canada, farro was sold under the name spelt.  Then, remembering that farro was Italian, I called Nicastros, Ottawa's largest Italian food purveyor.  Yes, they told me, they sell "farro in chicchi".
I came back from Nicastros with 2 boxes of farro.  Both were imported from Italy.  One is made by Martelli and the other is by Pantanella.  Interestingly, on the ingredient list of one box, it says, "100% Spelt".  On the other box it says, "100% Farro, Spelt, Epautre".  What??  No wonder people are confused.  I decided to consult Mark Bittman (or Bitty, as Gwyneth Paltrow calls him in "Spain, on the Road Again" on PBS), author of "How to Cook Everything", and "How to Cook Everything Vegetarian".  These books are the modern day equivalent of Joy of Cooking."
And of course, Bitty cleared things up for me.  Farro and spelt are often confused for each other.  Both are ancient grains from the wheat family. Farro cooks in about 20 -30 minutes and retains a chewy, toothsome texture while spelt takes 60-90 minutes to cook and has the tendency to turn gummy or mushy.  Farro is extremely versatile and can be used in soups, pilafs, risottos or cold grain salads.  It has become my new comfort food.  Plus, it is low in gluten, high in protein, helps fight insomnia and regulates cholesterol levels.  How could I not fall for Farro?
And then we have my second obsession, apples.  Honeycrisp Apples!  Who knew?  Apparently everybody but me.  These apples even have their own facebook page!  These apples hit the market in the fall of 1991.  I just discovered them a few months ago.  Where have I been?  To be fair, I was a little preoccupied in the early 90's.  By the spring of 1993 I had a 3 year old, a 19 month old and a newborn to care for.  All three were in diapers, so cut me some slack.  But still, my kids are now 21, 19 and 17.  I pride myself on being knowledgeable about new food trends and products, (I'm hot on the trail of cacoa nibs  right now, but that's a story for another time) but somehow, I missed the boat on this one.
In September, my daughter returned from a a farmer's market with a big bag of Honeycrisp Apples.  She was positively gushing over them.  Gushing over apples?  This is my child whose first word was "Chocolate."  I took one bite and suddenly I understood.  This is an explosively crisp apple. It snaps when you bite it.   It is crunchy and juicy all at the same time.  It is so refreshing to eat.  Sorry, was I gushing there?  You will too when you try one.  Oh, maybe you already know about them.  Maybe I really have been living under a rock.  If so, forgive me.
My curiosity led me to a search on where these apples came from.  It's actually a pretty funny story.  The University of Minnesota has egg on it's face over this one.  As is the case of most modern hybrid apples, the final product is the result of a lengthy breeding process, experimenting with cross after cross to get the optimal result.  When they finally had an apple they were pleased with, they sent it to market under the Honeycrisp name.  They believed that the parents were  "Honeygold" and  "Macoun".  However, genetic fingerprinting revealed the shocking truth that neither of these apples were Honeycrisp's parents.  They knew for certain that one parent was "Keepsake" but the other parent has not yet been identified.  If you know who it is, please advise the University of Minnesota.  Inquiring minds want to know.
I will admit that Honeycrisp apples are best in the fall.  They lose a bit of their "refreshing" nature as they mature.  However, that being said, I boutght a big bag at Costco this week and they were still pretty fantastic.  I decided to combine my two new loves, Honeycrisp and Farro, into one fabulous dish.
Farro can be cooked like pasta, where you boil it in a large quantity of water and then drain it and add it to all the other ingredients.  Or it can be cooked like a rice pilaf, where you saute some onions in oil or butter, then add the farro to coat it in the fat and then add stock and simmer until all the liquid is absorbed and the farro is tender.  I used the pilaf method.  I decided to add apples and raisins for their delicious sweetness and then I finished the dish with some freshly chopped Italian parsley.  It is absent from the photo as I forgot to add it!  But it really finishes the dish with a fresh note.
To print this recipe, click here.
I'd love to hear from you!