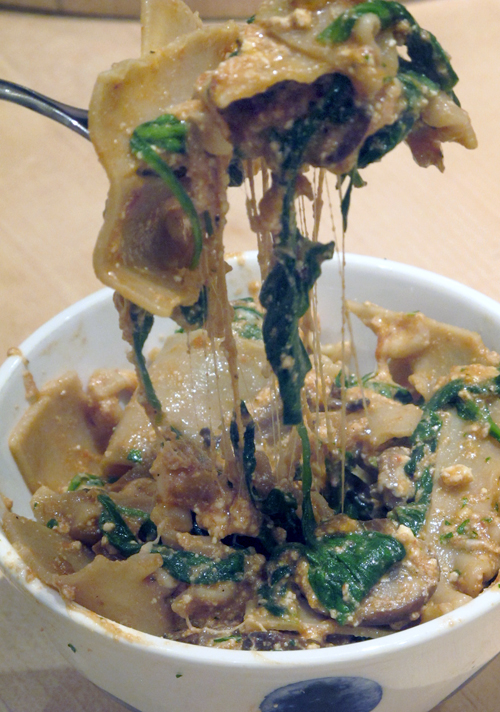 Snow, more snow, freezing rain, ice, slush.   Have I mentioned that I hate winter?   It's only the middle of January and already I am sick of winter.   I am also sick of yogurt, halibut, carrot and celery sticks and cantaloupe and all those other January foods I have been filling myself with.  I am feeling cranky.  I want pasta.  I watched Rachael Ray make "Lazy Florentine Lasagna" last week and it just looked so cheesy and good. (Pet peeve here, why is her audience instructed to applaud every time she adds garlic or cheese or wine?  It makes me crazy! See I told you I was cranky.)  She broke up the lasagna noodles and just mixed everything together instead of layering it.  I wondered if I could lighten it up just a bit so I wouldn't undo all the good I have done so far this month in the healthy eating department.  I had kamut lasagna noodles, mushrooms and spinach.
I took some of The Quickest Tomato Sauce out of the freezer and went to work.  This recipe is from his Jamie at Home cookbook and I love it.  Well, I just love anything about Jamie Oliver.  Just ask my husband.  Last summer we were in London for a wedding.   One night we went to The River Cafe for dinner.  When we first arrived and got out of the taxi, I noticed a group of people outside the restaurant.  I watched as they were ushered to a table on the outdoor patio.  As I looked more closely, I was positive I recognized one of the members of that group. Apparently my eyes grew wide, my face got a bit flushed and I was rendered speechless. I just grabbed my husband's arm and ushered him into the restaurant.
When we got inside, I stammered to the Maitre d', "Was that who I thought it was?"  She smiled and said, "Yes, it was Jennifer Anniston."  I replied, "What … no not her, was that Jamie Oliver?"  "Oh, yes, she replied, he was with her group."  Of course most normal people would have recognized Jennifer Anniston and been excited about seeing her.  I didn't even notice her.  I only had eyes for Jamie.  My husband said he hasn't seen a glow like that on my face since our wedding day.  Yes, I have a bit of a crush.  He is such a brilliant chef.  I just love his style of cooking; unpretentious with bold flavours shining through.   We ate inside and they were outside on the patio. I never did manage to get the courage to go over for a photo or autograph.  It was just enough for me to see him.  I had forgotten that he trained at River Café as a young chef.
This dish, inspired by Rachael and Jamie, managed to satisfy my craving for cheese and pasta and my crankiness disappeared, if only temporarily!
To print this recipe, click here.
To print Quickest Tomato Sauce recipe, click here.