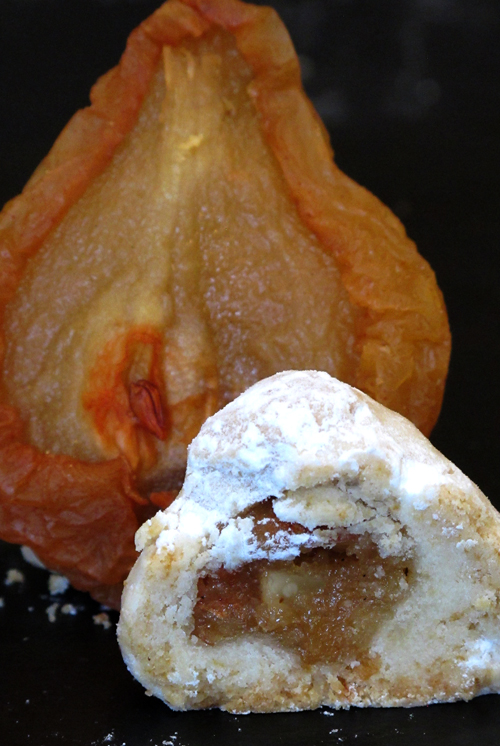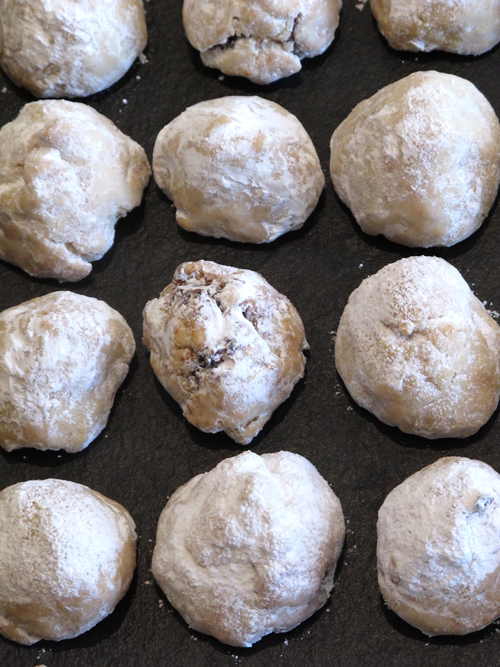 In my continuing quest to uncover dried fruit and nut desserts for my Tu B'Shvat cooking class, I uncovered this little gem.  These adorable little cookies are called "Meneinas" (pronounced Meh-NAY-nas) and they may be singly responsible for making me reverse my former position on not liking dried fruit desserts.  I feel like Sam in "Green Eggs and Ham."  Say,…. I do like dried fruit and nut desserts.
I discovered this cookie recipe in my new book, "Chewy, Gooey, Crispy, Crunchy Melt in Your Mouth Cookies." by Alice Medrich.  I am just a little obsessed with this book and am tempted to bake my way through this one too.  When I bought this book in late December, I promised myself that I would not bake from it in January.  I swore I would only use it for bedtime reading.   Come on now, who am I kidding?  I am so weak!  My New Year's resolution broken in only 2 weeks.  But to be fair, I was giving a cooking class on dried fruit desserts and this little cookie was just perfect.
Alice says that this is a cherished family recipe from Alexandria, Egypt, given to her by artist Jeannette Nemon-Fischman.  The traditional filling is made with date and walnut, but in typical Alice Medrich fashion, always one to gild the lily, she offers us 4 alternate fillings: Spiced Fig, Apricot Vanilla with Cinnamon and Almonds, Pear Almond and Sour Cherry with Black Pepper.  Of course, being the keener I am, I had to make all 5 fillings.  Just for research purposes of course.  My favourites were the Pear Almond and the Sour Cherry with Black Pepper.  The cooking class students loved them all but their favourites were the date walnut and the spiced fig.
These cookies were so much fun to make.  Actually, I had the best time making the fillings.  Alice suggested that a potato masher would be the best tool for making the dried fruit fillings.  I somehow lost my potato masher so I had to get a new one.  Look what I found!  It is a pogo stick potato masher.  It is spring-loaded and so much fun to use.  No wonder I made 5 fillings.
Once the filling cooled, I added some chopped almonds.  The dough comes together quite easily in a mixer.  It's enriched with butter, milk and orange blossom water.  I'm just warning you, when you open the orange blossom water be prepared.  It smells like a cheap hooker, but once incorporated into the dough, the flavour and aroma are very subtle.  You can find the orange flower water at middle eastern stores.  Just use some orange zest if you can't find it.  The dough has the consistency of play-doh and the little cookies are so easy to form.  It's best to set up an assembly line process.  First, scoop out the filling.  A heaping teaspoon is a good size.  Then scoop out tablespoon sized nuggets of dough.  Then form little cups and fill and seal.
Once the cookies have cooled, I rolled them in icing sugar.  Alice recommends coating them when they are warm and then coating them a second time once they have cooked.  I found they got a bit gummy, so I just coated them once, when cool. I think you could freeze them, uncoated and then thaw and coat them before serving.
To print recipe, click here.
To print filling recipes, click here.