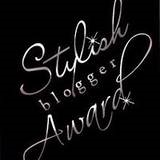 On the very same day that the nominations for the Academy Awards were announced, I was awarded "The Stylish Blogger Award".  Coincidence?  I think not!  Thanks so much to The Little Yellow Kitchen for honoring me.  The two women behind this blog are just adorable.  Lauren and Chrissy are recent college grads, "adding a little zest to what they do best."  They chronicle their cooking adventures from their tiny yellow kitchen.  It make me happy to see young adults passionate about food.  Check out their blog.
Apparently this award comes with some strings attached.  Sort of reminds me of those old chain letters you used to get as a kid.  In order to fulfill the duties of this prestigious award I must:
1.  Make a post & link back to the person who awarded me this award.
2.  Share 7 things about myself.
3.  Award 10 recently discovered great bloggers.
4.  Contact these bloggers and tell them they've won!
That's why I love the world of blogging.  It's filled with people who are generous of spirit and want to pay it forward.  It reaffirms my belief that people are good.
So, 7 things you may not already know about me:
1.  I am the second of 6 children, 5 girls and 1 boy (he is the baby).  My mother named me after my older sister's favourite doll because she wanted to make sure my sister would like me when they brought me home from the hospital.  (Imagine the hours in therapy I spent over that one!)
2.  My sense of direction is pathetic.  I am a slave to my GPS, so much so that once, when in Florida, the GPS told me to keep going straight, and even though I saw the ocean right in front of me, I was tempted to obey.
3.  I once poured an entire package of Jell-O right into the electric kettle because my mother said, when the water comes to a boil, add the Jell-O.  I was 12 at the time.
4.  I used to hate cilantro. Now I love it.
5.  I practice Iyengar yoga and can stand on my head for about 5 minutes.
6.  I speak to the woman at the King Arthur order desk more often than I talk to my own mother.  (Mom, call me!!)
7.  I would like the words "Serenity Now"engraved on my tombstone.
Recently Discovered (well recently discovered by me) Blogs
Take a few minutes to check out their blogs.  You'll be glad you did.