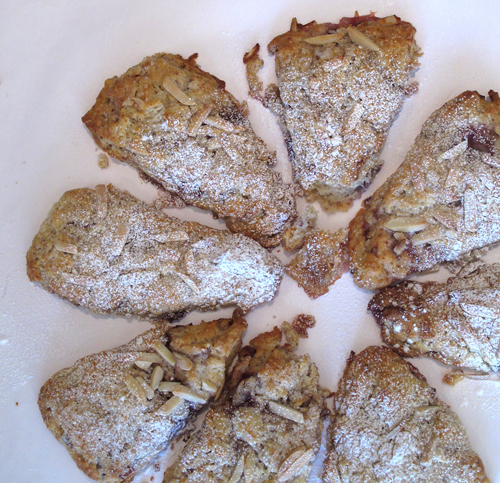 I have a bit of a thing for online shopping.  I think it harkens back to my childhood when my grandmother would send us cookies in the mail, packaged in a shoe box.  There is something so exciting about a package arriving in the mail for you (even if you did send it to yourself, but then I never spring for the express shipping, so by the time it comes, I have forgotten all about it).
A few weeks ago I was ordering a book on Amazon (Chewy Gooey Crispy Crunchy Melt-in-your-mouth Cookies by Alice Medrich.).  I was about to check out when those lovely folks over at Amazon wanted me to know that customers who bought" Chewy Gooey", also bought Tartine Bread by Chad Robertson, Baked, New Frontiers in Baking by Matt Lewis and The Craft of Baking by Karen DeMasco.  Of course I had to look at all these books too.  I could have easily clicked "add to cart" for all three of their recommendations but I exercised some restraint and just added The Craft of Baking.
I had never heard of Karen DeMasco, but when I read the little blurb, I discovered that she used to work as the pastry chef at Tom Colicchio's Craft, Craftbar and 'wichcraft restaurants.  I still dream about the lemon tart and pistachio and coconut sorbet I ate at Craft over 3 years ago. That, and their roasted carrots still make me weak at the knees.  Plus I am a huge Top Chef and Tom Colicchio fan.
I loved the premise of this cookbook.  It is designed to let the reader be creative.  After many of the recipes, Karen gives you ideas and tips on "varying your craft."  Great suggestions on how to make the recipe your own.  Baking as a craft, not just a science.  Plus, If I added this book to my order, then I would qualify for free shipping, so really I was saving money, not spending more money.
When I began reading the book I wanted to bake everything from it.  The photography is gorgeous and her instructions are so detailed.  I decided to start with the Sour Cherry scones.  It has been a long time since I have baked scones but I love tea time. Karen had me at "sour cherry".   I order American Spoon Sour Cherry Preserves by the caseful.  When I went to the supermarket to find frozen sour cherries I discovered they were sold in a 4.5 kilogram tub.  I lugged the tub home and opened it up to discover that they were not individually quick frozen like blueberries.  I had a solid mass of sour cherries.  I used a screwdriver and hammer to chisel out a half a cup.  It barely made a dent.  I rinsed off the cherries to separate them, then dried them and put them on a plate and stuck them back in the freezer so they would not defrost.  (Karen says if you are using frozen, don't defrost).  I hauled the tub down to my basement freezer.
After measuring out the flour, sugar, baking powder, salt and butter, she instructs you to pop the whole mixing bowl into the freezer for 5 minutes.  Then mix on low-speed to break up the butter into pebble sized pieces.
Hot out of the oven we tore into them.  The top was all crunchy from the Demerara sugar and silvered almonds we sprinkled on top. However, inside they were kind of wet, not underdone but just too moist from the sour cherries.  Plus, I was a little disappointed with the sour cherry flavour.  They were kind of bland.
To "vary my craft", I decided to do a second batch, using frozen wild blueberries and buttermilk instead of cream as the liquid.  I also added about a 1/4 teaspoon of cinnamon to the dry ingredients.  Do not adjust the colour on your monitor.  The blueberry dough will turn purple.  It's kind of pretty.  I have to say, I prefered the tang of the buttermilk over the cream on the cherry scones.  I also found that the blueberry ones were not as wet inside, which I liked better.  I am excited to try my hand at some savory scones with cheddar and jalapeno.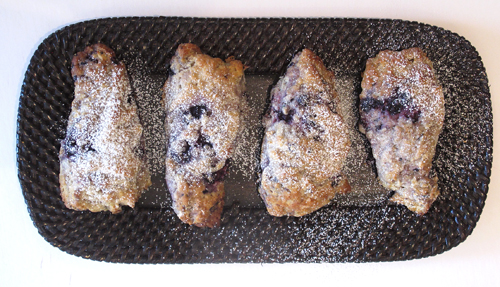 To print the recipe for Sour Cherry Almond Scones, click here.
To print the recipe for Blueberry scones, click here.