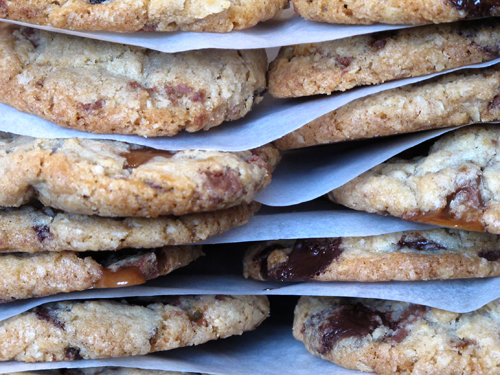 If you have been following along for the last few days you will know that I am struggling to come up with dried fruit desserts for my cooking class on Tu B'Shvat desserts.  Dried fruit desserts are not something I am well versed in.  I think I met the challenge quite well with Tu B'Shvat cake and Meneinas, but the well was running pretty dry and I really wanted to give my students a third dessert.  Of course, there is always fruit compote, but come on now, that's a cop-out.
I tried focusing on the glut of dried fruit I had purchased, in preparation for this project, but all I kept thinking was, "I want chocolate!".  And then I remembered one of my favourite cookies combined chocolate and dried cherries (and oatmeal and chopped up skor bars too).  So I figured, as long as the cookie contained some dried fruit, we were ok on the Tu B'Shvat front.
This cookie is an old Martha Stewart recipe, that she got from her friend Torie.  She originally called them "Torie's Cherry Chocolate Chunk Cookies" and then somewhere along the line changed the name to "Oatmeal Toffee Cookies".  In our house, we just call them Torie Cookies.  I did a little research and discovered that Torie is Torie Hallock, a real estate broker on Mount Desert island, Maine, where Martha has her famous "Skylands" house.  I'm betting that Torie is a very successful broker as all she would have to do to sell a house is throw in a dozen of these cookies to seal the deal.
The original recipe called for toffee bits.  They are usually sold here in Canada under the name Skor bits.  I decided to chop up whole Skor bars instead so my cookies are a bit more chocolatey.  I think in the US they are sold under the name Heath Bar.  Whatever you call them, they are delicious.  Just a few notes about ingredients.  Use quick cooking or large flake oats, not instant oats. Instant oats are precooked and dried and are too fine in texture to make a good oatmeal cookie.   Also, the original recipe calls for chocolate chips, but I substitute chocolate callets, which are bittersweet couverture chocolate, shaped into discs.  Feel free to just use any good quality chocolate, chopped up.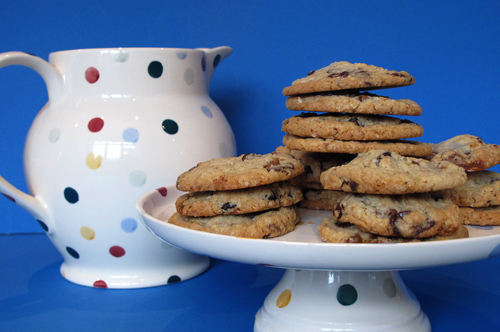 To print recipe, click here.