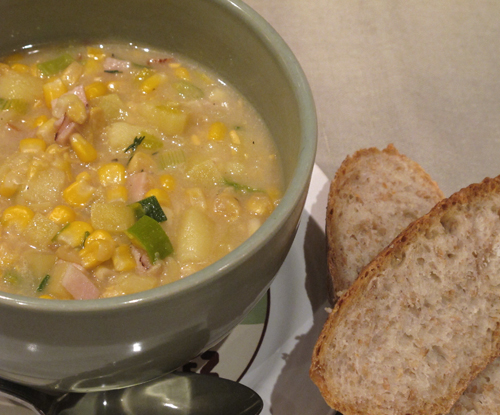 Warning… I'm going to rant like an old person, about the good old days, when you could count on certain things to same. When companies built things to last and when product consistency was a highly regarded value.  Don't you just hate it when companies change a product, when it was perfect already. Then they go and slap a "new and improved" label on it and when I try it, I discover that the improvement has actually made the product worse, not better. Why do they insist on tinkering with something when it isn't broken. I am referring, specifically, to Imagine Organic Creamy Sweet Corn Soup.  It used to have a mild corn flavour that I used as a base for corn chowder. I am not sure what they changed but it now has a nasty chemical aftertaste. I stopped making corn chowder after this.
But then I found a recipe in Chatelaine Magazine that uses canned cream style corn to give the soup thickness and body. I had always thought that cream style corn was corn puréed with cream, but it turns out it contains corn, water, sugar and cornstarch. It is low in fat and works beautifully to thicken a corn chowder with very little effort. The original recipe used bacon to get that smoky flavour. We keep kosher, so bacon was out of the question. For a cold winter day (like every day this winter!) I wanted to have the heaviness of a smoky soup. I decided to experiment with smoked turkey breast. I chopped up a few slices and sautéed them in some vegetable oil. Instead of onions, I opted to use leeks.  Sometimes leeks can be quite sandy, so I quarter them, slice them and then soak them in a bowl of cold water.
This is one of those simple chop and dump soups. It simmers for 20 minutes and you have a thick and hearty chowder. A bowl of this is like a big hug, warm and comforting. Add a slice or two of no-knead bread and dinner is done.
I also popped in a finely diced jalapeno pepper when I was sautéing the leeks to wake things up a bit. You could use sweet potatoes instead of white potatoes for a pretty colour contrast and to up the vitamin content. Make it today, you'll thank me.
To print this recipe, click here.