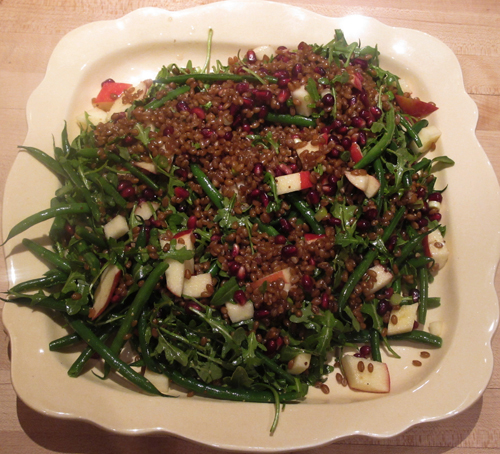 Like most of you, I suspect, I sometimes fall into a rut and eat the same things over and over again. It's just easier that way sometimes. But, this year I have decided to try cooking with a new grain every month. Sort of expand my culinary horizons. However, that goal kind of runs counter to a second goal of mine, to eat my way through my pantry, without buying any new staples.
I was inspired in this second goal by a good friend. Last time I visited her at the cottage she shared with me, that for the month of August, she was planning to empty out her pantry. On days when she had company, everyone usually gathered on the dock around 5 pm for drinks. Instead of agonizing over what to serve with drinks, she would just use whatever she found in her pantry cupboard. One day, she confessed, she opened up a can of chickpeas, rinsed and drained them and served them with a sprinkling of black pepper. Along side this she served some dried apricots she spied lounging at the back of the shelf in a plastic bag. Apparently these offerings were gobbled up quite happily with a glass of chilled Prosecco.
So here I was with the good angel on one shoulder, whispering in my ear, "Come on, clean out the pantry. You have 5 different kinds of grains here. Eat us!". On the other shoulder I had the devil, tempting me to be wasteful and go out and seek a new grain.  Most of you know I have very little willpower, so it should come as no surprise to you that I went out and bought some wheat berries. I had never cooked with them before and a recipe by Globe and Mail nutrition reporter, Leslie Beck, caught my eye.
Wheat berries are essentially whole unprocessed wheat kernels, containing all three parts of the grain (germ, bran and endosperm). Only the hull is removed. They sort of look like barley but have 75% more protein and 40% more fibre than barley. All in all, a nutritional powerhouse.  Wheat berries need to be rinsed and then they are cooked in simmering water, about a 2:1 ratio, like rice. They take about 40 minutes to cook and have a wonderful nutty taste and chewy toothsome texture. I added some french green beans to the original recipe as I happened to have some wilting in my fridge!
The other ingredients are arugula, pomegranate seeds and diced red apples. The dressing is made from olive oil, cider vinegar, apple juice, maple syrup and grainy mustard.
Chewy, crunchy, tangy and sweet. And healthy too! Feel free to substitute whatever grain you have languishing on the shelf of your pantry. This would be great with Farro as well.
To print the recipe, click here.