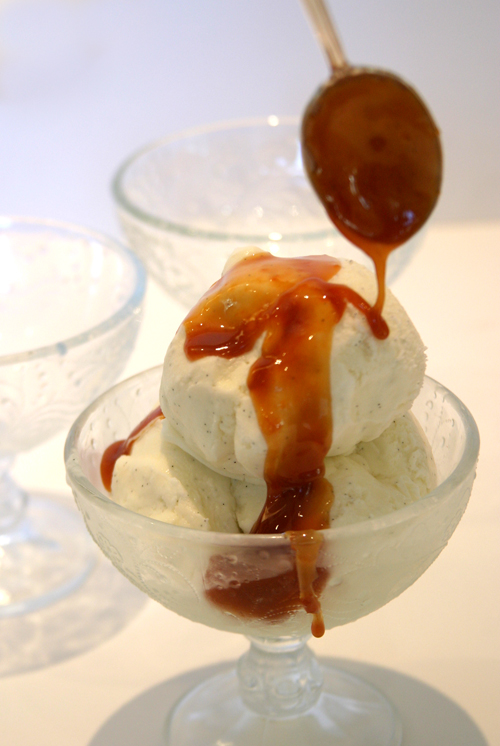 The inspiration for this dessert came about while I was cleaning my fridge. Underneath some slimy pears and moldy strawberries I unearthed six slightly wrinkled, but still perfectly serviceable, blood oranges. They were left over from my recent obsession two weeks ago.
Now before you go feeling sorry for me because I had to deal with mold and slime, I should reveal the view from where I am sitting right now, as I type this post: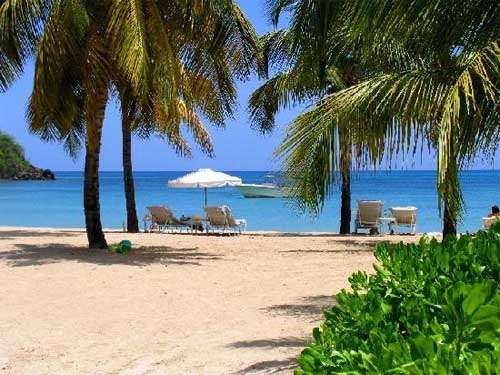 So cleaning out the fridge before I left for Paradise was motivated primarily by the desire to avoid having my post holiday bliss balloon burst any sooner than necessary. Nothing like slime and mold to greet you upon return.
I was inspired by Bobby Flay (not for the first time, and I'm certain the last either!) to create a caramel sauce with the blood oranges. I watched him make a tangerine caramel sauce on the Cannoli episode of Throwdown.  Bobby put his twist on cannolis by tarting up the ricotta filling in the cannolis with some tangerine caramel. Instead of using water, he added tangerine juice to the sugar, caramelized it and added some cream. Such a brilliant idea, I decided to steal it! Of course, I would add my own twist and use blood oranges instead of tangerines.
I love how the Italians package things. They have such a wonderful sense of humour and don't take anything too seriously. Last time I bought blood oranges they came all wrapped up in Ninja Turtle paper. This time the wrapping paper was decorated with Mardi Gras Masks. The colour variation inside the blood oranges was once again surprising! Some were pale orange and others deep blood-red.
As soon as I tasted the cooled Blood Orange Caramel Sauce, I instantly knew it was destined to be paired with vanilla ice cream.  I decided to kick it up a notch and use fresh vanilla beans in the ice cream.
After about 25 minutes the ice cream had a soft consistency, much like a Dairy Queen Blizzard. At this point, you have two options. You can transfer the soft ice cream into a wide rectangular plastic container and drizzle the caramel sauce right onto the ice cream, and then use a knife to swirl the caramel sauce into a beautiful marble pattern. Then cover the swirled ice cream and chill several hours until firm.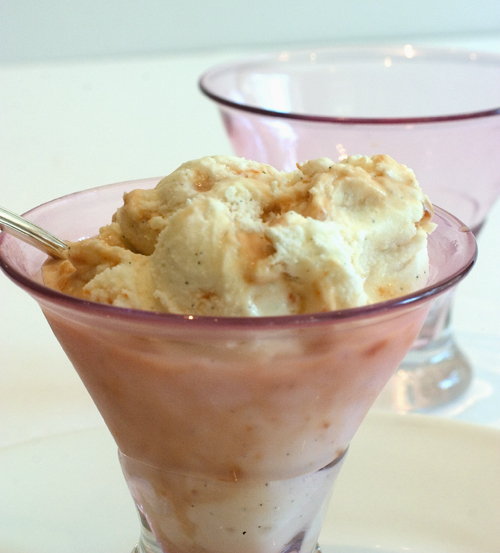 The second option would be to leave the ice cream plain, freeze and then scoop and drizzle sauce on top for a sundae.  Either way you make it, this ice cream will transport you right back to childhood. Remember Creamsicles from the Ice Cream Truck? That's exactly what this sundae reminded me of. Topped with toasted chopped hazelnuts, this is a very grown-up dessert!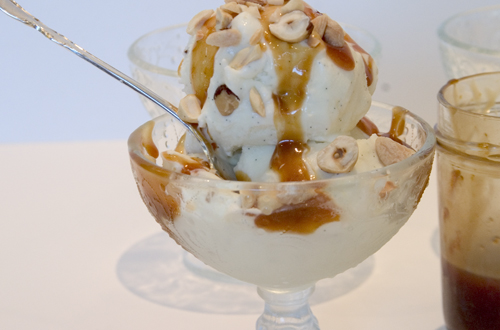 To print recipe for Blood Orange Caramel Sauce, click here
To print recipe for Vanilla Bean Ice Cream, click here.