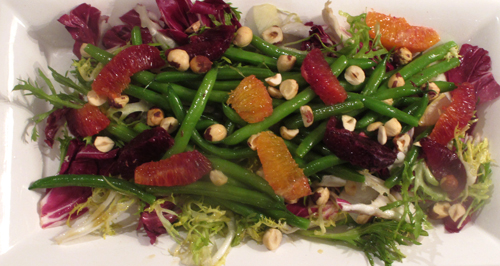 For those of you who live in a place where the daffodils and crocuses are popping through the earth and spring is just around the corner, I say, how lovely for you. Well, I may add a few more descriptive words than that, but I prefer to keep this G-rated. If, like me,  you are suffering through a long and snowy winter and the end seems very distant, and the view outside your front door or bedroom window looks something like this, well, let's all chant together… #@*&@!!
From my above rant, you can clearly tell I do not embrace winter. When I first moved to this winter wonderland we call Ottawa, many well intentioned people advised me that the best way to get through the long winter was to pick a winter sport and embrace it. After all, in the Nation's Capital we have hundreds of miles of trails for snowshoeing or cross country skiing, not to mention the world's longest (7.8 kilometers) skating rink, once the Rideau Canal freezes up. I have tried it all and to be honest, I just hate being cold. I prefer to spend my winters indoors. But I will admit to going a little stir crazy by mid-March. Just when you feel there is no end in sight and you can not look at another root vegetable or cabbage, these appear in the market.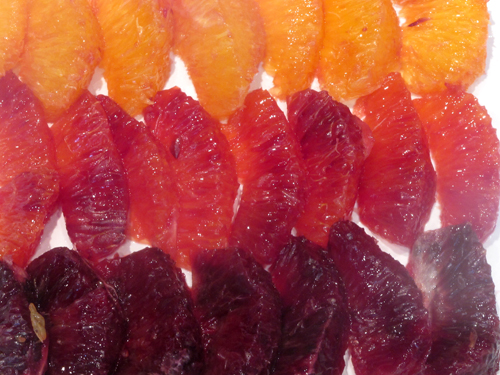 These beauties are blood oranges. They typically appear in my market late February-March. Once I see them, hope blooms in my heart and I know that asparagus and strawberries will surely follow soon. Sometimes the blood oranges come wrapped up, like a present in colourful Ninja Turtle wrapping paper and sometimes they come unwrapped, naked for all the world to see. Mine came from Italy. They also grow them in Texas and California.
I am reminded of a line from the movie Forest Gump when I slice into a blood orange. You never know what you're gonna get when you slice into a blood orange. The flesh can range anywhere from a blush coloured pink all the way to a profoundly deep crimson. Sometimes the flesh can will appear mottled, partly orange and partly red. I find those scariest of all, they sort of look diseased. The flavour is slightly less acidic than regular oranges. The colour variance inside the 3 oranges I sliced up was very surprising. I got orange, pale red and deep red flesh. Blood oranges have this unique color because they carry anthocyanins, which are powerful flavonoid pigments that exist in red and purple fruits and vegetables. These pigments are very effective in protecting the body from many diseases.
Blood oranges look especially pretty when you take the time to segment them into little wedges. I made a video demonstrating how to do that.
I paired the blood oranges with green beans, frisée, radicchio and belgian endive for a gorgeous salad. I tossed everything with a sherry vinaigrette and sprinkled on some toasted chopped hazelnuts. A few pomegranate seeds on top would really gild the lily!
I defy anyone to feel sad after feasting your eyes on this salad.
To print recipe, click here.