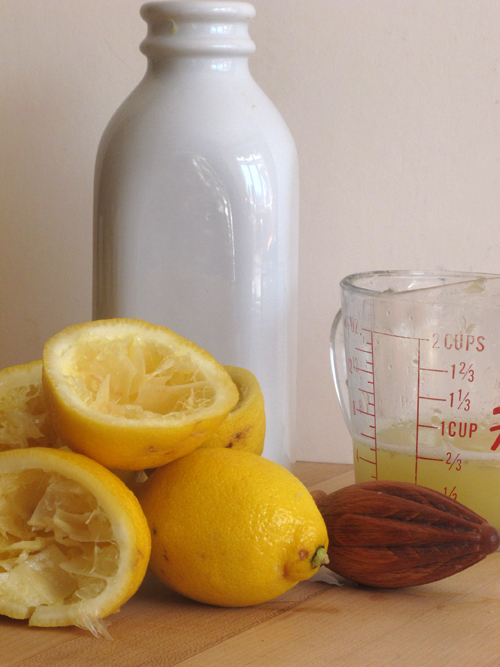 The other day I told my husband I was planning to make my own ricotta cheese. He looked at me like I was from another planet and said, "why?" As in why bother making it when you can buy it? I would have asked the same question 2 weeks ago, but recently, on a trip to South Beach with my daughter and two of her friends, I had dinner at Michael's Genuine in Miami. One of the appetizers we ordered was homemade fresh ricotta cheese, served on toasted baguette slices with a dollop of blueberry jam. The slightly salty, creamy ricotta contrasted so beautifully with the sweetness of the blueberry jam.  Since my first bite, I have become obsessed with learning how to make my own ricotta. Fresh ricotta has a rich and milky sweet taste and moist texture. Most ricotta from the supermarket is made with gums or stabilizers to prevent the ricotta from weeping. These additions often make for a gummy and grainy ricotta.
Unfortunately we gobbled it all up before I had a chance to take a picture of it. I did manage to take a picture of the tomato display and our wood fired oven pizza (caramelized onions and mushrooms). One of the chefs came over when he saw me shooting the tomatoes and told me very proudly that they were all local, from Homestead Florida. They are passionate about everything to do with food-from the growing and harvesting, to the preparation, serving, and eating. The menu changes daily because they start with what's in season and arriving on their doorstep from local farmers, fishermen, ranchers, and artisans.
Once I got home, I looked up fresh ricotta on the Cook's Illustrated web site and sure enough, there were detailed instructions showing me exactly what to do. All you need is whole milk, lemon juice and salt.
The milk is combined with the salt and then heated to 185ºF. Take it off the heat, stir in the lemon juice and let sit for 5 minutes. At that point you should see curds beginning to form. Let it sit for another 20 minutes and then spoon off the curds and discard the whey. Just like Little Miss Muffet. I am always so awed by chemical reactions like this. Basically the acid in the lemon juice and the heat cause the proteins in the milk to clump together forming curds that separate from liquid whey. I was quite blown away at how easy this was to make.
To print the recipe for Fresh Ricotta, click here.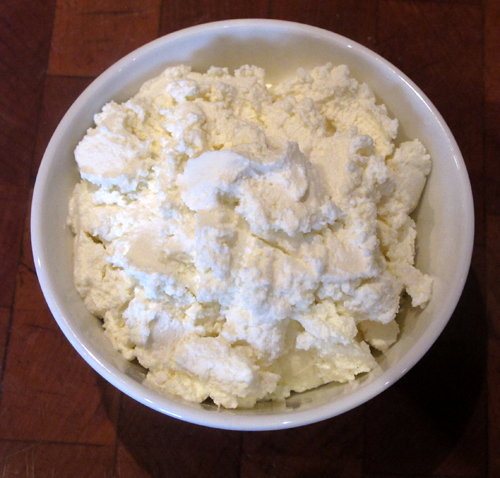 There are a million different ways you can use up your ricotta. That night I sautéed some shallots and garlic and whisked in ricotta, milk and pecorino romano cheese. I mixed it with some whole wheat penne and green peas. It was quite yummy. It would be great on pizza, in lasagna, or even in cheesecake. Check out this chowhound link  for lots of other great ideas.
To print the recipe for Penne with Ricotta and Peas, click here.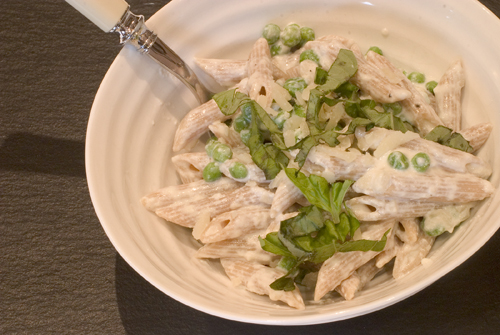 I had more of my ricotta for breakfast today, spread on rye toast, with a sprinkling of coarse salt and some Triple Berry Jam.