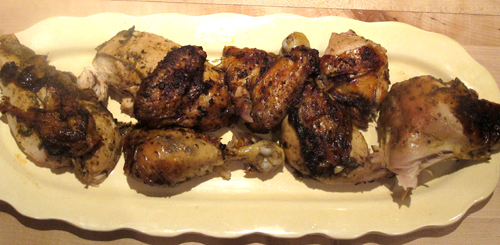 If you are a vegetarian, or at all squeamish about handling chicken, this post is not for you. I went to cooking school with this woman who was terrified about shoving her hand inside a chicken or turkey. She used to have nightmares about it. If that sounds like you, avert your eyes now and perhaps check our some of my gentler, kinder cookie posts.
I went through a phase where I bought just about any cooking/baking gadget available. My sister-in-law and I would spend many happy hours wandering up and down the aisles of Williams Sonoma, fondling all the new gadgets.  Sort of the way I scrutinize the anti-aging aisle at the drugstore these days. During one of those shopping trips, I bought a vertical roaster for chicken. The advantage of this gadget is that the chicken roasts standing up so you do not have to turn it while it is roasting, and it gets evenly browned all over.
It gathered dust in my kitchen cabinet and then I relegated it to the storage room in the basement and forgot all about it. That is, until I read the March/April 20111 issue of Cook's Illustrated. They featured a recipe for Peruvian Roast Chicken, cooked on one of those vertical roasters.  Apparently, Peruvian Chicken joints are popping up all over the States.   They have yet to make it up here to Ottawa!   Reading the Cook's Illustrated description of this chicken sent me scurrying down to my storage room to find my vertical roaster.
"The rotisserie bird that they serve, known as pollo a labrasa, in the mother country, is deeply bronzed from its slow rotation in a wood fired oven and impressively seasoned with garlic, spices, lime juice, chiles and a black paste made with huccacatay, or black mint. Off the spit, the chicken is carved and served with a garlicky, faintly spicy, mayonnaise like sauce."
Leave it to Cook's Illustrated to come up with a way to recreate this in your own kitchen. And that's where the genius of the vertical roaster comes into play. Since we don't have a rotisserie in our kitchens to turn the chicken, so that it roasts evenly, they suggest placing it upright on a vertical roaster. But, don't despair if you don't have one. Apparently, excellent results can be had using a half filled can of beer to stand the chicken on. Just don't use a beer bottle. The smokiness that they achieve in Peru, from using a wood fired oven is replicated using smoked paprika to give you that smoky taste.
Most of the ingredients needed to make the marinade are fairly simple to find. Most specialty food shops carry smoked paprika these days. I substituted a serrano chile for the habanero pepper called for in the original recipe. Everything gets thrown into the blender and whizzed into a smooth paste.
If I may just say a few words about my new blender. If loving an appliance is wrong, I don't want to be right. I just bought myself a new blender, "The Blendtec HP3-A" to be specific. The jar on my old container cracked and they stopped making that model, so no replacement parts were available. Everytime I blended soup, it leaked all over the counter. I ordered the Blendtec on the advice of my little sister. Her husband is the king of blended drinks, so he had researched blenders very thoroughly and this was what he chose. It really is an incredible machine.
They call it the  "The Blender with Brawn and Brains!" The blender's microprocessor will do the work. The microprocessor automatically changes the blade speed drawing ingredients into the blade, giving it a smooth, consistent blend. One touch operation and automatic shut off will allow you to multitask in the kitchen."  Peruvian chicken marinade was its maiden voyage and the marinade was smooth in about 1 minute and 28 seconds. No scraping down or shaking the blender was necessary. Okay, blender bragging over.
Then comes the fun part, getting the marinade under the chicken's skin. I found myself humming this song as I worked! They suggested using the handle of a wooden spoon to loosen the skin from the meat. I abandoned this method in about 30 seconds and went straight to using my hands. After getting the marinade under the skin, massage the remaining marinade all over the chicken. Then it rests in a zip loc bag in the fridge for 6-24 hours.
To print the recipe for Peruvian Garlic-Lime Chicken, click here.
In Peru, this chicken is accompanied by a spicy garlic mayonnaise. I never ended up making it, as I found the chicken wonderful without it, but if you want to try it the authentic way, here is a recipe to make the mayo..
I was so enthralled with this chicken that I made it a second time about a week later. I could not stop giggling when my second attempt came out of the oven. It looked like she needed an accessory to complete her outfit. A purse to hang on her wing would have been just the thing!