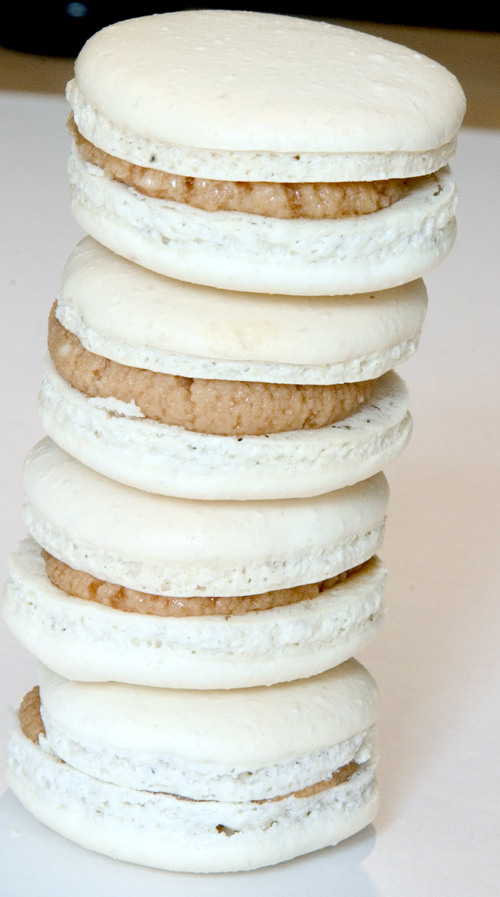 Apparently, this year in desserts, cupcakes are out and macarons are in. Macarons, not to be confused with macaroons, are the new darling of the pastry world. These are French macarons we are talking about here (one o), made with ground almonds, not American macaroons (two oo's), and made with coconut. Essentially they are an ethereal confection consisting of 2 almond meringue cookies, sandwiched together with a filling.
The correct pronunciation, if you care about things like that, is Ma-Ka-ROHN, (the "r" is rolled)  Check out this YouTube video  (http://www.youtube.com/watch?v=TiKKh7Rf9AQ) to hear it pronounced. If you're Canadian, well then, you're ahead of the game as you already know how to roll your r's .
Clearly I am ahead of the trend, as I have been making macarons for about 5 years now. However, in my mind, they were associated with Passover and not Paris. Until recently, I thought they were a Jewish creation because I only made and ate them at Passover. It was only once I visited the venerable Ladureé (London store), that I realized this was a French cookie and was blown away by the flavour variations possible. I whipped out my camera to take a picture and the saleslady started screaming at me. No photos allowed! I did manage to copy a photo from their website.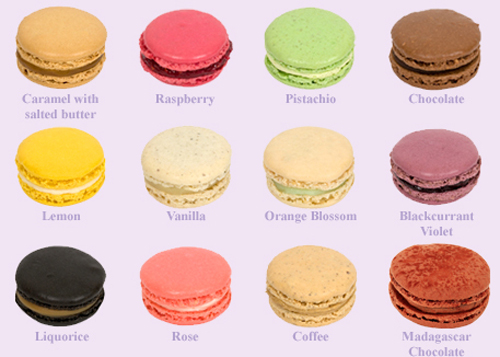 Once I visited the store and tried all the flavour variations I became slightly obsessed with them. I realized that there was a whole world of macarons beyond my Passover variation.  There are several food bloggers out there who excel at macarons and I began lurking on their sites. Sue, of "You can do it at home", http://youcandoitathome.blogspot.com/2010/10/i-heart-macarons.html, has mastered the art and I am awed by her talent. Duncan, of "Syrup and Tang" is another master.  I also purchased 2 wonderful little books, which have step by step photos and offer some amazing flavour variations (Secrets of Macarons and Macarons).
I have discovered that there are two main methods for making macarons. The first is simpler. It involves using a French meringue, which is essentially egg whites beaten with finely ground granulated sugar. This is then folded into the ground almonds and icing sugar. The second method is a bit more complex. It involves using an Italian meringue, which is a cooked sugar syrup poured into egg whites and then beaten until stiff and glossy.Apparently the Italian method yields a shinier, smoother macaron as well as more consistent results.
Below I chronicle, by video, my first attempt at making italian Meringues, filled with Salted Caramel Buttercream. The meringue method and recipe are courtesy of Duncan at www.syrupandtang.com.
Duncan's recipe for the macarons can be found here .
My recipe for the Salted Caramel Buttercream, to fill the macarons with, can be found here.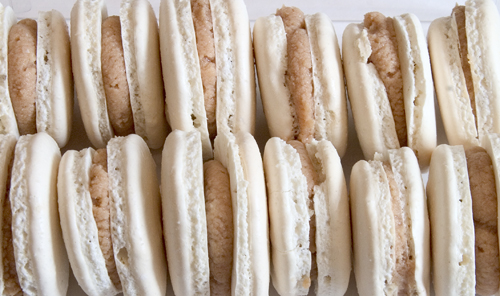 Admittedly, the macarons are a labour of love. I still have a long way to go to perfect the technique. Mine aren't nearly as lovely as Duncan's or Sue's. Luckily, I will have lots of practice in the following week as I offered to bring dessert to the Passover seder at my sister-in-law's (35 guests), the Passover Seder at my mom's (41 guests) and a Passover dinner party at a friend's house (10 guests). I expect, that by the end of the week, my macaron skills will improve greatly.
Stay tuned as more eggs are sacrificed, and my pants become tighter. In a few days I will post about the French macaron method when I prepare Chocolate Macarons with a Chocolate Ganache filling.