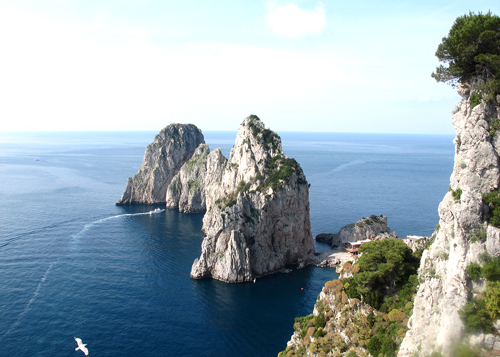 I recently had the good fortune to spend a week on the Amalfi Coast of Italy. My oldest son just graduated from University and we decided to take him and our daughter on a holiday. We have been planning this for a while now. Typically, our family holidays tend to be of the beach variety with very little physical activity and a lots of reading time on the beach. We are all avid readers. We decided to shake things up a little.
In its initial inception, this was going to be a biking holiday. However, after a bit of time and reflection, my husband wisely decided to drop the "B" and add an "H". So biking became hiking. He realized that we would not get very far if I were along for the bike ride. The decision of where to hike was an easy one. We all wanted to go to Italy. With the help of our wonderful travel agent, Linda, and Butterfield and Robinson, we mapped out an itinerary. Two days on the Isle of Capri, two days in Positano and two days in the town of Ravello. We hiked by day and ate and drank in the evenings. A plan that made everyone happy.
We quickly became immersed in the Italian culture and lifestyle. Here then, in no particular order are my top 10 Amalfi faves:
1. Autogrill!
If you have ever driven on the Autostrada (system of  roadways) in Italy, no more needs to be said. If not, well  let me tell  you, Autogrill  is quite the Italian experience. Basically, Autogrill is a rest stop along the highway. But a totally different species than the North American rest stop. No mere Tim Horton's or McDonald's.
For the uninitiated, here is my Autogrill 101 Primer:
First of all, you must go inside. The concept of drive through is totally foreign to Italians. Once you go inside there is quite a disorderly scramble at the cash. No lining up like polite Canadians do. You need to know what you want, so take a minute to peruse the display case.
In addition to sandwiches, they have pastries, brioche and croissants. Then, join in the communal push towards the cashier and tell them what you want. Depending on your Italian language skills, some pointing may be required. Don't worry, they are  quite used to it. Then you pay and take your little ticket over to the service counter. Again, some mild pushing and surging forward is required. I discovered later that it is good form to take your little ticket and place it on the counter, weighted down with a few coins (as your tip). They will ask you again what you want and, again, some pointing will be required. If you order one of the sandwiches, make sure you gesture towards the giant Panini presses behind the servers.
We had Caprese (fresh mozzarella, tomatoes and basil) Paninis on very good baguette. The cappuccino would put Timmy's and Dunkin' Donuts to shame. Once you get your order, you find an empty cocktail height table and stand and eat your food and sip your coffee. Italians don't do take out. They are a very social people and the mere thought of eating  in your car would cause most Italians to shudder.
The bathrooms are usually downstairs and while very clean, all the toilets in the woman's washroom are missing seats. So you have to, sort of precariously perch yourself above the bowl and hope for the best. There is usually a bathroom attendant,or if not, a little basket, where you are expected to leave a little tip. Here's a little tip, "How about toilet seats for women?! "
2. Stylish Transportation
Although we spent most our days hiking, to get from town to town we needed a method other than our feet. The Italians like to travel in style! To get from Naples to the Isle of Capri, we travelled on a very speedy cabin cruiser. I felt like I was in a James Bond movie. Once we arrived on the Isle of Capri, a convertible taxi whisked us from the port off to the upper town square, where we walked to our hotel. Cars are banned from most of the Island.
3.  Mandorlati from Gelateria Buonocore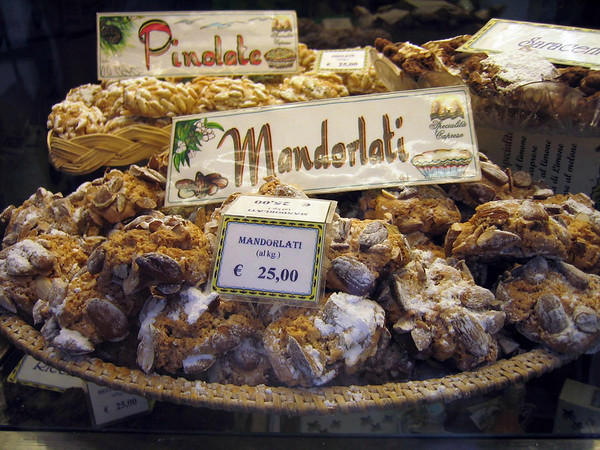 While touring the town of Capri on our first afternoon, we couldn't help but notice the huge line up outside a window of a little shop. When we asked our guide, she told us they have the best gelato in town. Of course we joined the line and soon we were greedily licking gelato from homemade waffle cones. Between the four of us we sampled coffee, pistachio, almond, coconut and raspberry. It was creamy and refreshing, just the thing to revive us from our jet lag stupor.
That night, after dinner as we were strolling back to our hotel, we walked by Buonocore again. Of course there was a huge lineup outside at the gelato window. But inside, the shop was empty.  I decided to go in to see what they sold besides ice cream. We picked out a small sampling of about 6 different little cookies. We started to snack on them as we continued on our way back to the hotel. The pistachio cookies were yummy as were the lemon ones and the pine nut ones, but the almond cookies stopped me dead in my tracks. Fragrant and chewy these were reminiscent of almond macarons but more intense, sort of souped up macaron, studded with chopped almonds. 
I was back at the bakery again the next morning and again that night for more. I was addicted. I discovered that they are called Mandorlati and they are a traditional Italian almond cookie. I was unsuccessful in getting the recipe from the family (a closely guarded secret!), but I plan to play around with egg whites, ground almonds, chopped almonds, almond paste and confectioners sugar and come up with my own version. I'll share it with you when I figure it out.
4. Lemons on steroids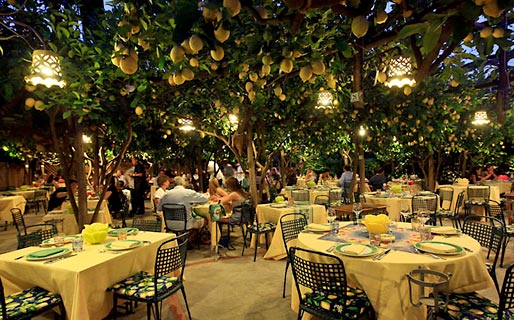 The Amalfi coast is known for lemons and they are everywhere. We had dinner our first night at da Paolino. The entire terrace has been converted into a lemon grove and you dine under a pergola of lemon trees. An incredibly magical and romantic setting, spoiled only by my worry that one of those ginormous lemons would fall on my head, or worse, into my glass of Prosecco. We were assured by the waitress that before service each evening they shake the trees very well to remove any loose lemons.
Everywhere we hiked we encountered lemon trees. At markets everywhere we saw 2 main varieties of lemons, regular ones and ones which I can only describe as lemons on steroids. They were huge. Apparently these giant ones are used in baking and the making of Limoncello, the most popular export of the region. I was so looking forward to trying this lemon liqueur and sadly, I have to say, I did not like it at all. I subsisted mainly on Prosecco, not that I'm complaining!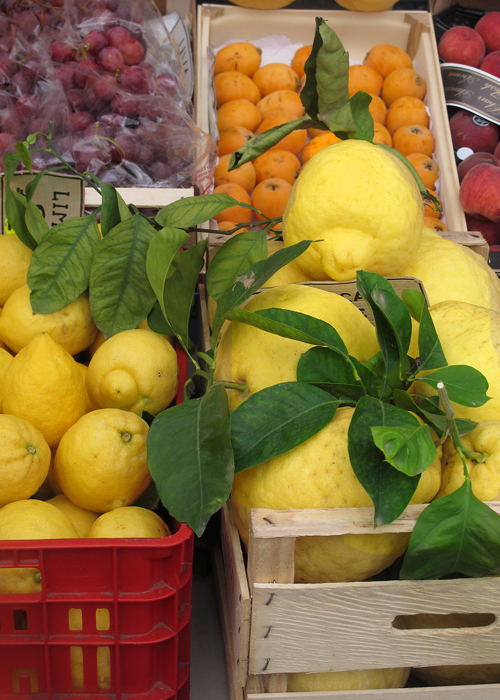 5. Rigatoni on Steroids (Paccheri)
I had my very favourite meal of the trip at da Paolino in Capri. I am still dreaming about this pasta dish. I had Paccheri with smoked mozzarella and fennel sausage. Paccheri is a large hollow pasta, similar to rigatoni but bigger. It sort of resembles short pieces of a garden hose. ( To hear this pasta name pronounced, follow this link.)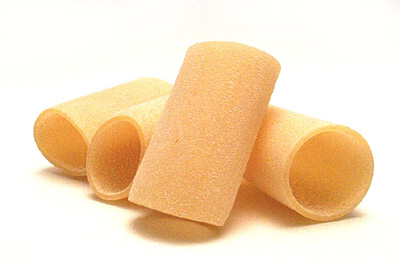 As with most pasta shapes there is a legend about how that particular shape came to be. The fable of paccheri goes something like this:
In the Renaissance era  paccheri was created as a vehicle to smuggle banned garlic cloves from Italy, across the Alps into Prussia (modern-day Austria). Apparently Prussian garlic was puny and weakly flavoured, while Southern Italian garlic was large and pungent. Prussian princes (not to mention the commoners) favoured the stinkier garlic and sales of Italian garlic were robust while Prussian garlic sales languished.
The Prussian government, trying to protect local Prussian farmers, banned the import of Italian garlic. Incensed, the Italian garlic growers worked closely with Sicilian pasta makers and paccheri was created. Each tube of paccheri was perfectly shaped to hide about 4 cloves of garlic and thus the black market trade of garlic into Prussia flourished.
Stay tuned for Part 2 of Salt and Serenity hikes the Amalfi Coast.