Last week I posted about my hiking holiday to the Amalfi Coast. Here is Part 2 of my hiking adventure, where I continue on with my Amalfi Coast top 10 faves.
6. The Blue Grotto

On our second day in Capri we visited the world-famous Blue Grotto.  The Blue Grotto is one of several sea caves, worldwide, that is flooded with a brilliant blue light. It wasn't until I got home and researched (you gotta love Wikipedia!!) this amazing phenomenon, that I fully understood the scientific explanation behind this stunning azure colour.
Basically it has to do with the lighting conditions inside the cave. Sunlight, passes through an underwater cavity and shines through the seawater, creating a blue reflection that illuminates the cavern. I am oversimplifying. If you are a science geek and need a more thorough explanation, check out the Wikipedia link above.
To get to the Blue Grotto, we took a motorboat. Let me tell you, "The sea was angry that day my friend." We all felt more than a  little bit seasick. Once we arrived we noticed lots of little rowboats bouncing up and down in the sea.
Our guide told us that we would have to climb out of our heaving big boat, into the even more violently heaving little rowboat in order to get inside the Blue Grotto. WHAT?? Once I took a look at the cave opening into the Blue Grotto, I quickly understood. It was only about 5 feet wide by about 3 feet high!
We managed to climb into our little rowboat without anyone going in for a swim. The oarsmen rowed us towards the opening and in broken English told us that when he gives us the signal, we all have to lie down flat on the bottom of the rowboat. WHAT?? I did not sign up for this. I was terrified. He yelled, "DOWN" and we all crouched. Unfortunately, I was just behind the oarsman and he sat on my head when I lay down. I closed my eyes and prayed. The next thing I know, we hit a huge wave and water sloshed into our boat. Everyone screamed but no one sat up for fear of getting decapitated by the rock over the opening.
Suddenly all was silent. We sat up and looked around. It was eerily calm and the water was still and the most beautiful azure blue you can imagine. Then the oarsmen broke out into a rousing rendition of "O Sole Mio".  After rowing around the cave for about 5 minutes we crouched down again to exit and the whole thing was over.
Before we visited the Blue Grotto, I had heard that the oarsmen had a reputation of being rude and most unpleasant, so I was quite surprised to hear him belting out the tunes. When I asked our guide about this, she started laughing. Apparently our oarsman was cursing up a storm in Italian at his fellow oarsman, something about not getting a big enough tip from his last boatload.
When I got home and googled Blue Grotto, I found that someone had posted a video of the entering of the Blue Grotto. You have to see this!
7. Aperitivo Hour and Bar Snacks
When we got back to our hotel after our Blue Grotto adventure, we needed a drink in the worst way. We stopped by the bar and my husband was quite impressed with the Macallan Scotch selection. We decided to go back to our room have drinks on our little balcony overlooking the sea.
My glass of Prosecco arrived chilled, with a little napkin wrapped around the bottom so the condensation would not mar the furniture. With our drinks they also sent several little bowls filled with potato chips, pistachios, hazelnuts, marcona almonds and olives. In Italy, apparently, this is how drinks are always served, with snacks, even if you don't order them. How civilized!
 8. Buffalo milk yogurt
On the 5th morning of our adventure I made a discovery that kind of startled me. At the breakfast buffet in Ravello there was a bowl filled with ice. Resting on the ice were little containers of Buffalo milk yogurt! I'm not sure why this shocked me so much, after all, they make buffalo milk mozzarella, so why not yogurt? Why not indeed! Thicker than even greek style yogurt and not quite as tangy, buffalo milk yogurt was… well not life changing, but certainly morning changing! I get so excited when I discover a food I have never heard of or tasted before.
I gushed on and on about it to my daughter but she just rolled her eyes at me and helped herself to the regular cow's milk yogurt. I mixed mine with diced peaches, ripe berries and granola. I need a buffalo.
9. Sentieri degli Dei
In English this translates into "Path of the Gods". On the fourth day of our adventure we got a glimpse of what the path to heaven looks like! We drove high up into the Lattari Mountains and began our hike in the town of Bomerano. There we met our guide for the day, Amalfi naturalist Nicola, or "Mountain Man" as we nicknamed him. I was very excited to begin our hike since today was the first day we got to use our hiking sticks! I felt so athletic swinging my stick until Nicola warned us not to swing it too high or we might poke out the eye of whoever is behind us. Oops, sorry my darling children.
The path, about 1900 feet above sea level goes from Bomerano to the town of Nocelle, and then straight down, 1500, steps into Positano. It is a rugged goat path along the coastal edge and not for the faint of heart or those who suffer from acrophobia. Nicola pointed out wild fennel, wild arugula as well as about 25 other kinds of flora and fauna. He thoughtfully pointed out poison plants and ones that, while they may not kill you, will leave you itching and crying for mercy for several days. We carefully stepped around those. The views of the Mediterranean Sea were breathtaking.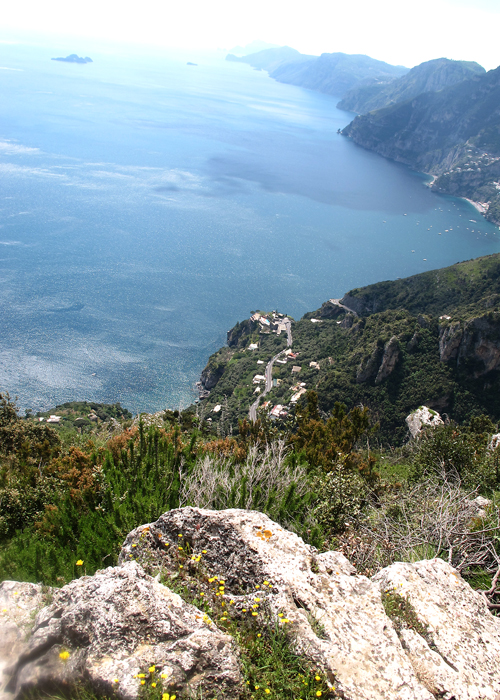 He explained how the steep mountainside had been carved into terraces over the years to allow farmers to grow olives, lemons, nuts and grapes. The fact that this had been done, and still continues to be done, in current times, with hand tools and paths that can only be accessed by donkeys and mules is nothing short of astonishing.
Our guide had told us that we would be having lunch along the way. I kept eyeing Nicola's backpack and it did not look like it contained anything close to lunch for six hungry adults. I must admit, I was a little worried that lunch was going to be trail mix and water. However, around 12:30, we rounded a corner and came upon an oasis in the middle of the mountain.
An old renovated stone hut sat on a plateau in the middle of nowhere and our hosts greeted us like long-lost relatives. The stone BBQ was hot and smokin' and the smells emanating from it were intoxicating. All my worries about a trail mix lunch evaporated away. On a  hill, above the hut was a picnic table positioned perfectly to take in the view. The table was set  and platter upon platter of grilled foods were presented to us. We began with grilled onions and potatoes, then grilled zucchini and grilled pumpkin appeared. Homemade thinly sliced salami was served with meaty green olives and fresh mozzarella. A beautiful platter of Caprese salad disappeared almost as quickly as it had appeared.
Just when we thought we couldn't eat another bite, grilled homemade fennel sausage and grilled smoked scamorza cheese with lemon appeared. We murmured, ever so quietly, that we couldn't eat another bite but somehow, the sausage and cheese disappeared too. The homemade local red wine went down way too easily and the ceramic pitcher it was being poured from was magically refilled more than once. I felt like I was at a Hogwarts feast.
10. The Italians name geological formations after food!
As we were walking the Path of the Gods, our guide pointed out a huge rock formation with a cave at the bottom of it. She said it was called "Grotta del Biscotto", (cave of the biscuit), so named because the craggy surface of the rock resembles the local specialty biscotto. Biscotto is a hard small bread that is baked twice, so that it dries out and lasts for an entire year. Then it is soaked in water and eaten, usually in a soup or part of a salad. I just love that food is so embedded in Italian life and culture, that it extends into nature as well.