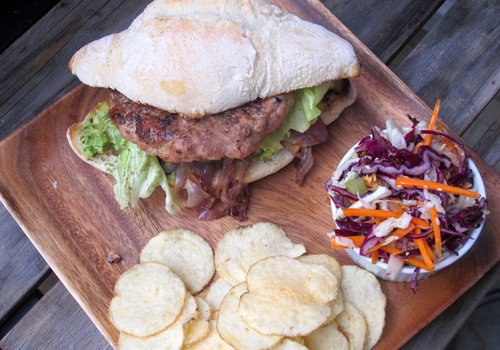 I have been on a quest to find the ultimate turkey burger for quite some time now. Come to think of it, I have also been on a quest to find the perfect pair of black pants for an even longer while now. If you are a woman, you will know exactly what I mean. The ultimate pair of black pants would skim over your hips without actually clinging and accentuating any lumps, bumps or dimples.  With a pair of heels or killer boots, you would look long and lean and your legs would appear to be a mile long. The pants would be perfect for day and night, and depending on what you pair them with, they would be equally at home at a funeral or a night club. I am not so sure such a pair of black pants exists. I have come close, 9 pairs in my closet at last count, but none of them quite right.
But I do believe that my quest for the ultimate turkey burger is finally over.  For a while there I was adding breadcrumbs and egg to the burgers, to help them bind better, but that just made them tough and dry. Then I tried mixing the turkey with garlic and lots of chopped fresh herbs but that was way too overpowering for delicate turkey meat. I thought I had found the perfect one in June of 2008, when Oprah said, "I believe (it) may be the best turkey burger in the entire world." She was referring to the turkey burger at Mar-A-Lago, Donald Trump's private club in Palm Beach. If Oprah said they were the best, I had to try them.
The Mar-a-Lago turkey burger is reminiscent of turkey stuffing, chock full of apples, celery and scallions. Then to help keep the burgers moist Major Grey's Chutney is added to the mix. This is a mango based chutney with tamarind, raisins, vinegar and lots of spices, including cloves. The first time I tried the burgers I did not care for them but I made them several more times, because Oprah said they were the best, and because I could not put my finger on why I didn't like them. I finally gave up on them when I realized it was the overpowering flavour of cloves that put me off.
Then, last week, while reading the June issue of Martha Stewart Living, I had an "aha" moment. Don't build flavour into the turkey burger. Ground turkey has a delicate flavour that you don't want to fool with too much. Leave the ground turkey alone, save for a little bit of olive oil and salt on top before grilling.  Add flavour through the toppings. This one relies on guacamole for moistness, caramelized onions for sweetness, and pickled jalapenos for heat. I have made them twice now in the past 4 days.
Try to find ground dark turkey meat, instead of  ground turkey breast. It has more fat and will be much moister. I decided to top mine with lettuce and tomatoes, as well, when I encountered these beauties at the grocery store this week.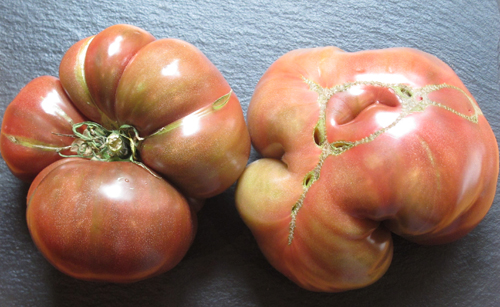 When I was in line at the check-out, the cashier, a young girl, maybe 17 , picked up the tomatoes, made a face and asked me if I wanted to go back and exchange them for ones without any creases or cracks. It was all I could do hold my tongue and not lecture this poor innocent youngster on organic, heirloom tomatoes. Those cracks and creases mean that these tomatoes actually taste like tomatoes, unlike those smooth red orbs that have all the flavour engineered out of them. I just smiled and said, "No thanks, I like these tomatoes."
I made a simple guacamole with avocados, cilantro, lime and salt. Try to find Haas avocados, the black pebbly ones. I find the flesh creamier than the smooth green-skinned avocados. Don't mash the guacamole too fine. Leave it a bit chunky.
Cook the red onions on low heat for about 20 minutes, in order to caramelize them.
Toast the buns for extra flavour and crunch. I found some really great ciabatta buns as well as some multigrain foccacia buns. Add some pickled jalapeno peppers from the jar, and sliced tomatoes and lettuce.
To print the recipe for Turkey Burgers, click here.
P.S. I promise to keep you posted if I ever do find that perfect pair of black pants.